So, you've made up your mind to buy a new glass lamp shade for your table lamp. However, before you hit the "order now button," you need to be sure you're getting the right replacement. This article will look at some of the best replacement glass lamp shades for table lamps.
To start your lamp shade shopping, you should have some information at your fingertips, like the correct size of the lamp shade, the right fitting you need, and how to remove the glass shade.
We also have a great guide on choosing a table lamp; however, in this guide, we dive into how to choose and replace a glass lampshade.
Looney lumens is reader-supported and participates in the Amazon Associates Program. When you buy a product through links on our site, we may earn a small commission, at no extra cost to you.
How To Replace a Glass Lampshade for Your Table Lamp
Here are some of the most important things to do before buying a replacement table lamp shade for your table lamp.
Determine the correct lampshade size
Lampshades are not one-size-fits-all, so you need to get the correct dimensions of your old shade before looking for a new one. Lampshade dimensions are commonly specified as top by bottom by slant; for example, 6 inches by 19 inches by 13 inches. To know the correct lampshade dimensions for your replacement, you need these three measurements from your current shade.
First, take the length across the top of the lampshade—this is the top diameter. Do the same for the length at the bottom and along the side of the lampshade. This gives you the bottom diameter and the vertical slant. You can also measure the shade's height from top to bottom to have more accurate dimensions.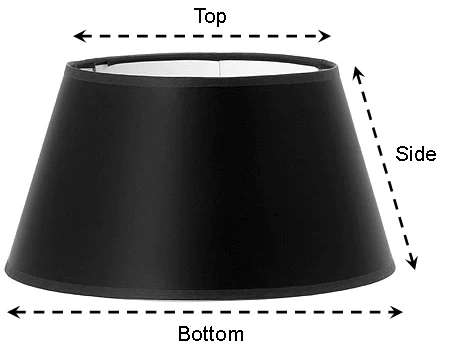 Determine your type of holder/fitter
Once you have the right dimensions, you need to find out the type of holder your old lampshade has. Just as the name suggests, the shade holder is the metal part that fixes the shade to your lamp. Every shade holder has a fitter that serves as some sort of path for the shade and makes actual contact with the table lamp.
First, find out whether your lampshade has a fixture-type holder or straight-type holder and then, go ahead to choose a fitter size that matches both the shade and the shade holder.
If you need fixture holders you can find them on Amazon.
Fixture-type holders are used in early electrical installations like hanging fixtures and pan lights. Using small set screws, they keep the lampshade in place and prevent the shade from detaching and falling off. Fixture-type holders have a "lip" type fitter that helps the set screws to hold the shade.
Unlike the fixture-type holder, the straight holder does not use any set screws because the glass shade's lower edge already fits into the shade holder's opening.
When you know the type of holder your lampshade has, you can choose a shade fitting that works best. Usually, table lamps have spider and uno fittings, while clip-on fittings are used for small accent lamps, chandeliers, and low-wattage bulbs.
Next, you need to measure the fitter size. To do this, push the set screws out and measure the shade holder's opening diameter. Although there are standard fitter dimensions for different shade holders, you may get a fitter size that is slightly smaller than the common dimensions in your region, especially if you have an antique lamp or heirloom desk lamp.
Large pendant shades with fixture-type holders can have a 6-inches fitter while hanging lamps and dome shades with straight fitter holders have 14-inches fitters.
If you need expert advice on choosing the right holder or fitter for your glass lampshade, look at our frequently asked questions.
Removing the glass shade
Removing the glass shade from your desk lamp is easy; you do not have to pay an expert to help out. With a simple tool like a screwdriver, you are good to go.
It's best to take out your glass shade during the day so that you can see what you are doing. If you have to take out the glass shade at night, ensure that you have ample artificial lighting in the room.
Here are four simple steps to help you:
Very Important: Unplug the table lamp from any electrical sources.

Take out some time to observe how the glass shade is attached to the lamp. Check if the lampshade has a small decorative tip or finial attached to the top.

Hold the shade firmly in an upright position and unscrew the finial. You can use the screwdriver for this or simply rotate the finial anticlockwise to remove it.

Squeeze the harp out of the saddle to remove the shade. If the shade is attached to the lamp by the lightbulb, unscrew the bulb to remove it.
What To Look for in a New Glass Lamp Shade
With so many lampshade options available, it may be difficult for you to make a choice when it's time to replace your old lampshade. Let's go through some tips on picking out a glass lamp shade replacement for your home.
You're free to experiment and mix and match different lamp shades with your base until you find the perfect fit.
Size
The size of your lampshade should fit the size of your desk, so the shade isn't too large or too small. If you have a large, empty desk with a lot of space, going for a big table lampshade is a great idea.
As a rule of thumb, when caught between two lamp shade options, it is best to choose the larger one. You should also consider the positioning of the lamp on your table and the shape of the shade. Try matching the shade's shape with its base; for example, choosing a square shade with a square base.
Some other things about lampshade sizes you should have in mind are:
The shade's height should be nearly ¾ or ⅔ of the height of its base.

The height of the lamp from the base to its fitting should be somewhat equal to the shade's width.

The width of the shade should be twice that of the lamp base and ⅓ of the total height of the lamp.

For a more balanced appearance, choose a replacement glass shade that is nearly ½ inch wider than its base on both sides.
Color and Design
Match the color and design of your lampshade with the existing room design or with your personality. Your new lamp shade should also change the look and feel of your room—that's why it's new, right?
First, decide how much lighting you want in your room. Since it's a table lamp, you most likely plan to use it for reading or working, so choosing a translucent shade is a great idea. On the flip side, if you want something that adds a cool ambiance to your room, go for a shade with a darker color that doesn't emit so much light.
Don't be afraid to be daring and make a bold statement with your lampshade color and style choices. You can go for a lampshade with a dramatic design and a dash of bright colors to switch up the feel of your desk and home.
We have a rich collection of different lampshade colors and styles you can choose from – from simple, neutral colors to more exciting traditional patterns.
Material
Lampshades are made from many different materials, including paper, linen, silk, and parchment. Again, remember that the choice you make can change the aura of your room.
For example, neutral-colored parchment lampshades are a great addition to minimalist decor—they are calm and clean, and subtly emphasize your contemporary style. Silk lampshades give off a classic; vintage feels to your living room, while linen shades are sharp and smart.
However, one of our favorite styles of lampshades is made of glass material. Nothing beats the subtle elegance of a glass lampshade.
Our Favorite Glass Lamp Shade Styles
Glass Hurricane Style
From original American cut patterns to more contemporary styles, we have hurricane lampshades in different styles. You can get them in clear, plain glass and beautiful hand-cut clear glass plus cranberry hand-cut glass. Our wine glass lampshade style has a simple, curvy shape that is both appealing and classic. It is easy to install, making it a great lamp shade replacement option for your table lamp.
Aladdin Style
If you are looking for a lampshade replacement for your Aladdin brand table lamps, our wide selection of Aladdin Style glass lampshade recommendations is a great place to start. The early style, clear glass shades are hand-blown in a glass foundry and can be a perfect fit for your Aladdin brand lamps.
We also recommend hand-painted ruby roses shade lampshades and 10-inches opal shades for Aladdin table lamps.
Pros
Decorative and functional
Student Lampshades
Student lampshades are some of the most popular types of lampshades around. All student lampshades have a bulging body, a wide fitter at the bottom, plus a neck and a top.
We suggest an opal glass student shade that is hand-blown and American-made with a 10-inch fitter for a classic look. You'll also find student lamp shades styles in different sizes, shapes, and colors that match your exact taste.
Gas Style
If you love antiques and history, you should choose one of our gas-style shades as a replacement for your old lampshade. Gas-style shades are inspired by the aesthetics of the Victorian era, and they add a classic, retro appeal to your home decor.
For starters, check out this hand-blown classic green table shade with polished top and bottom edges.
Cons
Expensive
Limited functionality
Ball and Dome Lampshades
This is another lampshade style influenced by the Victorian era. Ball and dome shades simulate the grace and charm commonly associated with the aura of the Victorian age. These antique glass lamp shades for table lamps have a classic globe shape that is round, delicate, and elegant. However, they can also come in a wider dome shape.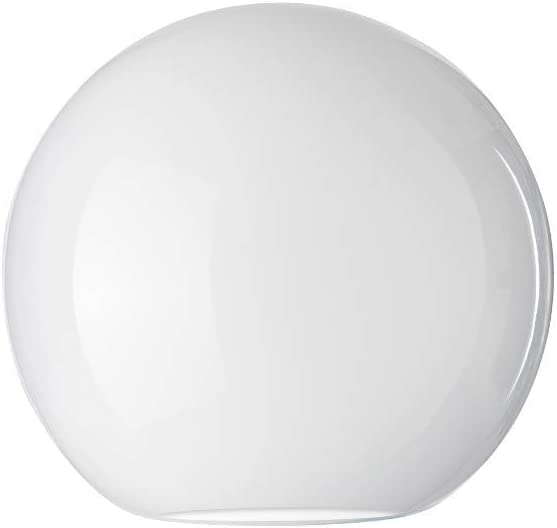 Cons
Adds little aesthetic appeal
Art deco Lamp Shades
These types of lampshades add an antique feeling to your table lamp. They can look like seashells or other artistic styles, and although they work best for figural and radio lamps, you can try them out when replacing your old table lamp shades. Shop our 100% hand-made hexagon stained glass lamp shade replacement for your desk lamp.
Cons
Visual clutter
Lack of flexibility
Tiffany Lampshades
With an appealing blend of multi-colored glasses, tiffany lampshades make a positive impression on your home. This baroque-style tiffany shade serves multiple purposes—apart from having it as an excellent replacement lamp shade for your table lamp, it also works well for bead lights and chandeliers.
Pros
Decorative and versatile
Affordable
Cons
Poor lighting in some instances
Cleaning and Maintaining Your New Glass Lampshade
If you want your new glass lampshade to last longer, you need to clean and maintain it regularly. Lampshades are very delicate, so handle them with care. There are simple DIY methods for keeping your lampshade in good shape.
Remove from Base
Before cleaning your glass lampshade, carefully detach it from the base and place it inside a plastic bin. This way, nothing gets in your way as you clean it.
Rinse with warm water and wipe down with a microfiber cloth
You can add a little detergent to the warm water and clean off any dust or grease on the shade. If you find any difficult stains on the shade, use some alcohol or vinegar to rub them off. If there are any parts of the shade you can't reach with the cloth, try using a cotton swab dipped in vinegar or alcohol.
You can also clean the lampshade in your dishwasher unless it is an antique. First, make sure the shade is made of 100% glass. Place it in the top rack of your dishwasher and wash it using your regular dishwashing cycle. To remove dried-in stains, add rinse aid to the dishwasher.
As you use the light shade, be cautious and take safety precautions. For starters, you should be mindful of the distance between the shade and the light bulb. Light bulbs give off some degree of heat so ensure that there's enough distance between the lampshade and the bulb, so it doesn't start a fire.
Summary
Finding quality replacement lamp shades for desk or table lamps can be challenging, especially if you're doing this for the first time. That's why we've put this guide together to help you choose the best lamp shade replacements for your table lamp.
The best thing about glass lampshades is they are versatile. For example, you can switch them up to become light fixtures and wall sconces.
If you're ready to give your home a facelift with a quality glass lampshade replacement, check out the above suggestions to see a rich collection of lampshade recommendations. You will definitely find a beautiful shade that suits your style.