With so many desk lamps in the market, it can be challenging to find one that works for your needs.
To help you make an informed choice, we've put together a list of the best desk lamps for different situations including reading (eye caring), for a computer in your home office, even ZOOM call or with special features like a clamp, battery operated or with USB charger.
Looney lumens is reader-supported and participates in the Amazon Associates Program. When you buy a product through links on our site, we may earn a small commission, at no extra cost to you.
Our 13 Favorite Desk Lamps At a Glance
TOP PICK
PICTURE
PRODUCT NAME
TOP FEATURES
PRICE
Best LED Desk Lamp Overall
AFROG Multifunctional LED Desk Lamp
Wireless and USB Charger,
Touch Dimmer, Memory Function, 30/60 min Auto Timer, Eye-Caring
CHECK
Best Desk Lamp For College
Donewin LED 7-in-1 Desk Lamp
USB Charging Port, Colorful Night Light, Calendar, 3 Level Dimmable, Gooseneck Clock / Time, Pen Holder, Eye-caring
CHECK
Best Magnifying Lamps
Brightech LightView Pro Magnifying Desk Lamp
Adjustable Magnifying Glass with Light, 2.25x Light Magnifier with Clamp
CHECK
Best Desk Lamp for Eyes
BenQ Blue Genie LED Desk Eye-Caring Lamp
Eye-Caring Table Lamp, Auto-Dimming, CRI>95, 13 Color Temperatures, 35" Wide Illumination
CHECK
Best Lamps For Drawing
HaFundy LED Desk Lamp
Adjustable Eye-Caring Desk Lamp with Clamp and Swing Arm, 3 Color Modes, 10 Brightness Levels, and Memory Function
CHECK
Best Architect Desk Lamp for Home Office
Kary – Architect LED Desk Lamp with Clam for Home Office
Tall 24W Desk Lamp with Clamp, 31.5″ Wide, 1800LM with Auto Dimming, 5 Color Modes, Timer
CHECK
Best Clamp-on Lamp
Trond LED Desk Lamp with Clamp
3-Level Dimmable Desk Light wit Clamp, 6000K Daylight, Extra-Long Flexible Gooseneck, Eye-Care
CHECK
Best Computer Desk Lamp
TROPICALTREE SY-814
Eye-Caring, Memory, Function, Swing arm
CHECK
Best Desk Lamp with USB Charging Port
Dott Arts Desk Lamp with USB Charging Port
2 watt (37.8 lumens) 3.7 volt integrated LED, color temp: 2700K
CHECK
Best ZOOM Call Desk Lamp
Lume Cube Edge
8 watts, 120 volts
CHECK
Best Battery Operated Desk Lamp
Deeplite Portable Desk Lamp
One 43 watt (750 lumens) 120 volt E26 medium base halogen lamp
CHECK
Best Bankers Lamp
Newrays Green Glass Bankers Lamp
Green Glass Bankers Desk Lamp with Pull Chain Switch, Dimmable with Color Changing LED Edison bulbs
CHECK
Best Sunlight Desk Lamps
Verilux HappyLight Luxe
UV-Free LED Therapy Lamp, Bright White Light, 10,000 Lux, Adjustable Brightness, Color, and Countdown Timer
CHECK
Best Desk Lamps Quick Review
1. Best LED Desk Lamp Overall – AFROG
DIMENSIONS
TOP FEATURES
MATERIAL
LIGHTING
AFROG EK009A Multifunctional LED Desk Lamp
4.72″D x 12.5″W x 14.5″H
Wireless and USB Charger,
Touch Dimmer,
Memory Function,
30/60 min Auto Timer
Eye-Caring
Plastic, Metal
Shade – Aluminum
8 watt, 12 volt integrated LED: CRI: 95, color temp 2700K-6500K
Available in black and white finish.
Pros
Very slim and adjusts in most directions
Easy to fold away
Great bright and color options
Helps to see the computer screen well
Options controls allow you to custom set for your personal uses and time of use
Cons
The wireless charging isn't the fastest
The blue LED stays on even if the lamp is on – it might worry some
The lamp needs to be turned on for the charger to operate
---
2. Best Desk Lamp For College – Donewin LED 7-in-1 Desk Lamp
DIMENSIONS
TOP FEATURES
MATERIAL
LIGHTING
Donewin DW-T188-1 LED Desk Lamp
3.74″D x 4.13″W x 20.87″H
Weight: 1.7 pounds
USB Charging Port, Colorful Night Light, Calendar, 3 Level Dimmable, Gooseneck Clock / Time, Pen Holder, Eye-caring
Die-Cast Aluminum
2.2 Watt (185 Lumens) 120 Volt Integrated LED: CRI: 80 Color Temp: 3000K
Pros
A long list of extra features
Color light is ambient
30-day money-back guarantee and a 12-month warranty
Cons
Small size
Only one color option
Requires one CR2032 battery
---
3. Best Magnifying Desk Lamp – Brightech LightView Pro LTVP-CE-Bk
DIMENSIONS
TOP FEATURES
MATERIAL
LIGHTING
Brightech LightView Magnifying Pro LTVP-CE-Bk Magnifying
Fixture: L 31.1 x W 9.06 x H 18.9 inches
Weight: 7.83 pounds
The lens is approx. 4 3/4″ across
– Magnifying 5 Diopter (2.25x)
– High-quality lenses
– Adjustable Swing Arm
Lens: Acrylic, Glass
The 9W & 650 lumen LED lights are built-in and last 20,000 hours
Available in black and white finish.
Pros
3-Year Warranty
2 light colors – cool and warm, with 5 dimmer settings
Easier to maneuver – can be adjusted with just a finger
The build is solid and sleek
The arm sections are so long and have the tension parts and wiring enclosed
Cons
The limiting swivel of the head part (limits where it can be mounted)
No memory function for the last light setup
Two pairs of LEDs line the ring (warm and cool) can't be dimmed completely (off)
---
4. Best Computer Desk Lamp – TROPICAL TREE SY-814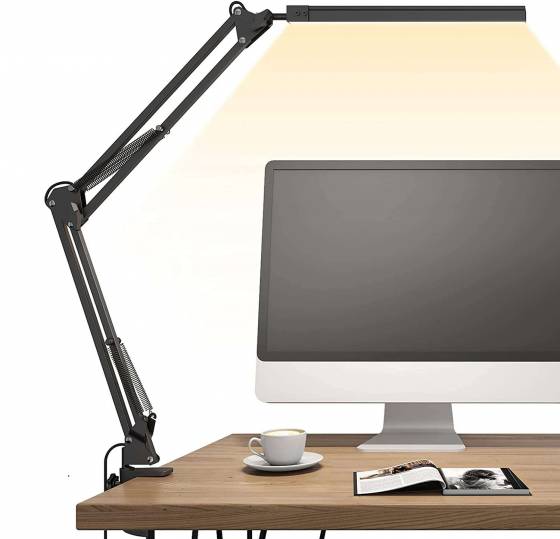 DIMENSIONS
TOP FEATURES
MATERIAL
LIGHTING
TROPICALTREE SY-814 LED desk lamp with clamp
16.2″D x 5.1″W x 2.36″H
3 Lighting, 10 Brightness Eye-Caring Modes, 360 Degree Spin, USB Adapter & Memory Function
Aluminum Alloy or Iron Clamp with silicone pads,
Shade: Metal, Aluminum, Silicone
80 LED Light Beads, CRI>90,
FCC Power Adapter(5V/2A),
14 watts, 5 Volts,
1660 Lumen, 6000 Kelvin
Available in black or white finish with options for aluminum clip only or iron clip + base.
Pros
Modern design and neutral color
Great flexibility and sustainability
Good light distribution
Step-free 20-100% dimmable
Flicker-free
Cons
The clamp-on base can be knocked off by accident
The angle of the power cable is in an awkward position
Touch controls can be too sensitive
---
5. Best Desk Lamp for Eyes – BenQ
DIMENSIONS
TOP FEATURES
MATERIAL
LIGHTING
BenQ Blue Genie
3.94 x 7.87 x 23 inches,
Weight: 5.3 pounds
35" wide, 13 color temperatures, and 23 brightness adjustments,
Sturdy pedestal base
Touch switch
Aluminum
Dual color LED, CRI>95,
1800 lux (height 40cm), 1000 – 250 Lum,
2700 ~ 5700 K
Available in blue, silver, or gold finish.
Pros
The base is super heavy and stable on the desk – handy especially for sit-stand desks with lift
Press and hold the ring to turn it to "reading" mode, which provides a soft light tone with absolutely no glare
Super easy to assemble
Excellent desk-wide illumination thanks to the curve of the fixture
Great for miniature painting and needlework
Cons
A little bit expensive but deserves the price
The power ring might be too sensitive for some
No black version is available
---
6. Best Lamps For Drawing – HaFundy GT-422
DIMENSIONS
TOP FEATURES
MATERIAL
LIGHTING
HaFundy GT-422 LED Desk Lamp
13″D x 13″W x 3″H
Weight: 1.76 pounds/800g
Swing Arm, Memory Function, 10 Adjustable Brightness Levels, 3 Lighting Modes, Eye Protection, Foldable, 12 months warranty, Adjustable Angle
Aluminum Alloy,
Shade: plastic
LED, 880 Lumen, 6500 Kelvin, 14 watts,
12 Volts (AC)
Pros
3 Light modes
Good CRI, Ra>85
10-way dimmable
Material of lamp's long arm: ABS+Metal
Folding and space-saving with the angle adjustment of 360°
880 Lumen
Easy to install, a nice spring load action for easy adjustments
Cons
Comes with a clamp only
No USB port
Can't use Alexa or Google play to control it
The cord is short, you might need an extension cord
The light doesn't bend sideways, you might need to put the clip on the side of your table to get the right angle.
---
7. Best Architect Desk Lamp for Home Office – Kary LA-1118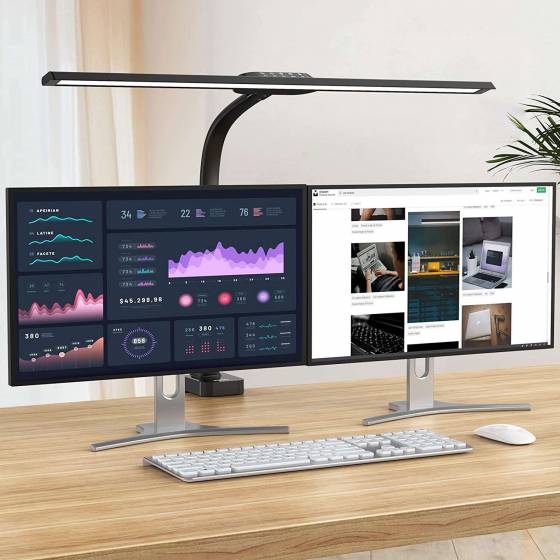 DIMENSIONS
TOP FEATURES
MATERIAL
LIGHTING
Kary LA-1118 – Architect LED Desk Lamp with Clam
2.17″D x 31.5″W x 27.56″H
Weight: 4.89 pounds
Power cord: 77.2 inches / 196 cm
31.5 Inch Ultra Wide, 5 Color Temperature Modes, Memory Function, Clamp-on Design, Smart Auto Dimming, Eye-Care, 5 Dimmable Brightness Levels, Flexible Silicone Gooseneck, Auto Off Timer
Silicone, Metal
LED, CRI(Ra)>90, (3000K – 6500K), 24W 1800LM, 240 Volts
Pros
Smart Auto Dimming – adjusts itself based on the brightness in the room
Sturdy, durable, and flexible
Easy to install
Tall enough even over high extended monitors
The flexible and sturdy neck
It lights up the whole desk but doesn't interfere with two monitors. At the same time, it doesn't shine in the face.
Cons
Not ideal if you have an ergonomic (higher monitor) setup
The touch buttons do not light up the name nor a symbol for its functions
The bottom part is not flexible
---
8. Best Clamp-on Lamp – Trond Halo 9W-C
DIMENSIONS
TOP FEATURES
MATERIAL
LIGHTING
Trond Halo 9W-C LED desk lamp with clamp
1.65″D x 9.9″W x 9.9″H,
Lamp Head Size: 3.35″ x 5.31″,
Clamp Width: 1.65″ (max.)
3-Level Touchable Dimmer with Memory Function, strong aluminum clamp opens up to 1.65" width & durable gooseneck with the extra length of 50cm/19.7"
Aluminum Alloy
LED, 9W,
1000 lumens, 5800K~ 6000k, CRI: > 85,
Pros
Versatile illumination settings
Memory function
Extra long gooseneck 19.7 in, 50cm
Has padding
Quality aluminum alloy
Cons
It gets too hot after some time
Not very good for lighting larger areas
---
9. Best Desk Lamp with USB Charging Port – Dott Arts DL-701
DIMENSIONS
TOP FEATURES
MATERIAL
LIGHTING
Doot Arts DL-701 LED Desk Lamp
17.63″D x 6.97″W x 1.97″H
Weights: 1.39 pounds
Dimmable,
Touch Dimmer,
3 Lighting Modes, 4 Brightness Levels, Flexible Arm Design,
Modern Design, No Glare Reflects on Screen,
USB Charging,
Eye-caring
Polycarbonate
Light Source : LED 20pcs SMD2835
Lumen : 700LM
CRI : CRI ≥ 90+
CCT : 5000K Cool White,
12 watts
Pros
Excellent simple lamp for WFH desk
Can tilt and swivel to find the perfect position to illuminate your desk and work area
Folds down into a slim and compact size, but unfolds and opens outward to a number of angles
Comes with a power cable with a USB connector and a power adapter
Cons
It uses integrated LEDs so, once they go out you have to replace the whole lamp (LED = up to 40000 hrs lifespan (22 years if used 5 hours per day)
The Qi-type phone charger doesn't work on some devices in their cases
The top does not rotate
---
10. Best ZOOM Call Desk Lamp – Lume Cube LC-EDGE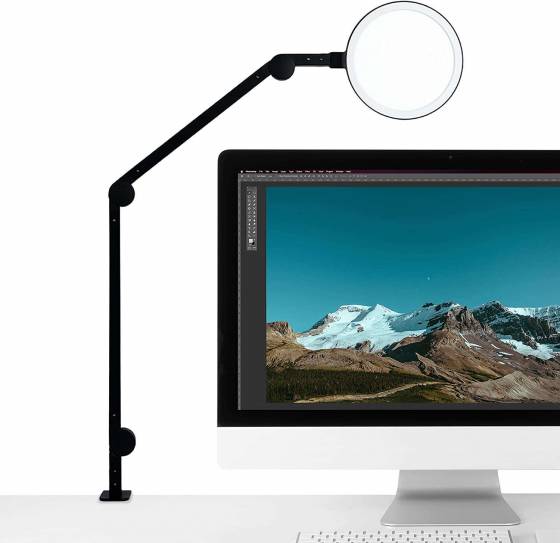 DIMENSIONS
TOP FEATURES
MATERIAL
LIGHTING
Lume Cube LC-EDGE Desk Lamp
6″D x 6.38″W x 36″H
Weight: 1.32 pounds
Adjustable Brightness & Color Temperature
Swing Arm
with Clamp
For video calls or task lightning
Build in USB-C & USB-A charging ports
Metal
LED
24 Volts
30 watts
Pros
Designed with Edge Lit Technology to be soft and easy on your eyes
Memory function for light setting
A bright red led light above the power button helps to find it in the dark
Bright enough for WebEx calls and lightning the work desk
Perfect for motorized (sit/stand) desk
Cons
No a remote control alternative to adjust light settings
Need to choose the right spot on your desk where you can easily reach the buttons
The cable should have been a USB cable
---
11. Best Battery Operated Desk Lamp – DEEPLITE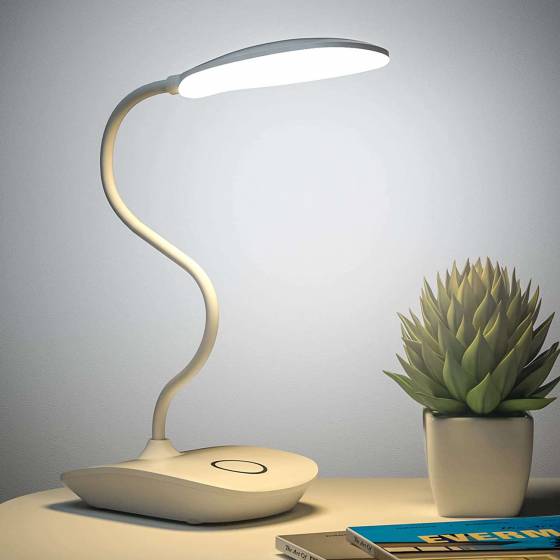 DIMENSIONS
TOP FEATURES
MATERIAL
LIGHTING
DEEPLITE LED Cordless Battery operated
15″D x 10″W x 10″H
Cable Length: 1m/3.3ft
Weight: 142g
3 Lighting Modes, Stepless Dimming
Touch Lamp
Build in battery
Portable
Foldable
ABS Plastic
High Light 18 LED Lamp Beads,
5 W, 400 lumens at full brightness
6000-6500K
Input: DC 5V 500mAh
Classic minimalist style, frosted finish. Available in white and black.
Brightness Duration: High 3-4 hours, Mid 6-7 hours, Low 8-9 hours
Pros
1800 MAH built-in rechargeable battery, will work 4-6 hours at the highest brightness after fully charged
The included 4.9ft USB cable
Gooseneck with 360° flexibility
Multichoice for charging
Takes up very little surface area
Lightweight – easy to move around
Very versatile – for desk, reading, camping…
Cons
A weak connection where the neck meets the base
Has to be charged about every other day
It's too lightweight for some tasks
---
12. Best Bankers Lamp – Newrays YY-T9009
DIMENSIONS
TOP FEATURES
MATERIAL
LIGHTING
Newrays YY-T9009 Green Glass Bankers Lamp
17.7″D x 12.9″W x 9.44″H
Weight: 5.5 pounds
Bankers lamp
Pull Chain Switch
Dimmable if using Color Changing LED Edison bulbs, and incandescent bulbs
Metal and Glass
E26 Max 60W, Incandescent, LED, CFL, and Halogen Bulbs are Workable
110-240V
50/60Hz
Compatible with virtually any bulb. Full dimmable if used with RGB Color Changing LED Bulb.
Pros
Antique, retro-style lamp
Strong and sturdy metal body
350-degree rotatable lampshade
Easy to install
Cons
The lampshade only rotates up and down
Doesn't have a dimmer switch
13. Best Sunlight Desk Lamp – Verilux HappyLight Luxe
DIMENSIONS
TOP FEATURES
MATERIAL
LIGHTING
Verilux HappyLight Luxe
0.51″D x 7.48″W x 11.73″H
Weight: 2 lbs
UV-Free LED Therapy Lamp
Bright White Light with 10,000 Lux,
Adjustable Brightness, Color, and Countdown Timer
Lights, Plastic
LED
Available in white, champagne gold, and white marble finish. US-based team with live support and a 3-year warranty.
Pros
Extra-large Display
UV Free, Full Spectrum Light
Provides up to 10,000 Lux
Highly Customizable
Different Mounting Options
Portable & Ultra-Thin Design
Detachable Stand
Cons
8.6-Inch-Tall Light May Be Too Large for Some
Heavier than Some Competitors
How to Pick the Best Desk Lamp for Your Situation
Before buying a desk lamp, you need to consider your particular situation and needs.
Do you want a lamp that fills your working area with a lot of bright light? Or would you prefer one with a relatively focused beam?
In this section, we'd go through some things you should have in mind as you pick the perfect desk lamp for your needs.
If you like DIY projects you can even create your very own desk lamp by following our simple guide.
Consider the Lamp Adjustability
Before buying a desk lamp, consider how adjustable it is.
Pay attention to how easily you can fine-tune the placement of the beam, and the different positions of articulation, including flexible goosenecks, swing arms, and boom arms.

Choose the Best Size Lamp for Your Space
There's no reason to buy a big lamp when you have a small space.
As a rule of thumb, purchase clip-on lamps or lamps with small bases for small desks and lamps that allow for full desktop coverage if you have a large table.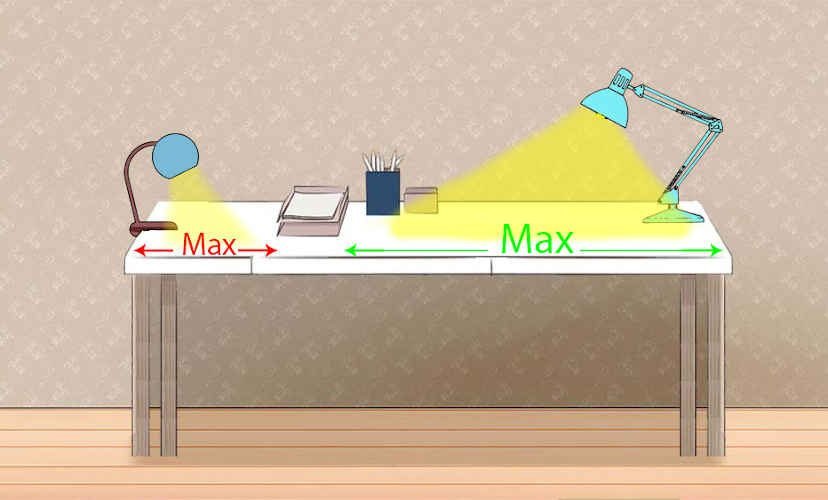 Think About the Placement of Your Lamp
The placement and positioning of your lamp is an essential factor to consider before buying a desk lamp.  
For instance, if you are right-handed, the desk lamp should be on the left side of your desk and vice versa.
If you plan to use the lamp with a computer, make sure it doesn't beam too much lighting on the screen.
Pick a Lamp With the Right Amount of Brightness & Lumen for Your Needs
More than anything else, you need a lamp with the right amount of brightness, to reduce eye strain.
It would be best if you went for a desk lamp with different light modes, color temperatures, color modes, and adjustable brightness levels and brightness settings.
How many lumens do you need? Check this helpful article.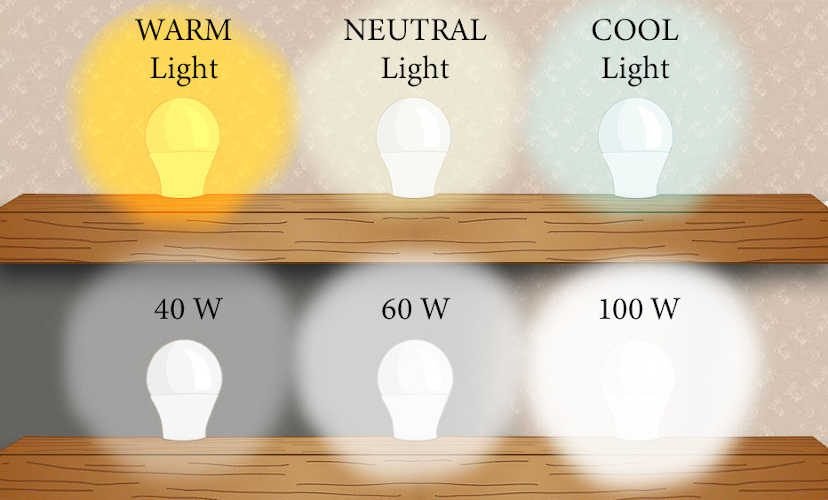 Quick Summary
These are the top-rated desk lamps that we think are the best ones for various usages. If you see anything you like, go through the links to get one for your home office, desk space, or workspace today.
If you don't see anything that you like then please go to the additional resource section that is located below.