About Our Writers:
Before I talk a little about myself first I want to mention the writers that wouldn't be possible to manage the Looney Lumens website. They are all experts in their field and because of their passion and support Looney Lumens has become a voice in the lamp niche.
I use this chance to give them a big THANK YOU!
Author: Caroline Martins
Interior Designer & Space Planner with over 100 successful projects in Europe, U.S, and Asia. Caroline's specialty is sustainable and high-end interiors: an elegant and greener way to look at the design, using recycled materials and in full respect of the environment.
With a BA in Interior Design and Livability in Future Cities and 6 years of experience in the field, her mantra is to be your guide to transform your mental image into reality. LinkedIn profile.
Author: Jovana Milošević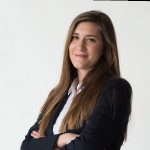 Graduated architect and interior designer. She is currently working as a light designer. She is interested in photography, new technologies, and travel. She brings positive energy to add new and fresh ideas to solve problems. Jovana occasionally writes texts about architecture and interior design. LinkendIn profile.
Author: Ting Ji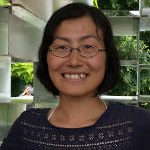 Ting is an independent lighting designer living and working in London with 8+ years of experience. She has successfully delivered various master plans, landscape, and interior projects all over the world. Ting also worked on a diverse range of projects in urban, heritage, multi-use, workspace, retail, hospitality, and daylight. LinkedIn profile.
Author: Megan O'Neill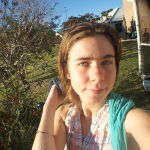 Megan is a professional writer who likes to shine her light wherever she goes. She is interested in solar energy as well as artistic lighting. LinkedIn profile.
Author: Ashley Ross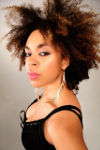 Ashley Ross is an interior designer, blogger, and author based in Atlanta, GA. Her design work includes Stay Alfred boutique hotels and Wayfair, and she has had her writing featured by OneCoast Home & Gift, Kontrol Magazine, and more. She also runs her own interior design site WandererTheBlog.
Author: Zunaira Ghazal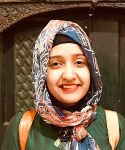 Zunaira Ghazal is an architect and interior designer. She loves how lighting can completely transform a space from drab to fab.
She's designed many ceiling plans and is an expert in what light can make which space feel good.
Who Am I?
Hello. My name is Toni.
I'm just a normal guy who spends an enormous time in front of the monitor doing lots of things.
Right now I'm changing my carrier path by learning new and interesting things about marketing and related topics. Dreaming of a day when I will work at my own pace and have enough money to travel the world and experience new and exciting things, so I could collect good stories to tell.
Sounds good, doesn't it? Fingers crossed!
I graduated high school but didn't go to college even thou my father very much wanted me to. The reason I didn't go is that I changed along the way. I couldn't see myself as a construction technician although, in the beginning, I had some interest. I always wanted to build my very own bridge, but in the end, that bridge collapsed.
After that, I worked in various job positions as a construction worker, a computer repair technician, an apprentice installing and repairing air conditioners, and in the sales industry. I had my very own startup project, even building the prototype but I and my team didn't have the necessary experience to tackle the challenges and we didn't have, as you might have guessed, the money to go on.
Also, I had some health issues that prevented me from fully concentrating on my project. But hey, what can you do? What doesn't kill you makes you stronger, right? You learn and you move on. So here I am.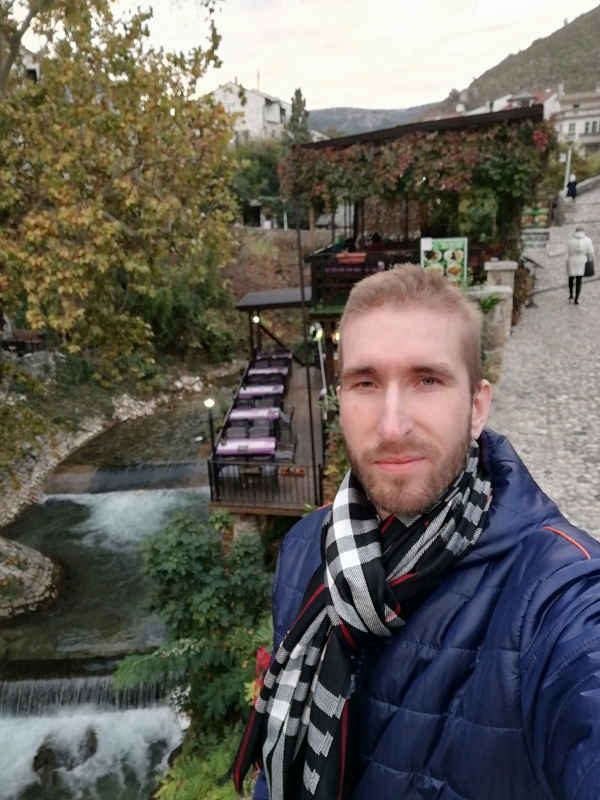 Why Do I Talk About Lamps?
The real question should be why shouldn't I talk about lamps? You may think lamps are not that interesting so why would you waste your time, right?
Well, you are wrong.
Lamps play an important role in our eye health and they act as a balance between different lights that are produced from screens and monitors.
We will see how, but first let's get some statistics and facts from TIME Health and the American Optometric Association (AOA):
Almost 90% of Americans use their screens and monitors for at least two hours a day
Of about 10,000 American adults, 65% experience digital eye strains
The average American employee spends seven hours a day on the computer, either in the office or working from home
All of them are prone to digital eye strains and not so rarely vision-related symptoms including blurred vision, dry eyes, and headaches
So are screens and monitors the main cause of eye strains and other related issues?
Yes and no.
Yes because we spend too much time and too much close to them. And no because our eyes change as we age for reasons that have nothing to do with how we use them.
But it's quite true that screens and monitors can do more damage and accelerate eye issues already at hand.
OK, so how we can minimize the risk of eye damage?
After doing some research and experimenting I have come up with 5 different strategies, which I use every day, that can help you with your eye problems:
5 Personal Tips To Reduce Eye Strain
Tip 1: Brightness
Adjust the brightness of the screen for a particular task, like if you are reading or just browsing the web – lower the brightness ESPECIALLY at night.
Extra tip!
Try using f.lux software on your PC to reduce the blue light that can keep you up at night.
I've been using it for almost a year now and my eyes don't stray as much as they used to. It can automatically change the color of your computer display so you don't need to worry about changing the brightness all the time.
Super handy!
To download the program click here.
The same f.lux software is also available for your smartphone.
Tip 2: Distance
Keep a distance from the screen.
How much?
Give your screen a friendly high five or in other words, the same length of your arm must be the same distance from you and your screen.
Tip 3: The 20-20-20 Rule
Practice the 20-20-20 rule: for every 20 minutes staring at your screen, give your eyes a 20-second pause and look 20 feet away or you can simply close your eyes.
This will relax the focusing muscles so you won't experience eye contraction which can lead to eye strains and dry eyes.
Tip 4: Use Artificial Tear Drops
If you are prone to dry eyes as I am, you know that feeling when you need to rub your eyes after some time. It feels as if the wind is blowing toward you and you need to squint your eyes. Artificial tear drops moisten your eyes and help remove that itching.
They really help moisturize the eyelids and release the tension of the eyeball. I use them in the morning after I wake up and it's enough to keep me going all day.
This might be a good practice even if you don't have dry eyes because symptoms of dry eyes can have multiple causes, just like dry or dirty air and other similar circumstances.
Tip 5: Use A Good Lamp
As we mentioned earlier that lamps act as a balance for different lights produced by our screens and monitors which saves you also from eye strains because of different illuminations which our eyes have to adjust.
You need to work on other things as well, not only gazing at your screen, just like writing or reading a book and similar activities so a nice adjustable bright light from a good lamp can really help your eyes and ease many eye problems.
Lamps are truly our sidekick partners and it's very important to know them if you spend long hours at your desk working just like I do.
And that is the reason why I talk about lamps.
My Goals And The Reason Why I Created LooneyLumens
My goals are things that are very important to me and that is friendship, health, growing in experience, helping people, and creating something in my life.
To discover a deeper meaning of this crazy world of ours.
Life isn't just about living and paying your taxes. That is a horrible way to live. But you got to start somewhere, right?
My Old Lamp
I hated my old and rigid lamp.
It was a metallic adjustable swing arm desk lamp with an incandescent light bulb.
It didn't have a base but it had one of those C-clamp mounts.
Of course, it served me well throughout the years, even back when I was in high school and it was in 2004!
But as my needs changed, so did the lamp had to change.
I could have it replaced with an LED light bulb but frankly, I didn't like the overall design of the lamp. I wanted a completely new one.
It didn't have any lighting mode options, no illumination controls and it was getting even worse. The stupid lamp was starting to fall when I was working!
The C-clamp sometimes wasn't strong enough to hold on to the table no matter how hard I tried to screw it in place. I even installed a wire to support it so it won't fall off and land on my head. It was frustrating…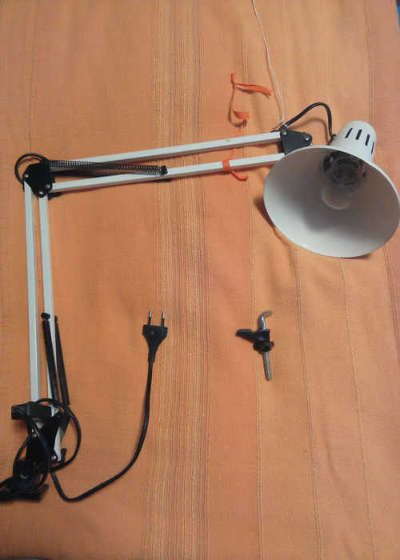 One day, I got curious and went online to search for other lamps and maybe even to buy one, and then the WOW moment happened. I couldn't believe it! So many different kinds of desk lamps and so many options to go with them.
I was feeling like I have lived under a rock. I didn't even imagine what was going on out there in the lamp market.
And then I was feeling a bit confused… With so many options I didn't know how to choose one.
Of course, I had several products in my mind but they were all different. Different sizes, different shapes, light options…
And what's that – color temperature, full-spectrum fluorescent lamps, kelvin(K), CRI, CCT ???
My head was spinning.
Does this always happen when someone is shopping for a lamp I was wondering?
After I have done my own research I finally concluded what to look for when buying.
And I got to say that you really need to know a few things before you go shopping.
I bought myself the lamp I needed – it has lighting modes like studying, reading, and relaxing, brightness-level control, and a USB port for charging my smartphone.
Even has a display with time measurements – clock, date, and even indoor temperature.
Didn't really need one but it's a nice touch, don't you think?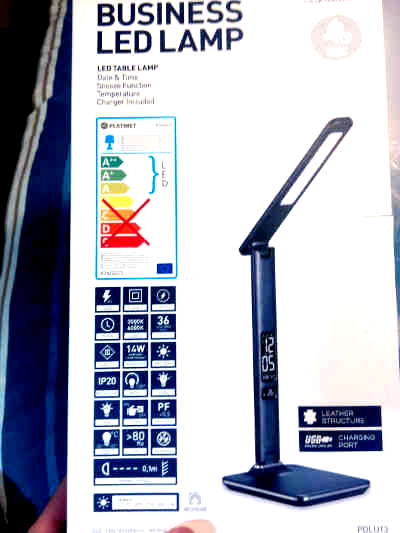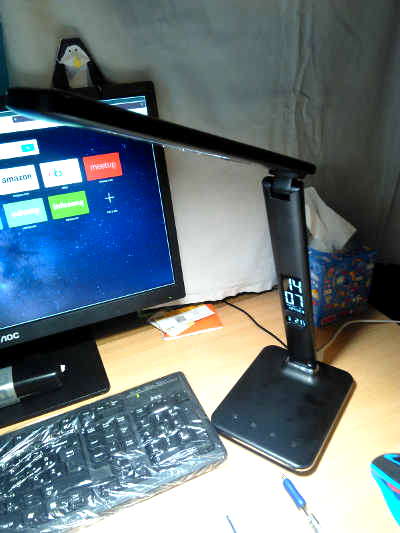 So that's why I created this site. Not just to buy me a new modern lamp. But because I know that there are surely many people, including YOU who read this, who are still confused and don't know how to correctly choose a proper desk lamp for their specific needs. Just like I didn't know and was struggling for a while. I hope that this site will help them and you to pick the best lamp for your needs.
May you get enlightened both metaphorically and literally and choose the best lamp for your needs! Happy research and shopping!