Whether you own a small business, need a small lamp for reading, or have a fancy office at a Fortune 500 company, a functional desk lamp is a necessary component of a great workspace.
But, are you using the right light for your space? To help you answer this question, we bring you our guide for choosing the best office desk lamps that you need.
Also, we will cover some useful and interesting subjects like:
how lighting affects our productivity and health
what are the most important factors when shopping for an office lamp
the difference between watts and lumen and why is that relevant
benefits of using LED light bulbs
reviews on the best office lamps in the market (both modern and traditional types)
Looney lumens is reader-supported and participates in the Amazon Associates Program. When you buy a product through links on our site, we may earn a small commission, at no extra cost to you.
If you are in a hurry then we recommend checking our top pick: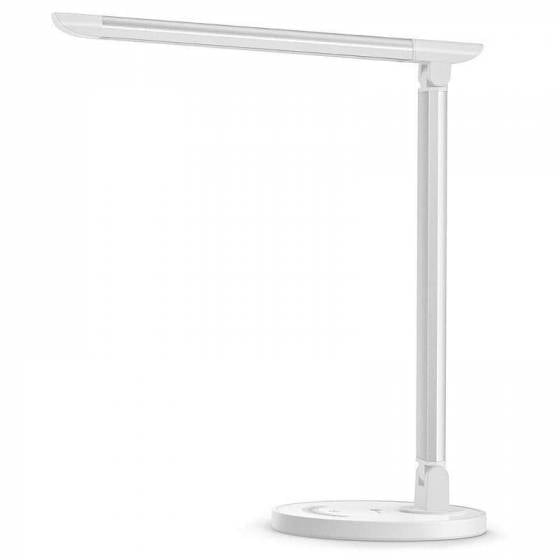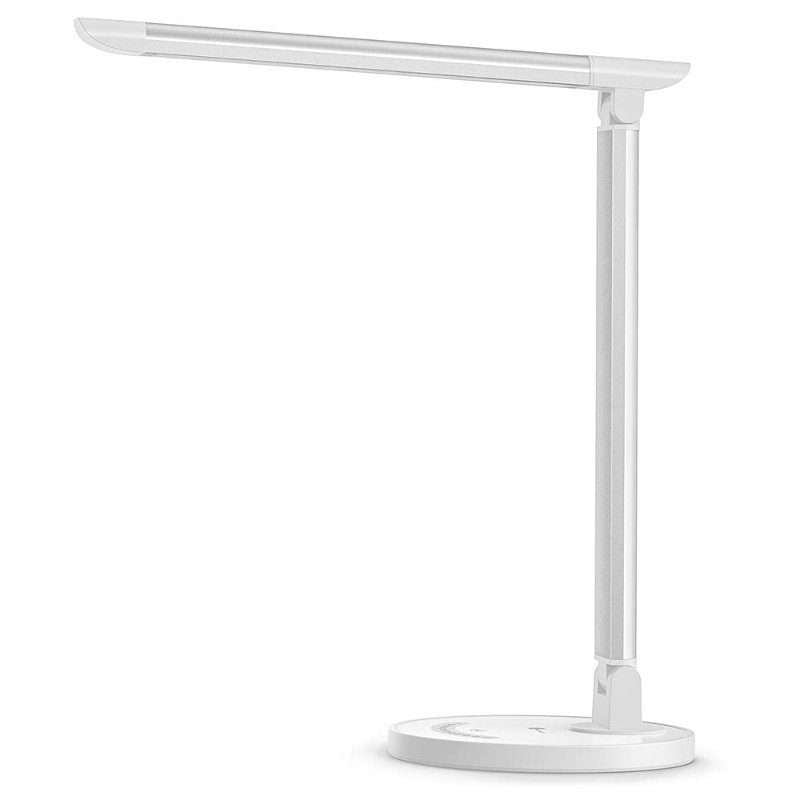 Soysout Eye-Caring LED Desk Lamp
After carefully analyzing all the products, we concluded that this Soysout model with touch control is the most suitable office desk lamp for several reasons. It has many different glare-free 5 light modes and 7 brightness level options, which are great for working all day hours. Possessing a USB port for charging devices and having a memory function means you don't need always to configure it. Available in white, black, grain white, and grain black finish. Sleek and elegant design that goes with almost all office decorations. Also doesn't take up much space.
Did you know that one LED will save you more than $100 over the bulb's life?
The Power Of Lighting And Its Effects
Since as early as 70.000 BC, humans have relied on the power of light to help them through their daily lives.
Lighting is a complicated subject, and with all of the types of lighting on the market, it can be hard to navigate.
From LEDs to incandescent, lumen's to watts, cool to warm, and everything in between, there is a lot to think about when finding good light.
You may not have thought much about how much lighting can affect the way you live or work, but did you know that the kind of lighting you use can directly affect your productivity, health, and your ability to retain information?
Choosing the wrong desk lamp can also cause many other issues such as compromised eye health from straining, migraines, and, believe it or not, mental health issues due to lack of proper ambiance.
As a matter of fact, lighting is so essential that there are calculated mathematical formulas that help determine how many lumens are necessary for any given project.
Since the average person isn't spending their days calculating light equations, this guide was created to do the work for you.
Vital Considerations When Choosing The Best Office Desk Lamps
When shopping for office desk lamps, the most important factors to keep in mind are:
height
brightness
light temperature
visual appeal
Height
Height is vital since the taller the lamp is, the more ground it is going to cover.
If you have a large workspace, like a drafting table, you may want to look into a desk lamp with a longer reach or an adjustable base.
On the contrary, a shorter lamp arm should do the trick if you have a small space such as a writing desk.
Brightness
Brightness levels are something else to keep in mind when shopping for the perfect desk companion.
This is important not only for obvious reasons, like what task you are using it for but also because different lighting gives an extra ambiance to a room.
Light Temperature
Just as important as light brightness is light temperature.
While the kind of light you prefer is mostly up to personal preference, different light temperatures give a different ambiance to a room.
Temperatures can include:
Warm White (2700-3000K)
Cool White (3500-4100K)
Daylight (5000-6500K)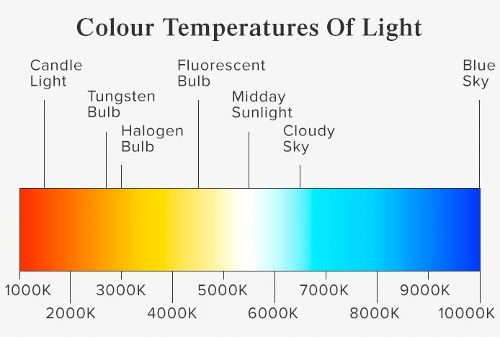 For example, suppose you are shopping for a desk lamp to use as a reading light. In that case, you will probably find a warm white lighting temperature more appealing to your setting.
If you are looking for a desk lamp for an office space like working in front of a computer monitor or a warehouse setting, brighter white hues with a higher light temperature may be more suitable.
Visual Appeal
Lastly, and most importantly, when shopping for a lamp, you want to look for something suitable to your personality.
This is the fun part where you get to choose what color style or finish you want for your space to really stand out. After all, what fun is a desk lamp if it can't cater to your style?
You may choose a sleek black metal or bronze finish to go along with the space's serious feel for those who like a commercially industrial look.
For a more homely ambiance, one might choose a white or brushed silver lamp.
A #girlboss space might include something fun like a pink or yellow paint finish. The possibilities really are endless. It's all about letting your individuality shine through.
Best Office Lighting for Computer Work And Eyes: Watts or Lumens?
Light is measured in either watts or lumens, with the latter being more popular with LEDs'.
Most people don't know that watts actually only measure energy and not brightness, whereas lumen's measure the actual amount of light output.
This video shows you the benefits of using LED bulbs for your office space and your entire house.
Most of us reading this are probably looking for lights that cover everyday tasks such as reading, computer work, or going over documents.
The average reading light is around 450 lumen, so that is the ballpark you want to stay in during your research. However, age also plays a factor in how many lumens you may need.
Lumens are typically regarded as a better measure of light than watts, so that is what you want to look for above all other options.
For those who are 50 or above, you may want to look into more targeted lighting options such as lamps for more mature eyes that reduce light glare and scatter.
Conversely, many people think only a lack of light is an issue, which isn't true.
A younger person or child may want to ensure that they aren't buying a lamp with too much light, which can cause some of the same health problems mentioned earlier.
When considering both light brightness and temperature, you may want to assess how much natural light your space has. The more light you already have, the less you will need, so this is an essential factor to keep in mind when going for optimal office lighting.
Top 4 Best Office Desk Lamps That Are A Must-Have – Review
Now that we've discussed how to search for the perfect desk lamp and the benefits of using them, you need to know where to find one with all the qualities mentioned above.
With millions of desk lamps on the market, you're probably wondering how to sift through them, so here is a list compiled of some of the best on the market:
1. Newrays – Traditional banker's lamp
We shall start with a classic one. Why? What kind of a list of the best office lamps would be without a traditional banker's lamp?
It is told that your desk is a reflection of your character and nothing speaks best than this lamp. This classic lamp will never age. It is timeless!
A tremendous antique mid-century look with a durable and robust metal satin brass base that resists rust. Combined with a thick emerald green glass lampshade and a metal beaded pull cord switch. It appears really unique and will last for years to come.
The green lampshade is rotatable (up-down) to 350 degrees, which gives decent light control where you need it.
Also, it supports up to 60 watts and has an E26 base for standard light bulb installations. For the full effect, we recommend that you buy a vintage Edison tungsten bulb. For energy efficiency, you can buy LED bulbs.
Pros
Antique, retro-style lamp
Strong and sturdy metal body
350-degree rotatable lampshade
Cons
The lampshade only rotates up and down
Doesn't have a dimmer switch
2. Soysout Eye-Caring LED Desk Lamp
Soysout is a leader in lighting technology. This best desk lamp for computer work has fantastic reviews to back up its hype.
It has a very clean, minimalist feel that makes it perfect for modern homes or commercial office spaces with a nice elegant look to it, particularly in the silver finish. Its aesthetics are only the icing on the cake, though.
The lamp functions themselves are boast-worthy, as it comes with 25 light modes that each have five brightness levels.
It has a memory function that learns your habits over time and consistently reboots to program them as presets, which means less work for you. Just hit the switch, and it will automatically turn on the function you use most.
It also has a strain-free lighting feature, meaning that when you initially turn on your light, it beams it sideways so that you won't harm your eyes.
Another nice bonus to its features is the built-in USB port in the back to keep your phone, Kindle, or iPad handy. With a price that is not so high, this sleek and efficient lamp is an absolute steal.
Pros
Sleek design
Versatile light settings
Built-in USB port
Lots of lighting modes
Cons
The base doesn't swivel left and right
3. OTUS DL-001BL Architect Lamp with Gesture Control
This lamp is a little on the pricey side but is an excellent investment considering its 50,000 hours of LED lamp life.
It also comes with cool features such as a motion sensor on/off switch, 3 color settings, 12 brightness levels, and 36 light settings that can reach up to 1200 lumens.
Like the OTUS, it has a memory function that will preset your most-used settings and eye-protective lighting that emits natural light and reduces eye strain for those who spend a lot of time reading or hovering in their workspace.
This lamp also has a swing arm, making it optimal to move around to any position. While there may be cheaper lamps on the market, the major selling point here is the fixture's incredible life span and quality.
Pros
Swing-arm
Many lighting settings
50,000-hour lifespan
4. OTUS LED architect Computer Desk lamp for Home Office
OTUS markets itself as being exclusively built for increasing efficiency and targeting professionals who work in multi-screen environments.
It is definitely not the most expensive light on the market. It has a variety of features that make it worth the money.
Possessing a 31.5-inch ultra-wide LED light bar, meaning it can evenly distribute light amongst a work-space and illuminate monitors.
It has a gooseneck, making it highly adjustable, and, like the others, 15 minutes auto-off timer, a memory function that remembers and restores your lighting settings from the last use, and a memory function that will adjust to the last setting you used when turned on.
The lamp comes with 5 temperature levels and 5 dimmable brightness levels, which isn't as many as the others.
It doesn't offer much by way of aesthetics, but if you're simply looking for a good, clean office lamp to get the job done, this is your guy.
Pros
Exclusively for illuminating monitors
Exceeds expectations at this price point
Cons
Aesthetically not exciting
Not many lighting options
Other Useful Office Lamps That Are Worthy of Mentioning:
Drevet Classic
Best Desk Lamp For Gadget Lovers
If you're hard up for space inventory or have many gadgets, this lamp serves as a light source and as a charging port.
It comes equipped with 3 USB and two power outlets. It's perfect for business professionals who need to stay charged.
It also has a touch dimmer control, a memory function, and a timer.
This lamp is economically efficient if you don't want to purchase both additional outlets and a desk light.
Newhouse Lighting Amelia NHDK-AM-WH
Best Contemporary Lamp
This lamp comes with an LED light bulb shining at 750 lumens and a warm white lighting temperature.
It doesn't come with many bells and whistles, but is a functional light for a home office or more contemporary commercial space and is fairly priced overall.
TOBUSA LED desk lamp
Best Vintage-Inspired Lamp
This desk lamp is beautiful, sleek, and the closest thing on the list to a traditional, vintage task light.
It comes with a 40-watt bulb, making it suitable for any room that needs a good amount of light.
This lamp does not have adjustable settings, so it is more suitable in a trendy home office or real estate and design firms where aesthetics is more important than functionality.
It's on the expensive side of things and is definitely more of a conversation piece than a functional one.
Chris.W LED Lamp for Kids
Best Children's Lamp
This reading lamp provides just enough light for a little one to read or use as a night light.
It has a lithium battery that is USB rechargeable, 360-degree rotating ability, and 3 levels of brightness.
Besides the affordable price tag, my favorite part about this lamp is the pencil holder/phone stand at the bottom which gives it a double duty.
HAITRAL A001-AMD Industrial
Best Trendy Lamp
The farmhouse industrial trend has been going strong in design for a few years now. This lamp is the perfect sidekick to any farmhouse-themed office.
It packs a lot of punch for its small size at 60 watts and comes in various colors. It's perfect for a dorm or teenagers' room as well.
LAOPAO LCD Foldable Desk Lamp with Display
Best Multi-Functional Lamp
You'll be hard-pressed to find something this lamp doesn't do.
Its LCD screen displays the time, date, weather, and more plus an alarm function.
The foldable design with touch control also features multiple charging functions.
It has a 3-level dimmer control, a 60,000-hour lifespan, and a 180-degree fold capacity, which is all very impressive given its size and affordable price.
Larsen Thompson Metal Desk Lamp with Flexible Gooseneck
Best Budget-Friendly Desk Lamp
This desk lamp is as simple as it gets but still super functional.
It's the most cost-effective lamp on the list, but still stylish and gets the job done.
It hosts a 60-watt bulb, an on/off switch and a hose neck for adjustability. If you just need a lamp that's straight to the point, you have found it.
Quick Summary
Overall, choosing the right desk lamp is a necessary component for all home and office spaces. Due to the health issues that can arise from improper lighting, it is imperative to know which light works best for you.

Always remember that height, brightness, temperature, and visual appeal are the top things to look for in your search. With so many options on the market, the perfect desk lamp is out there, no matter what budget or style you are looking for.
Now that you know the most crucial components to search for in a desk lamp, why it's important to choose the right amount of lighting for your space, and have seen some of the options offered, it's time to go shopping. Be sure to use this guide on your journey to perfect lighting.
Resources
Author: Ashley Ross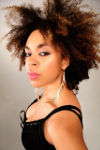 Ashley Ross is an interior designer, blogger, and author based in Atlanta, GA. Her design work includes Stay Alfred boutique hotels and Wayfair, and she has had her writing featured by OneCoast Home & Gift, Kontrol Magazine, and more. She also runs her own interior design site WandererTheBlog.