There are many things that you need to consider when buying the best clamp lamp. Let's list them all out in detail:
Things To Consider When Buying A Clamp Lamp
The clamp itself
The biggest selling point of a clamp lamp is actually the clip that clips onto the desk or table edge.
Badly designed clamp lamps tend to fall off the edge due to bad balance. Other times, the clamp mouth is not large enough to actually clip on the edge of the desk.
The ideal measurement of an open-mouth clamp is more than 1.5″ as that is the standard thickness of a desk edge.
Some clamp lamps are also semi-permanent. They can be screwed into the side of the table for better balance, but you can't really move them around after.
Some of the best clamp lamps in the market have padding inside of their clips so that they don't end up leaving scratches on the table/desk edge because of the tight grip.
The flexibility of the design
A good clamp lamp is supposed to be extremely flexible.
This mostly refers to the neck, which you should be able to pull back, forth, and sideways according to your needs. This flexibility not only makes your work easier but also allows you to move the task lighting to the exact spot that you need.
If the arm or the neck is not adjustable, you'll have to stick to that one spot on your desk in order to access all the best light.
The usefulness of the bulb
More than anything else, you need to ensure that the lights used in your clamp desk lamp are suitable for the kind of work you do.
Warm light is always pleasing to the eye, but cool white light is recognized for raising the serotonin levels of the body, which makes work more efficient. Moreover, you need to select a clamp lamp that would not emit glare as it can cause your eyes to blur and your head to ache.
A good clamp lamp will have a brightness setting that will allow you to dim or flare up the LEDs according to your needs.
Aesthetics
Clamp desk lamps are usually very simple and minimalist in design.
They're unadorned and built for function first and aesthetics second. This is why most clamp lamps don't have fancy looks.
They're highly ergonomic and consist of basic components. The one allusion to visuals in these lamps is basically the design of the neck or shade.
Getting creative with it requires a lot of savvy, but still, most consumers tend to pick designs that reflect comfort more than beauty.
Material
Lastly, a good clamp lamp should be made of sturdy materials.
Since portability is the key design element and selling point of such desk lamps, they must be made up of lightweight, long-lasting materials that don't weigh down the user with their heaviness.
The most commonly used materials used in clamp desk lamp designs are plastic and metal. Usually, a combination of the two is used so that the elements of accessibility, sturdiness, and longevity can be combined in a single product.
All top 3 of the clamp lamps we're featuring have the best qualities. They provide enough lighting, are adjustable, and come with great clamps that lock onto the table/desk edge very sturdily.
Looney lumens is reader-supported and participates in the Amazon Associates Program. When you buy a product through links on our site, we may earn a small commission, at no extra cost to you.
TROND LED Clamp Desk Lamp Task Light
Made from quality aluminum alloy gives this lamp the ability to last a long time. The neck is relatively long and it's very adjustable. The 1.65-inch clamp width is enough for most desks and tables with added padding – meaning no scratches. It has many lighting options plus a memory function which is very convenient.
The TROND LED is our number one choice for the best clamp desk lamp for multiple reasons.
First off, it's got an incredibly flexible design. Its gooseneck design can be twisted in any direction very easily. The metal coating on the body ensures that the adjustability never makes a noise.
You can simply direct the task lighting anywhere you want. But best of all is the fact that it emits a 5800 K (Kelvin) daylight, which helps your body produce serotonin and keeps you awake/alert whenever you're working!
Compare The Best Clamp Desk Lamps
| | TROND LED | Eyocean | Globe Electric |
| --- | --- | --- | --- |
| | | | |
| Arm style | Twistable 19.7" gooseneck style | Free angle adjustable neck | The spring-loaded arm can be adjusted |
| Material | Premium aluminum alloy | Plastic and metal with a silver/white/black finish. | Black finished metal |
| Bulb & Light type | LED bulbs with excellent daylight-range | LED light bulb with 3 options | Medium Base 60W Bulb (sold separately) |
| Power button | Touch system | Light switch located on the cord | The on/off switch located at the top of the lamp |
| Clamp type | 1.65" metal clamp with padding | The clip can open up to 2.4" | 2" wide metal clamp |
| Energy efficiency | 70-80% less energy consumption | 70-80% less energy consumption | Depends on the choice of the bulb |
| | Check price | Check price | Check price |
Beyond the Best – Our 3 Runner Ups
Review of the #1 Clamp Lamp: TROND LED Task Light
The TROND LED Clamp Desk Lamp has been chosen as our number 1 recommendation because of its highly user-friendly design.
It's definitely function-oriented but also delivers on the aesthetic front with its sleek, modern visuals.
Here are a few reasons why we picked this clamp lamp as our best choice and why you should go for it:
Multipurpose illumination settings
One of the top reasons that the TROND Clamp Desk Lamp is our number one choice is because of its highly versatile illumination settings.
Its standard setting is a super-bright daylight tone that increases serotonin production in the body and keeps you focused on the task. Other than that, there are 3 brightness selection levels that you can cycle through depending on your needs.
The best part is that this clamp lamp comes with an upgraded memory function. This means that you won't have to cycle through all brightness settings to get back to the one you'd set up the last time you turned it on.
The Integrated Memory function already remembers the last setting and will automatically switch the lamp on to that.
If you need to readjust, you can simply tap the power button to cycle through the various brightness levels again. You need to touch the power icon for 2 seconds to turn the lamp off.
Ergonomic specs
A good clamp lamp needs to have the most user-friendly specs in order to be as ergonomic as possible, and our top pick completely delivers on this front.
It has an extra-long gooseneck that can be twisted in any way, shape, or form you need to accommodate your work. The 1.65″ clamp width is suitable for various desks, headboards, workbenches, easels, drafting tables, and more.
Furthermore, the insides of the clamp mouth are lined with padding so that your furniture won't ever be susceptible to scratches.
The daylight color temperature is perfect for enhancing the quality of your focused task. The 82+ Color Rendering Index (CRI) ratio ensures that you can easily decipher the colors, specific shades, and hues for any design, craft, or sewing-related work.
Lastly, the flicker-free and eye-caring tech ensures that your vision would never suffer from any unexpected glares from this clamp lamp.
Sturdy material construction
The TROND Clamp Desk Lamp is our top choice because it's made up of the sturdiest materials. This ensures incredible longevity.
The clamp is crafted from sturdy metal for extra weight and stability. The gooseneck, however, is made from premium quality aluminum alloy to ensure additional strength. It is even covered with a special coating to prevent any noise while you twist it to suit your work needs.
One major con that many users find in this particular clamp lamp is the location of the vent holes of the light. As they are located on the underside of the lamp, it's very difficult for the heat to dissipate, which causes the lamp to get too hot after even an hour of constant usage.
However, it's not a defect that you can't live with. The good qualities far outshine the bad ones.
Pros
Versatile illumination settings
Memory function
Extra long gooseneck
Has padding
Quality aluminum alloy
Cons
It gets too hot after some time
Not very good for lighting larger areas
Review of the #2 Clamp Lamp: Eyocean Clip-on Light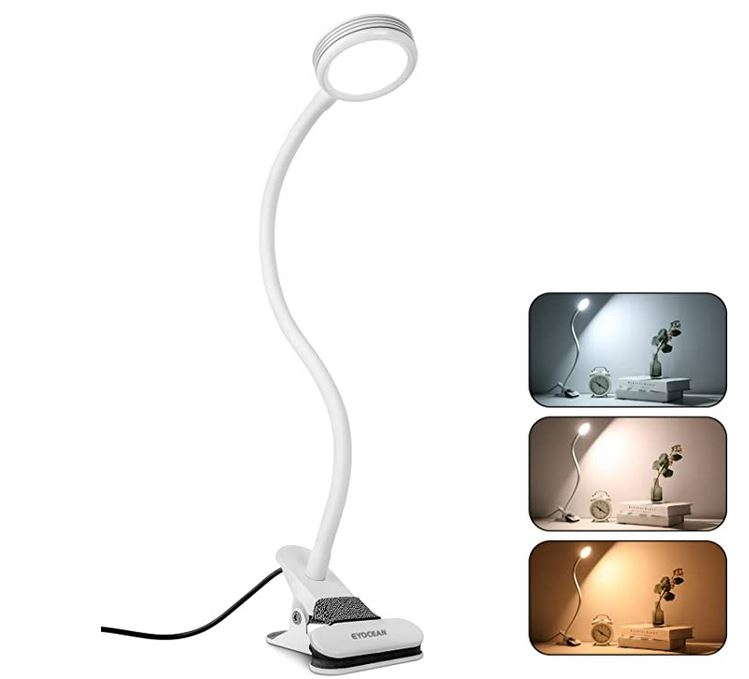 Here's a quick review of everything that you need to know about our number two best clamp lamp choice:
Great illumination adjustability
The brightness and illumination settings of this clamp lamp are quite easy to use.
When switched on, you can either set it up for the "cold', "natural" or "warm" light setting, depending on what work you're doing, how much illumination you need, and how focused you need to be.
There are 9 brightness levels. Dimmable. Eye-caring desk lamp made of high-quality LED bulbs.
For example, if the warm or white lights are too dim, you can brighten them up. Similarly, if the brightness is too much, you can dim it as well.
Good ergonomics
As always, ergonomics always matters the most in the design of a good clamp lamp, and our number 2 choice delivers the best on this front.
The Free Angle Adjustability of the arm and lamp holder allows the user to easily move the head of the lamp exactly where they need it.
The clamp opens a whopping 2.4″ so that you can easily clip it on any surface, be it a desk, your headboard, an easel, etc.
Lastly, the non-flicker eye care tech raises the bar high for other lamps in this genre.
Many people tend to find the 5-foot long adapter cord a little small, considering that it has to be plugged in at all times. There's also a gentle kickback when you twist the gooseneck, but nothing too unsettling.
Pros
2.36-inch wide clip
Has padding
Multiple ways to charge it with a USB
Cons
Relatively short adapter cord
The clip can move if the head is extended high
Review of the #3 Clamp Lamp: Globe Electric 56963 Swing Arm
Our third best choice features a stylish, vintage-retro aesthetic, and is definitely one of the best clamp lamps out there. Here's why:
Ergonomic body
This lamp comes with a clamp that opens up to 2 inches. The arm is spring-loaded and easily adjustable.
There's a conveniently located power switch at the base of the lamp that provides easy access. The shade is also easily adjustable and the glossy black finish evokes a classic mid-century style aesthetic as a whole.
The biggest con of this lamp is that it doesn't come with a bulb. You have to buy a separate 60W LED bulb.
Many customers have also noted that the lamp tends to fall off on one side if left as is for long periods of time.
Pros
Easily adjustable arm
Stylish glossy black finish
6-foot-long power cord
The head is maneuverable
Cons
Doesn't come with a bulb
Tightening the clip too hard can break it
The lamp tends to slowly fall in some positions
Beyond the Best – Our 3 Runner Ups
While we've taken a close look at our 3 best clamp lamp choices, now it's time to look at our 3 runner-ups as well.
Here they are:
No. 1: YOUKOYI LED
This stylish clamp desk lamp comes with a flexible gooseneck design and the head consists of a tube-shaped LED with an admirable 10 brightness setting levels. With 3 color temperatures, a USB power port, and anti-glare eye care technology, this is a great lamp choice for everyone.
No. 2: iVict 24 LED USB Book Light
With an 80% reduction in your power consumption along with a highly ergonomic body, this clamp lamp will become your best desk accessory. It has 3 lighting modes (warm, cool, and white-warm) along with 10 brightness levels. The eye-protection technology and auto-off + memory function deliver on the smart front.
No. 3: Xtricity Lamp
This sweet, simple, and incredibly stylish clamp lamp is perfect for generic tasks. It's 10 inches tall and comes with a twistable gooseneck. The body of this lamp is very compact, which makes it especially perfect for cramped work areas. It's also lightweight and comes with a replacement bulb.
So now you know the best qualities to look for while searching for the best clamp lamp.
Our top 3 choices will give you a good number of options in style, functionality, and user-friendliness, and if you're still not satisfied, you can always check out our top three runners-up to widen your scope of choice!
We're sure that you'll find exactly what you've been searching for!
External Sources:
Author: Zunaira Ghazal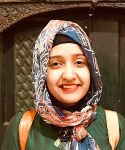 Zunaira Ghazal is an architect and interior designer. She loves how lighting can completely transform a space from drab to fab.
She's designed many ceiling plans and is an expert in what light can make which space feel good.