Today, we are here to talk about desk lamps with charging stations that include USB ports or Wireless charging stations in their base: a synonym of functionality and style.
If you needed another excuse not to be away from your phones at any time, day or night, we are here to provide it!
Buying a lamp today doesn't simply mean getting a new light spot for your home or office: it means making a fundamental decor and design choice, choosing which technological feature you want with it, and enjoying many of its great functions.
So stay with us while we cover the following topics such as:
Analyzing the main pros and cons of wireless and USB charging stations, so that you can find out which best suits your tech habits
What other desk lamp features are important besides having a USB or wireless charging functions
Our best picks of desk lamps with USB charging stations and wireless ones link to the product and summary of best and worst reviews.
Desk Lamps With Charging Stations: USB vs Wireless – Which Is Better?
Since the launch of the iPhone X, we have been hearing the terms like wireless charging more and more. However, this technology, which to the least experts could look like such a complicated and advanced jump into the future, is not really that mysterious.
Smartphones have a plate that is sensitive to the electromagnetic field created by the wireless charging base or dock. Once the device to be charged enters the radius of the electromagnetic field (an inch or two) the recharge is activated.
But how to know which desk lamps with a charging station to choose from? Should you go classic and choose a USB charging station, or if you should join the new and trendy technology?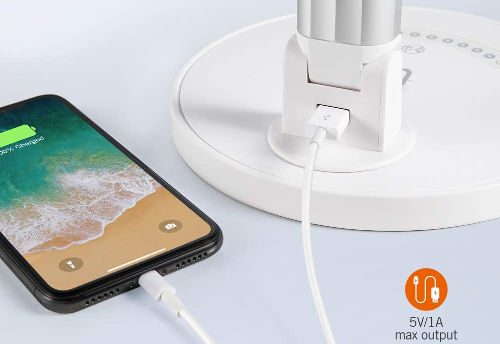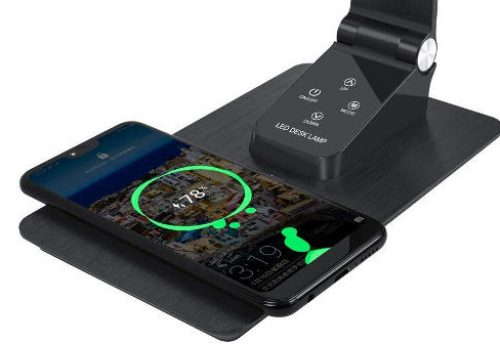 Consider this: wireless charging is relatively cheap, and as of today it can be used on ALMOST all devices. It is incredibly comfortable and pleasant looking, because it eliminates almost all cables, and is quite versatile as well because you won't have to remember to charge devices or power banks.
On the other hand, however, USB charging is quicker, works on ALL devices, and it does not disperse energy, which means that it does not pollute. Furthermore, it allows you to use your phone while charging, as opposed to wireless solutions.
Comparison Table Between USB & Wireless Stations
USB Charging Station
PROS
Quicker and faster charging
Compatible with all devices
Using the phone doesn't interrupt charging
CONS
Use of cables
Untidy look
Wireless Charging Station
PROS
Compatible with almost all devices
No cables required
Tidy look
Versatile
CONS
Doesn't support some devices
Slower and longer charging
Using a phone does interrupt charging
Other Essential Features To Look For: How To Choose The Perfect Desk Lamp
Let's find out how to choose the perfect desk lamp: which factors need to be considered before your next purchase. Design, lighting, and consumption are of the utmost importance!
When choosing the perfect lamp for your desk, remember issues such as illumination levels, consumption of electricity, fixable angle, material, and style, but also consider the presence and amount of charging ports.

If we spend most of our time in front of the PC or bent over books, it is important to choose the right lighting. Desk lamps must be chosen with great care, carefully examining all the features that can affect our comfort.
Lighting
Poor lighting that is not suited for our needs can, in fact, cause eye strain, especially if we use it frequently, as well as incorrect postures. It is, therefore, better to opt for models that allow the light beam to be oriented according to need, as is the case with desk lamps equipped with adjustable arms.
Electricity Consumption
Electricity expenditure should also be considered, especially if your lamp will be on for several hours a day. Consumption can be reduced with the use of LED lighting.
Design And Size
As with any piece of furniture, also in the case of desk lamps the style matters. Therefore, the design and size of the lamp should not be neglected to ensure that it is suitable for the work surface where it will be placed and that it can be perfectly integrated with the rest of the furniture.
So, if you have made your decision on one solution or the other, you are ready for our next section: our top product choices of desk lamps with a USB charging station and wireless charging stations.
Looney lumens is reader-supported and participates in the Amazon Associates Program. When you buy a product through links on our site, we may earn a small commission, at no extra cost to you.
Desk Lamps With USB Charging Stations
1. COZOO LED Desk Lamp with 2 USB Charging Ports
TOP PICK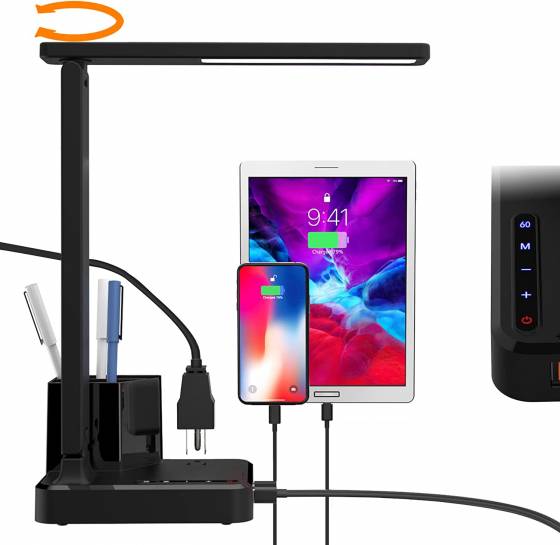 This Amazon's Choice, multi-purpose desk lamp features a 2 Ports Smart USB Charger, 1 Type C Port, and 1 Standard AC Outlet that can charge up to 4 of your devices that give it yet another level of convenience.
A built-in pen/pencil holder enables you to keep your desk uncluttered.
Features 48Pcs LED with 3 lighting modes (2700~6600K) and 3 brightness levels. With three angles of adjustment, for height swivel, and light angle (front to back) you can direct your light to any point needed.
Available in black, white, light wood, and walnut wood finishes.
Pros
90-Day Money Back Guarantee and 24-month warranty
Material: PC+ABS Fireproof Plastics
Versatile and takes up little room.
Cons
The humming can be heard when used to charge high-powered devices
The length of the light could be longer
2. TROND Halo 11W-C Clamp Desk Lamp with USB Charging Port
CLAMP LAMP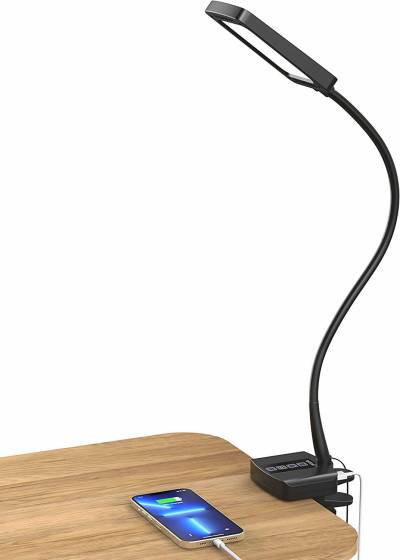 This next-level flexible gooseneck desk clamp lamp comes with a DC 5V 1.5A USB charging port, allowing you to charge your most needed devices.
Thanks to a strong metal clamp can be used on a desk, table, shelf, or easel. A premium aluminum alloy flexible gooseneck offers you the possibility to direct light in any needed direction at almost any angle.
This dimmable desk lamp features 5 color modes (3100K-6200K), and each color mode has 5 brightness dimming levels (300-1000 lumens).
Pros
Aluminum alloy gooseneck
Good quality charger
Beautiful design
Cons
Doesn't have the built-in battery
The power cord could be longer
3. Wanjiaone Desk Lamp with USB Charging Port and LCD Screen
MULTIFUNCTIONAL DESK LAMP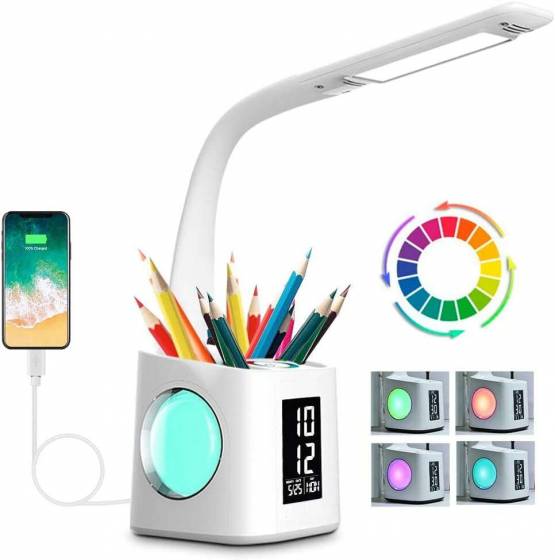 This modern multifunctional dimmable gooseneck design lamp presents an LCD screen that can be pressed down for 3 seconds to turn on or off the lamp. With 256 colors to change this lamp, as a nightlight, can bring an ambient atmosphere to any bedroom.
Aside from presenting a USB charging port (5V/1A), this great product also allows the setting of alarms and informs on time, date, day of the week, and temperature.
The LED lighting comes with dimmable 3 brightness levels.
Pros
30-day money-back guarantee and a 12-month warranty
High-quality materials
Highly adjustable light
The LCD screen is easy to read and use
Practical and works in several different positions
Cons
The clock doesn't dim (but can be turned off)
The controls for the clock are on the bottom of the lamp
4. Soysout Eye LED Desk Table Lamp with USB Charging Port
Eye-Caring LED Desk Lamp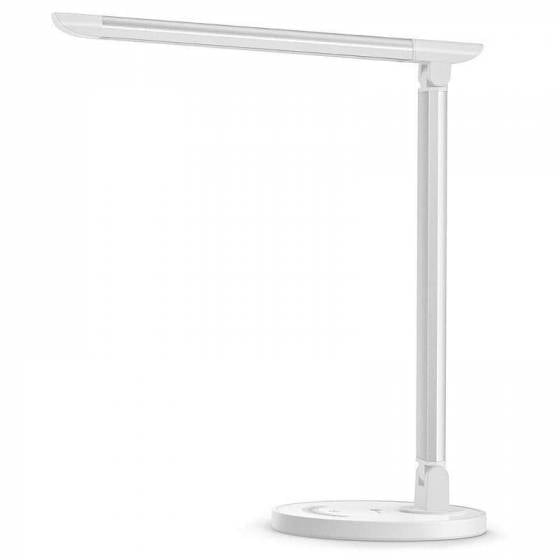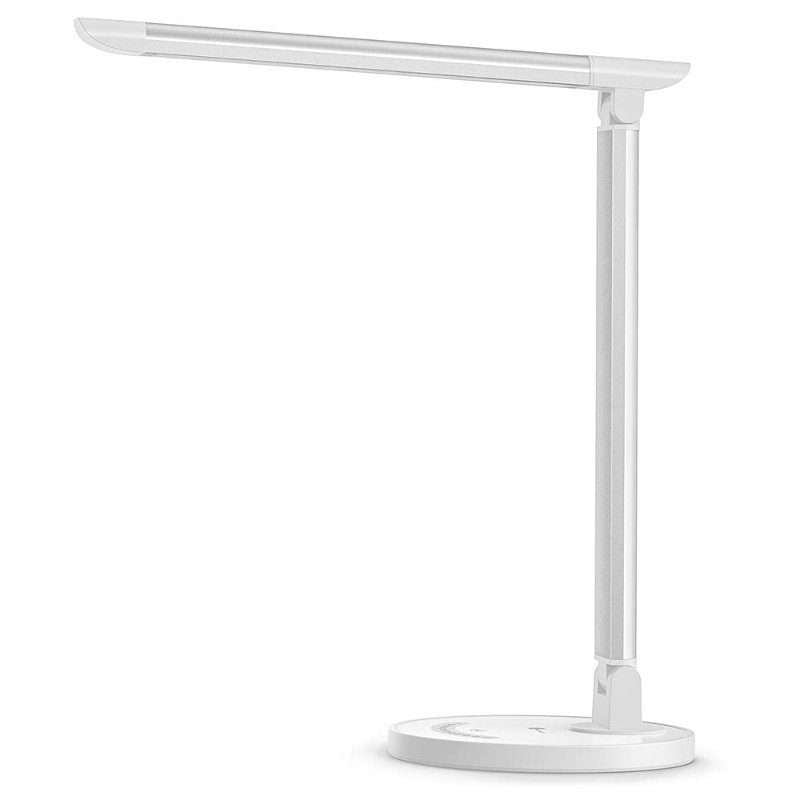 This sleek look desk lamp with a USB charging port comes in white, white wood grain, black, and black wood grain finish. Features 5 lighting modes (2700-600K) and 7-way dimmable touch control.
Gentle on the eyes. Adjustable Design. Energy Efficient – average life 50000 hours.
Pros
LED technology
Very affordable
The powerful light that does not strain the eyes
Fully Adjustable Angle
Memory Function
Desk Lamps With Wireless Charging Stations
1.EtoBesy LED Desk Lamp with Fast Wireless Charger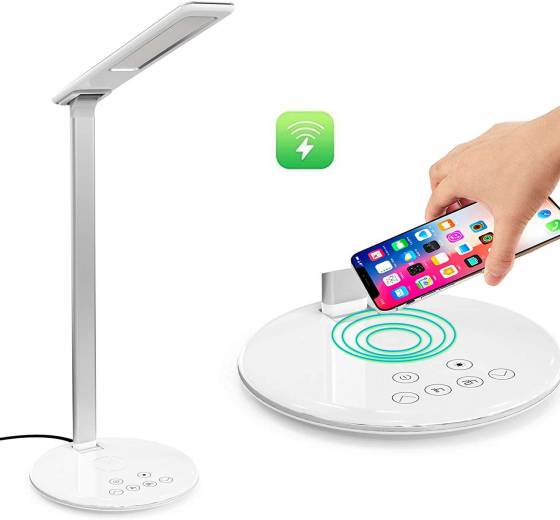 This great-looking lamp can charge your device without using any extra cable and works with most of the recent models of smart-phone.
It provides flicker-free lighting and is designed to reduce glare, eyestrain, and fatigue, which makes it perfect for reading, studying, or working.
It uses an energy-saving LED light, it is adjustable and flexible. The base is stable and made of good quality materials. Available in white and black finishes. The lamp comes with four great lighting modes and five dimmer levels accessible via sensitive control.
Pros
Great design
Very functional charging station – wireless (phone) and USB (tablet or watch) can be charged simultaneously
Flexible and portable
Cons
Lights up the local area but may be too small for the large desks
A little flimsy
2. Fugetek LED Desk Lamp with Wireless & USB Charging Options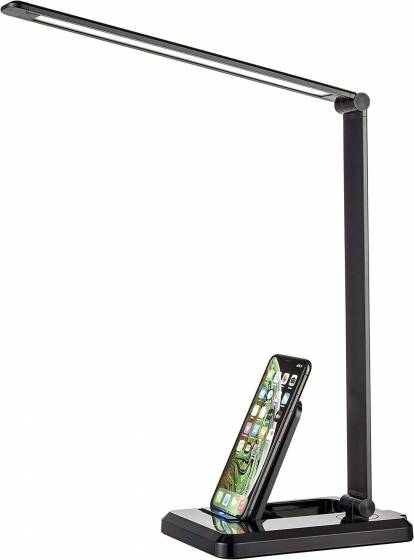 If you can't have enough modes and brightness, this is the perfect lamp for you, since it has five lighting modes and five levels of brightness = 25 lighting options! accessible via touch control.
Plus, it showcases Wireless and USB chargers, has an adjustable head, and a time-saving memory function.
What else could we possibly want? Well, for it to look THAT beautiful!
The sleek minimalist design of this great-looking product is just one of the perks of this lamp, which will create a cozy atmosphere and feel in your home, and will not risk straining your eyes with a special recessed LED for your eye care.
A LED bulb will last up to 40,000 hours. Available in black and white finishes.
Pros
Flexible and adjustable
Phone-charger works great – the phone sits in a cradle or lies flat to charge
Great lighting function
No eye strain after extensive use
Cons
The material makes the look of the lamp a bit cheap
The phone stand is hard to lift up for the first time.
3. Poukaran Desk Lamp with USB Charging Port and LCD Screen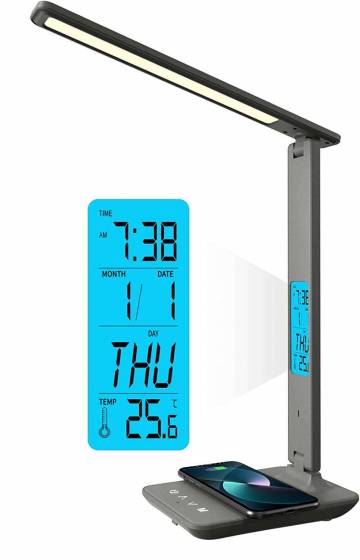 This modern multifunctional lamp presents an LCD screen that can be pressed down for 3 seconds to turn the on or off the lamp.
Aside from presenting a USB charging port, this great product also allows the setting of alarms and informs on time, date, and temperature.
The LED lighting comes with an anti-glare shade and is Eco-friendly. It also presents five levels of brightness, and 3 color modes (Warm white light / Natural light / Cold white light), it's perfect for any task performed. Available in black, brown, gray, pink, and white finishes.
Pros
Foldable
High-quality materials
Highly adjustable light
The LCD screen is easy to read and use
Practical and works in several different positions
Cons
If I disconnected, it does reset the time and day.
Could be a bit brighter for elderly people.
Table lamps with charging ports
1. OYedis 3-Way Dimmable Touch Control Table Table Lamp with Type C/USB Charging Port
This industrial-style desk lamp with a USB charging port comes with a bronze, black or golden finish, metal construction, and rectangular linen shade, and features 3-way dimmable touch control.
It uses a dimmable E26 LED 7W bulb (60W equivalent), which is included. The USB port is a type C; the base also includes 1 AC power outlet.
Pros
Luxurious style
Practical and made of good quality materials
The powerful light that does not strain the eyes
Flawless packaging
Cons
Not all led bulbs are fully compatible with the dimmer system of the table lamp
Requires some assembling
2. Kakanuo Dimmable Table Lamp with USB Ports, Charging Outlets, and Phone Stands
This next-level desk dimmable lamp with a black solid wood base comes with 2 USB charging ports (A and type C) and two dual 2-prong outlets, allowing you to charge altogether four of your most needed devices.
Furthermore, the charging ports can be used regardless of whether the lamp is on or off. The lamp's base also showcases two slots to store the charged devices.
This stunning lamp is available in five finishes – A-gray, beige, misty grey, pink, and white
Pros
High-quality materials
Good quality charger
Beautiful design
Cons
It is not fully dimmable to zero the way a traditional incandescent bulb is.
Conclusions
What to consider when buying desk lamps with charging stations like USB and Wireless:
Check the overall quality of the product: it has to be non-toxic and made of durable material so that you won't have to replace it too soon.
Make sure that the lamp's style goes well with the design of your home
Choose the right lamp based on what you are going to use it for: do you need it to read, study, work, or maybe for leisure time?
Remember to check if the charger works with your devices: some models of phones don't work with wireless chargers.
Consider which charging solution works best for your needs: USB can be messy, but Wireless makes it so that you can't use your phone whilst it is charging
Check the reviews of the products before buying them: sometimes they might be not as good as they look!
References
Author: Caroline Martins
Interior Designer & Space Planner with over 100 successful projects in Europe, U.S, and Asia. Caroline's specialty is sustainable and high-end interiors: an elegant and greener way to look at the design, using recycled materials and in full respect of the environment.
With a BA in Interior Design and Livability in Future Cities and 6 years of experience in the field, her mantra is to be your guide to transform your mental image into reality. LinkedIn profile.