As the days begin to grow shorter and the air turns a bit crisper, you may have noticed a change in your mental health.
If you're feeling depressed or sleeping too much or even have your days and nights mixed up, a sunlight desk lamp may be able to help get things back on track.
The light delivered through sunlamps is often quite useful for people with seasonal affective disorder and several other moods, sleep, and even skin elements.
Keep reading to see our reviews on the best sunlight desk lamps on the market today.
Disclaimer: The information contained below is for informational purposes only and should not be considered a substitute for medical advice. If you are considering using a sunlight desk lamp, it is essential to contact your primary care provider and determine whether a sunlight desk lamp is right for you.
Comparison Table Of The Best Sunlight Desk Lamps
Looney lumens is reader-supported and participates in the Amazon Associates Program. When you buy a product through links on our site, we may earn a small commission, at no extra cost to you.
What Are Sunlight Desk Lamps?
A sun lamp, also called a SAD (Seasonal Affective Disorder) lamp, light therapy, box happy light, or natural light lamp, is a unique light designed to mimic natural light.
Light therapy, also called bright light therapy, is an effective treatment for:
seasonal affective disorder
depression
lack of vitamin D exposure
and various skin ailments.
Seasonal affective disorder is a specific type of depression during the fall and winter months when the days get shorter. We spend more time indoors and don't get enough sunlight.
The light emitted by sun lamps helps to increase serotonin and melatonin levels in the body.
These two chemicals help control your sleep and wake cycle as well as reduce anxiety and improve mood. Low levels of serotonin are also linked to depression.
Why Might You Need A Sunlight Lamp?
During the summer months, there are plenty of daylight hours to absorb enough vitamin D. Still, during the winter months, especially in much of North America, it is virtually impossible to get enough Vitamin D from the sun alone.
Vitamin D also referred to as the "sunshine" vitamin, is thought to protect against various diseases, including:
osteoporosis
heart disease
cancers of the colon, breast, and prostate.
Also, sunlight has other hidden benefits like protecting against depression, sleeping difficulties, and regulating body nutrients essential for bone health.
A 2010 study found the following:
42% of the US population is vitamin D deficient
40% of children exhibited higher but still insufficient levels of vitamin D
Some populations, such as people over 65 and premenopausal women, have even higher deficiency levels.
Different groups of people need different amounts of sun exposure or vitamin D to stay healthy.
For example, infants only need to consume 400 IU(international units) per day, whereas those over the age of 70 need around 800 IU.
The amount of sunlight one needs to absorb to accomplish this varies depending on age and skin type.
For example, during the summer months around noon in Miami, Florida, with skin type III (someone who tans well but sometimes burns) would need to spend approximately six minutes in the sun to synthesize 1000 IU of vitamin D. During the winter months, fifteen minutes would be required.
The further north one goes, the more challenging it may be to get sufficient vitamin D from the sun.
A person in Boston with the same skin type during the winter requires over an hour.
It is virtually impossible for some skin types to safely synthesize enough vitamin D from the sun alone.
For those who are not exposed to sufficient sunlight based on where they live or the environment in which they work, a sunlight lamp is necessary. It is also a safe means for increasing essential sun exposure.
Remember to always consult your doctor before use!
Don't use sunlight lamps if you have the following:
existing skin cancers
lupus
diabetes
connective tissue damage, etc.
How Do Sunlight Lamps Help Your Circadian Rhythm?
Bright light therapy is an effective treatment for certain sleep-wake disturbances, including insomnia.
Certain sleep disorders, jet lag, and shift work done by hospital staff can upset your circadian rhythm.
This is the "internal clock" that helps you be alert during daytime hours and sleep at night.
When your circadian rhythms are disrupted, it can cause insomnia and extreme fatigue. It can also interfere with essential body functions that depend on the sleep-wake cycle, such as digestion, certain brain functions, and various healing types.
Exposure to artificial light from a sunlight lamp during certain times of the day can help realign your circadian rhythms and improve your sleep-wake cycle.
How to Choose and Properly Use A Sunlight Desk Lamp
To ensure you get the best results from a sunlight desk lamp, the light needs to enter your eyes indirectly. This means your eyes should be open, but just as with regular sunlight, you should avoid looking directly at the light.

According to the Cleveland Clinic, the best time to use a sunlight lamp for light therapy is in the morning.

To achieve optimal therapeutic effect from a sunlight lamp, it must have an intensity of 10,000 lux (10,000 lumens per sq foot). That is 9,900 more lux than the average household light. Sunlight lamps are available in different intensities.

It should be placed on a table or desk between 16 and 24 inches away from your face to properly use the lamp. Try to sit in front of the light for 20 to 30 minutes (or as directed by your doctor) at the same time each day.
It is essential to remember that sunlight lamps filter out most of the ultraviolet light, making them safer than other lamps. Using the wrong type of lamp could damage your eyes and cause other adverse side effects.
Reviews of the 4 Best Sunlight Desk Lamps
1. Best for Circadian Rhythm (Sleep-Wake Cycle) – Circadian Optics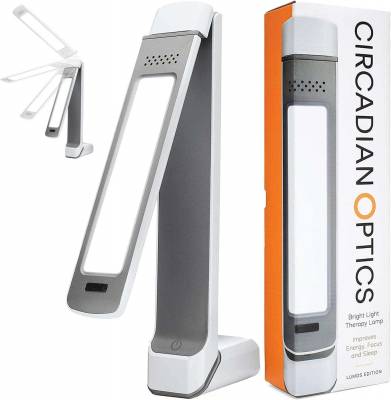 This lamp provides symmetry with minimalism. Its highly versatile design fits well in any workspace. Possibly the number one sunlamp for windowless offices.
While most lights are white or ivory in color, this lamp arrives in a matte textured grey, setting it apart from a sea of traditional designs. Its small base footprint ensures it fits nicely on the corner of your desk or on your nightstand.
Adjustable main light panel: The Circadian Optics Lumos features a rotating light panel. This allows you to position and directs the lamp in a way that maximizes your light therapy needs. Quick, easy, one-touch operation makes it simple to use without the hassle of complicated programming or settings.
Three light levels: Three pre-programmed light levels allow you to customize your light's brightness to ensure optimal effects and comfort. This sunlight lamp provides the recommended 10,000 Lux brightness needed to help fight off the winter blues and boost mood.
Longer lasting LED Bulbs: The LED bulbs provided with the Lumos 2.0 last approximately 50,000 hours. This is many times longer than fluorescent bulbs and likely means they will never need replacing.
Pros
Highly Adjustable and Customizable
3 Pre-programmed Light Levels
Provides 10,000 Lux
Longer Lasting LED Bulbs
Simple One-touch Operation
Cons
Only Available in One Color
14-inch height may limit placement options
2. Sunlight Lamp For Seasonal Affective Disorder (SAD) – JollyWell Light Therapy Lamp
Compact, portable, and easy to use. This micro UV light therapy lamp fits anywhere in your home, where you could use a little extra sunlight.
With its foldable, highly portable design, this sunlight lamp can easily fit in your suitcase or briefcase for maximum mobility.
Full Spectrum Light: This light therapy desk lamp delivers bright light at up to the recommended 10,000 lux to provide you with a daily dose of sunshine during those months when darkness comes a little earlier and lingers a little longer. The included LED light is UV free, ensuring your eyes are safe and the light does not emit radiation.

Built-in Timer: Re-energize yourself without having to worry about watching the clock. The Micro UV light comes with a programmable timer with intervals ranging from 10-60 minutes and one-touch timer cancellation.

Portable Design: This desk light is compact and foldable, allowing for easy transport throughout your home, office, or on vacation.
Pros
Provides 10,000 lux
UV Safe
3 brightness levels
Built-in timer
Portable
Cons
Plastic light housing
Only one color temperature is available
Small light area
3. Sunlight Lamp For Depression – Bell+Howell Sunlight Desk Lamp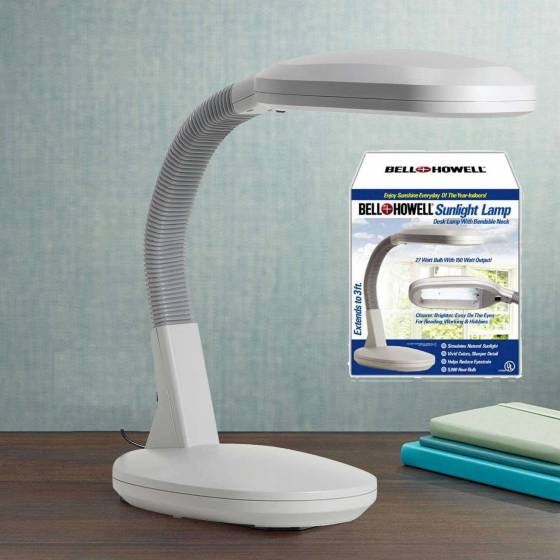 If you are looking for a light that provides natural light for you to read or work on craft projects, this is the light for you.
This sunlight lamp provides bright, natural light that makes it easier to see fine details of text and projects while reducing eye strain commonly experienced with traditional light bulbs.
It provides bright, natural light that helps reduce eye stress while working on projects or reading. The 150-watt bulb provides similar light to what is found on a sunny day. Perfect for art projects, reading, and working.

Multidirectional neck: The lamp features an adjustable neck allowing for the light's simple movement to a location that is ideal for you. This lamp is easy to use with one simple on/off switch located at the base.

Comes in several colors: This lamp is available in seven different finishes ensuring it can match the décor in any room in your home or home office.
Pros
Mimics Natural Sunlight
Simple to Use On/Off Function
Adjustable Neck
Multiple Colors
Cons
Only One Light Setting
Bulb Does not Reach 10,000 Lux Output
4. Large Sunlight Lamp – Verilux HappyLight Luxe
The Verilux HappyLight is a full-size light therapy lamp that mimics sunlight. It is using full-spectrum light up to 10,000 lux to enhance mood, energy, focus, and sleep without exposure to UV rays from the sun.
The HappyLight provides customizable light and brightness levels with an extra-large lens for a fully customizable experience.
The HappyLight Lux is extra large (7.48″W x 11.73″H), making it larger than many competitors. Through this lens, the HappyLight provides up to 10,000 Lux. The lens is tiltable to allow for optimum, comfortable use anywhere that is comfortable.
4 brightness levels, 3 HappyHue color temperature options, and a convenient countdown timer that is programmable for up to 1 hour, in 5-minute increments
Stand or wall mount: The unit comes with a stand for use on a counter, bedside table, or desk, or it can be mounted to the wall in the room where you use it most.
Available in Champagne Gold, White, and White Marble finishes.
Pros
Extra-large Display
UV Free, Full Spectrum Light
Provides up to 10,000 Lux
Highly Customizable
Different Mounting Options
Cons
8.6-Inch-Tall Light May Be Too Large for Some
Heavier than Some Competitors
Frequently Asked Questions
Do sunlight lamps work?
Sunlamps positively impact the body's regulation of melatonin, a hormone that helps control the sleep-wake cycle. Besides, they also help to regulate mood by affecting serotonin levels in the body.
Many believe that bright light therapy is now considered a first-line treatment for SAD.
Do sunlamps give you vitamin D?
Sunlamps do not necessarily "give" your body vitamin D.
The lamps emit lighting similar to that of natural sunlight, thus encouraging the skin to produce vitamin D. This is especially beneficial during winter months when natural sunlight is unable to produce enough vitamin D to meet the body's needs.
What does Light therapy do for the skin?
When used consistently, over time, the LED lights used in sunlight therapy lamps are thought to penetrate the skin at varying depths, resulting in various skin reactions.
These reactions can include fighting acne-causing bacteria, pumping the skin, and reducing wrinkles. This is possible as the skin uses light as a source of energy to repair and rejuvenate damaged cells.
How many hours of light should I get from the sunlight lamp?
You should sit in front of a sunlamp for 20 to 30 minutes each day around the same time. This time frame is considered safe and standard for most sunlamp use.
However, you should not exceed the time recommended by the manufacturer or your primary care provider.
Before using a sunlamp or similar product, you should always contact your medical provider to ensure that the item is right for you to use.
What kind of bulbs are used in a sunlight lamp?
The bulbs used in sunlight lamps are also known as full-spectrum light bulbs.
They are specifically designed LED light bulbs that mimic sunlight, similar to the solar spectrum's visible section. In other words, they produce a light similar to that of natural sunlight.
Unlike some other lights, they have minimal or no amounts of ultraviolet or infrared rays, which allows them to imitate the sunlight spectrum more precisely.
Traditional household bulbs are not safe to use in sunlight lamps.
Author: Anisha Rao
Anisha Rao, MPP is passionate about mental and public health and improving access to affordable and quality care.
She is a Certified Lean Six Sigma Green Belt Healthcare Professional who has consulted over 500 clients. She also passionately creates content to inform readers about products, services, and resources that may help them live their best lives.