Today, we are going to talk about the best magnifying lamps for crafts.
Magnifying lamps, also known as low-vision lighted magnifiers, are specific devices that help people clearly see– a healthy and ergonomically correct way to perform delicate tasks.
In this article, we will cover:
types of magnifying lamps
a guide on what to consider and what to look for when buying such a product
quick tips on how to use your magnifying lamp
pros and cons, and some interesting facts
Here's our list of the best magnifying lamps that will help you work on different crafts:
Looney lumens is reader-supported and participates in the Amazon Associates Program. When you buy a product through links on our site, we may earn a small commission, at no extra cost to you.
Best Magnifying Lamp For Painting Miniatures
Brightech LightView PRO LTVP-CE-Bk
With this lamp's features, painting miniatures won't ever be the same because of the great light and perfect contrast it provides, which will allow you to achieve a great result. The stand will allow you to use both hands to paint your miniatures, and the magnifying glass won't let you miss out on any detail.
Best magnifying lamp for reading and close work. It has features such as being hands-free, it is dimmable, and having an LED color adjustment.
Pros
3-Year Warranty
2 light colors – cool and warm, with 5 dimmer settings
Easier to maneuver – can be adjusted with just a finger
The build is solid and sleek
The arm sections are so long and have the tension parts and wiring enclosed
Cons
The limiting swivel of the head part (limits where it can be mounted)
No memory function for the last light setup
Two pairs of LEDs line the ring (warm and cool) can't be dimmed completely (off)
Best Magnifying Lamp For Putting Puzzles Together
Brightech 6 Wheel Rolling Base LTVPRB-W, 9 watts
Perfect lamp for putting puzzles together: the light is dimmable, and the light color can be adjusted. The LEDs will last twenty years and save energy while helping you perform well in your hobbies and crafts. The adjustable color temperature ranges from 4,000K warm white to 6,000K cool white. The lamp presents a gooseneck and a rolling base, which make it super comfortable and ergonomic.
This Magnifying floor lamp is perfect for seeing small details and performing tasks such as knitting, doing puzzles, and reading. It has a hands-free feature.
Pros
Perfect to see small details
Dimmable and color adjusting
Comes in 3 diopters or 5
Cons
Sometimes the light flickers
Sharp edges
In some positions unstable
Best Magnifying Lamp For Sewing
LANCOSC LED Lamp with Clamp, 4.3-inch lens
This device is ideal for sewing and needleworking. It includes 10 levels of dimming up to 960 lumens, 3 color models, and 5 diopters of real glass. The lamp protects your eyes thanks to the absence of glare and ghosts. It also features a highly adjustable swing arm that can be moved 220° up and down and 350° swivel.
This fantastic lamp by Lancosc has 10 dimmable levels, 3 color modes, 10 levels of brightness, and 5x magnification. Available in black or white finish.
Perfect for sewing and crafting. Great price!
Pros
Many dimming and brightness options
Adjustable swing arm
Easy to install
Cons
Relatively short arm
Magnification can be too strong for some
Best Magnifying Lamp For Jewelry
Brightech LightView LTVEWFL, 5-inch long x 4-inches wide lens
Great lamp to make jewelry, adored by pro users because it is a hand-free device with a gooseneck. The magnification strength is up to 175%, and the lamp boasts the largest diopter glass with a 15-inch focal range. It also comes in five diopters (2.25x).
If you like doing arts and crafts, this is the perfect magnifying lamp for you.
Hands-free lamp, bright magnifying glass with light for the visually impaired.
Pros
Great to see small details
Hands-free – amazing for hobbies and pro users
Incredible lens
Cons
Non-replaceable light
The base is heavy to move around
In some positions the top swings
Best Magnifying Lamp For Knitting
iMagnify 8x Magnifier, 5.5 Inch Lens
This lamp comes with powerful 8X lenses and 6 LED lights, which will make it impossible for you to miss any detail on whatever activity you are performing. Great for inspecting objectives, knitting, and many other hobbies that require focus and eye strength.
This magnifying lamp is perfect for every task.
It contains a 5.5-inch lens, making it easy to enjoy detailed work.
Available in white or black finish.
Pros
Contains 6 LED Light
The 5.5-inch lens makes detailed work easier
Incredible lens
Cons
Gooseneck doesn't support the weight of the glass in some positions
Inadequate light for serious work
The neck is relatively short
Other Good Magnifying Lamps For General Crafts
Brightech 2 in 1 Clamp – FBA_LTV2IN1-BK, 3 inches wide lens
Best Magnifier Lamp For Casual Crafts
This Diopter Glass Magnifier lamp will provide you with the perfect illumination if you want to relax and catch up with a book. Furthermore, it works as both a table and a clamp lamp. It is an energy-saving device with genuine diopter glass, perfect for crafts, especially if your sight is lower than average.
This magnifying lamp by Britech is an excellent buy for those who enjoy reading and crafts as it comes in 3 or 5 diopter. It has a 13.5-inch gooseneck that bends in all directions.
Pros
Adjustable goose-neck
Bright light
3 years warranty
Cons
Weak base
The power cord is too short
Base tips over once the lens is stretched out and down low
Brightech LTVPCL-W-XL, 6" wide by 4.5" long lens floor lamp
Best Magnifier Lamp For Book Reading And Other Focus Activities
This lamp comes with a rectangular 5-diopter, with 2.25x magnifying strength. Not everyone loves rounded lenses. If you are among these people, this lamp will be the best solution to help you perform your activities, crafts, and projects.
This beautiful lamp comes with an XL Lens 6″ wide by 4.5″ long. In that way, you can see more at once, for example, a whole page in a book. Perfect for readers. It is also a hands-free magnifying lamp, which makes your knitting, sewing, and other tasks easier to perform.
Pros
XL Lens that helps you see more at once
High contrast, brightness, dimmable light with 100.000-hour life
It can be used as a stand-up or table lamp
Cons
The lens is distorted in some positions
The base doesn't support the lamp in some positions
YOUKOYI LED Metal Magnifying Lamp
Best Magnifier Lamp For Needlework, Embroidery, And Knitting
This is the perfect lamp to use on the workbench because of the adjustable swivel and swing arm. The magnifying lens can rotate 350 degrees left and right, and 220 up and down. The color is natural and shadow-free: it will help your eyes rest and still perform well. Available in white or black finish.
Beautifully designed lamp with 10 levels of brightness, 3 color modes, 5X magnification, 4.1″ diameter. It has great light and is perfect for embroidery and knitting.
Pros
Very flexible lens and head
Cool bulb for natural color
Very good 5X Diopter magnification
Cons
Not bright enough for serious tasks
Harder to maneuver
What To Consider When Buying A Magnifying Lamp For Crafts
At this point, you probably understood that magnifying lamps are the key to working with tasks that require precision.
If you are buying a magnifying lamp, you can expect a lot of pros that come with this choice: you are going to be able to see small details without forcing your eyesight, it also prevents eye strain and eye fatigue, allowing you to maintain your vision just as perfect as it is now.
1. Diopter: What It Is And How Does It Work?
If you are buying a magnifying lamp, many terms will come across during your search.
One of them is the "diopter".
What is this mystery word, and what does it do?
It seems tricky and incomprehensible: after all, you just want to buy something that will help perform your tasks: why do you need to know all of these useless terms?
1.1 What Is A Diopter?
A diopter is the measurement of a lens's ability to bend light over a surface.
The power of the diopter is increasing energy by 25%.
E.g., a 3 – diopter is a 1.75-power lens, and a 5 – diopter is a 2.25-power lens.
When looking at your diopter, think about how far you want your product to be away from the lens.
2. Focal length
Focal length, popularly known as 'working distance is defined as the distance from the lens to where an object is focused.
The focal length is an optical system used to measure an individual object's power to either attract or reject light.
A positive focal length means that a specific object attracts light. In contrast, a negative focal length means that the object will reject the light.
3. Hands-free magnifying lamp
A hand-free magnifying lamp is a very great idea if you need both hands to perform your task.
Perfect for activities such as knitting, painting, and drawing. The lamp has a base or a clip to hold onto the furniture so that you have to solely focus on the activity without constantly worrying about light and magnifying.
4. What is the field of view (FOV)?
If you are buying a magnifying lamp, this is something essential to consider.
The FOV or field of view is the size of the magnified area that is in focus under the lens.
If you have a high magnification, you have a small field of view.
E.g., take a flashlight and point to the wall. When you get closer to the wall, the spot of light (FOV) becomes smaller. The same goes for a magnifying lamp.
Buying A New Magnifying Lamp? Here's What To Look For:
1. Lens
Probably the most important thing when buying a magnifying lamp.
What kind of lenses do you need for the task you're performing? 3 diopter? 5 diopter? Be picky! After all, you want to spare your eyesight and feel comfortable, whatever you are using the lamp for.
Remember that a dust cover will help you maintain your lenses clean and make sure that you don't scratch them by mistake.
2. Body Of The Lamp
Ergonomy is extremely important, especially if you take care of a complicated task that requires precision and attention.
Choose a lamp that is comfortable, easy to move, turn, and that will fulfill your need while working.
Style is important, but it is not everything. Remember that you will be using that lamp a lot. Therefore you need to make sure it is as comfortable as possible.
3. Head Of The Lamp
Easy to move, easy to access, and easy to position.
Find a lamp that satisfies these three requirements, and you will have everything you need from a functionality point of view.
4. Functionality
Speaking of functionality, make sure to choose something easily detachable, easy to transport, and easy to put together. That will help you use the lamp, put it together, and dismantle it in case you need to.
5. Check Prices And Reviews
Do a thorough analysis of every product –some magnifying lamps have the same diopter and attributes as others. Still, the price can vary. So check reviews, do some research, and make sure you'll get the best from your purchased product.
Quick Tips:
When using a magnifying lamp, you want to use both eyes. It is way more comfortable.
Always think about comfort and ergonomy. A good chair at the right height and a good table will be the perfect combination for your tasks.
Spend a little more and invest in your health and peace of mind. If you buy something cheaper that will break easily or not work correctly, you will regret it soon.
5 Interesting Facts About Magnifying Lamps:
Fact #1
Magnifying glasses are usually best known for their appearance in cartoons and movies where detectives, such as Sherlock Holmes, use them.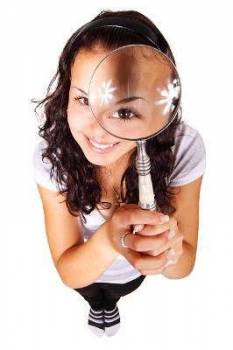 Fact #2
You can get the best focus of a magnifying glass by placing the lens closer to the eyes. Lens + eyes working together is the perfect combination.
Fact #3
Magnifiers can have glass or plastic lenses. Glass is heavier but long-lasting. In contrast, plastic is lighter but usually not good quality as it scratches easily.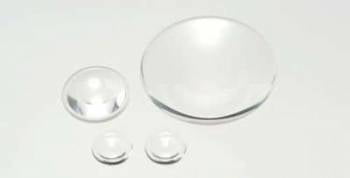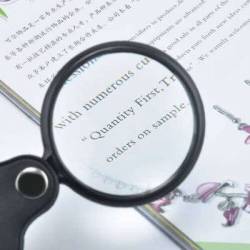 Fact #4
Advanced magnifiers use a combination of different types of lenses. The image has a higher quality with this mix.
Fact #5
The higher the magnification, the smaller the lens will be.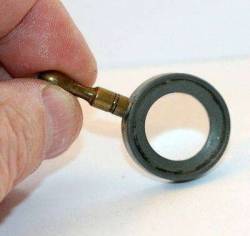 Quick Summary
Magnifying lamps are perfect for detailed tasks, such as sewing, knitting, reading, doing puzzles, painting miniatures, etc.
There are several magnifying lamps in the market. Usually, 3 and 5 diopters, choose the one that works the best for you depending on the task you want to perform.
When buying a magnifying lamp, consider the following factors:
Lens
Body of the lamp
Head of the Lamp
Functionality
Prices and reviews
Things to consider when buying a magnifying lamp:
Diopter
Focal Length
Hands-free lamp
FOV – Field of View
Purchase a piece of good furniture for a better experience with your magnifying lamp.
Both eyes on the lens make the experience of using a magnifying lamp way better. Now that you are an expert in magnifying lamps, choose yours, buy it, and enjoy an awesome experience doing your crafts.
References:
Author: Caroline Martins
Interior Designer & Space Planner with over 100 successful projects in Europe, U.S, and Asia. Caroline's specialty is sustainable and high-end interiors: an elegant and greener way to look at the design, using recycled materials and in full respect of the environment.
With a BA in Interior Design and Livability in Future Cities and 6 years of experience in the field, her mantra is to be your guide to transform your mental image into reality. LinkedIn profile.