Today we are bringing you a guide on how to choose a table lamp for your lovely home.
Hopefully, by the end of this article, you will have a decent knowledge to confidently buy a table lamp all by yourself.
Among all low-level lighting, table lamps are the most versatile lighting equipment. They can be placed next to a couch or armchair, in the corridor on a table, or on a shelf next to a wall.
They are wonderful instruments that add character to a space and make it feel different. Their warm light triggers our brains to relax and feel cozy.
Different Styles Of Table Lamps
Table lamps come in various styles and we will cover the most common ones:
1. Traditional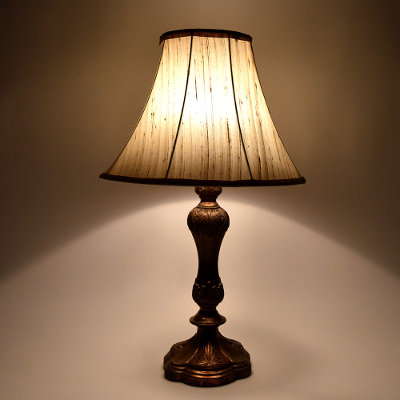 The classical style gives a feel of elegance, symmetry, and conformity.
2. Modern
Metal and other quality materials are the main features of this contemporary style.
3. Industrial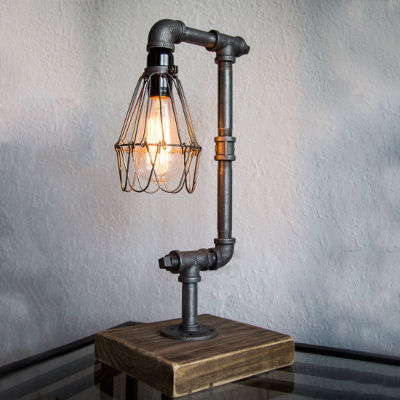 Raw and rough materials are dominating this style often with exposed and visible bulbs.
4. Mid-Century Modern
Includes mostly natural materials like wood and similar materials in combination with various colors.
5. Country
They might look very ordinary but they give a warm and inviting atmosphere.
6. Tiffany
A recognizable style with a decorative and beautiful stained glass shade with a bronze base or other types of metal. One of the most iconic pieces of lamps out there!
Table Lamp Size Guide
When choosing a table lamp, selecting the right size is fundamental to success. Measuring the space before you buy the lamp could save you from disappointment.
What Size Should A Table Lamp Be?
The table lamps should always be proportional to the space. A big lamp in a small room will look unbalanced, while a small lamp in a huge room will look lost.
Where the table lamp sits is also an important factor to consider. The lamp size should be proportionate to the table.
For a corner table, the lamp width should be wider than ½ of the table width.
The lamp being lower than eye height is another rule of thumb.
A taller table with a short lamp or vice versa could be a natural combination.
How Tall Should A Lamp Be On A Console Table?
For a console table, the lamp height should be taller than ½ of the table height – an overall height should be about 59 inches or 1.5 meters (average person's eye height when standing).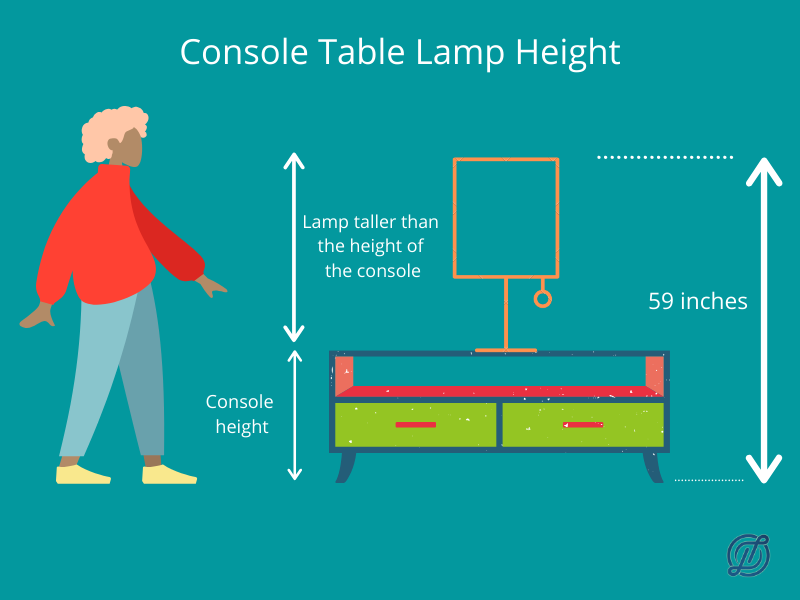 How Tall Should A Table Lamp Be Next To A Sofa?
Add the height of the lamp and table together, this number should be about 47 inches or 1.2 meters (average person's sitting height), if the lamp is next to a couch or sofa.
Also having the lampshade exceeding the table edge would make the overall composition imbalanced.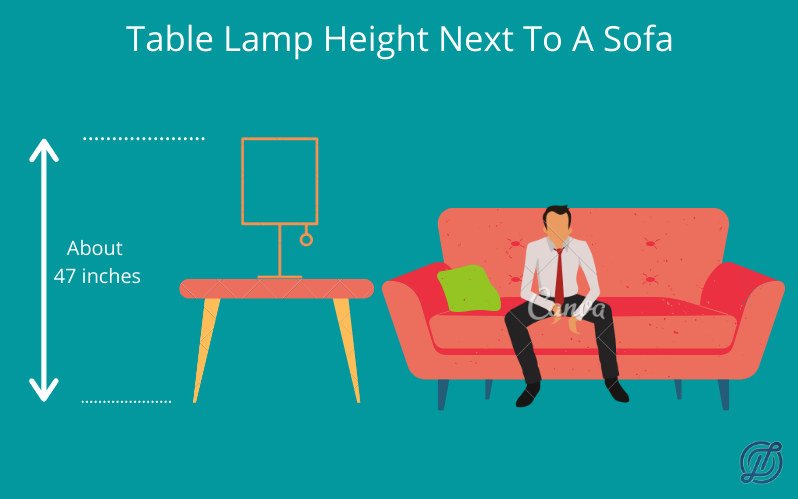 How Tall Should A Bedside Table Lamp Be?
For the bedside table lamps, height about 25 inches or 0.6 meters is optimal – depending on your table height where the lamp sits. Overall the table and the lamp must not exceed over 54 inches or 1.4 meters.
You can even adjust the height of the lamp by putting books or something similar under the base.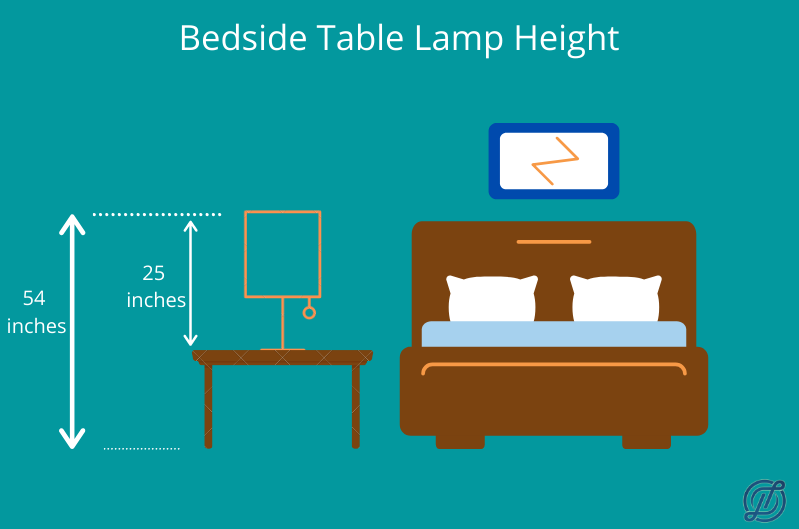 How To Buy A Lampshade Of A Table Lamp?
Choosing a lampshade could be tricky.
There are three types of shades on the market:
translucent
solid
perforated
Translucent, or transparent shades are made of light materials like paper or silk, which transmit a lot of light and create a wonderful glow around. They are a perfect choice if you want a pleasant feature light to look at.
Solid shades could be colored glass or dark fabric. They transmit less light and mainly push the light downwards. They could be ideal next to a couch or on bedside tables where you might want more light to read.
Perforated or punctured shades are usually made from solid materials like metal or heavyweight paper. Light passes through the shade's openings and creates wonderful shadows on the surrounding surfaces. They can bring surprises and cheerfulness to a space. An ideal solution if you want to activate a dead corner in a lobby or a transition space like a hallway.
How To Choose A Lampshade Size?
Some standard size rules can be applied for the height and width of the lampshades.
The optimal height of a lampshade is about 1/3 of the overall size of the lamp. And an optimal width is the lamp base multiplied by 2. In other words, the lampshade should be twice as wide as the base of the lamp.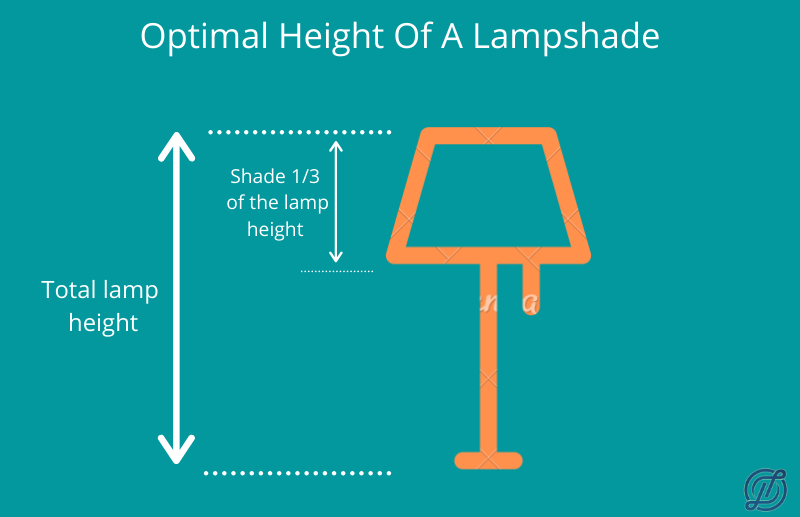 Different Styles Of Lamp Shades
Most table lamps will come with a shade so you don't need to think about it that much. But, it is always good to know what styles exist in case you need to choose or you have to replace your old one.
Here are some of the main styles:
1. Drum
A classic style. It has an elegant and modern look to it.
2. Square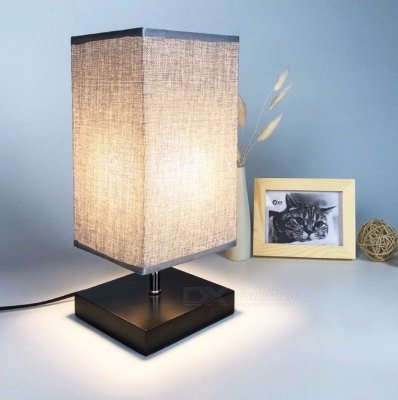 They also give a very contemporary and sophisticated look.
3. Rectangular
Similar to the square style, it has sharp and flat edges with definitive corners.
4. Oval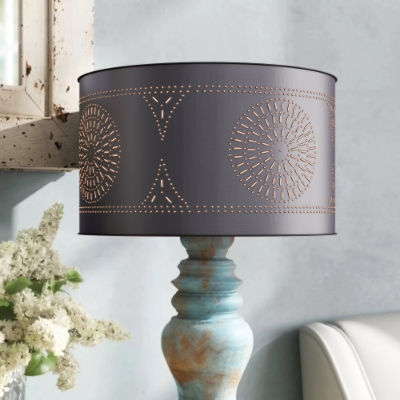 A good style to give your old lamp a refreshed and updated look.
5. Empire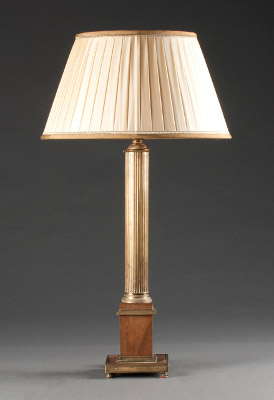 Known also as a tapered drum, it too can update your old lamp and they work with various types of lamps.
6. Bell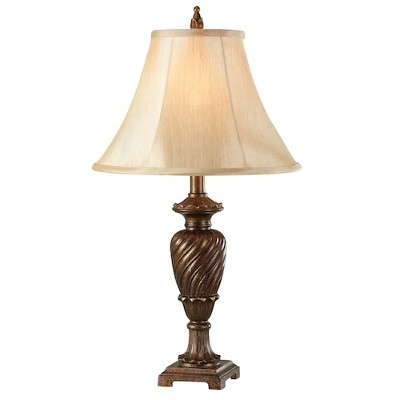 Maybe the most common style out there. It allows a greater amount of light distribution from the lower side of the lamp.
How To Match A Lampshade To A Base?
The design of the lampshade should also match the lamp base. The classic design shades look good on an elegant, heavy lamp base.
Modern shades tend to work well with slick and clean-line-designed lamp bases.
As for the matching of shapes:
A round lamp base matches better with a round or hexagonal shade
An angular or square base looks better with a square shade.
If you have a weird base or can't decide then go for the Empire-style shade – it matches almost anything and you can't go wrong
The color combination of the lampshade and lamp base should look harmonious. Typically a lampshade and base are in contrasting colors, for example, a light-colored paper/silk shade paired with a dark-colored base or colored glass/dark shade on a gold or silver base. 
Lampshade Materials
The material of the lampshade has its own pros and cons.
Paper shades are versatile, light, and usually quite affordable. But they are easily torn and difficult to clean. 

Fabric shades are more durable, lightweight, and possible to wipe off stains; but bear in mind the color of the fabric could fade over the years, especially for silk.

Glass shades have the advantage of enduring colors and easy cleaning. But they are heavy and can shatter if dropped.

Metal shades are the most durable and long-lasting among all but often come with higher price tags. 
Table Lamp Light Bulb Guide
Table lamps can use different light bulbs such as:
incandescent
halogen
compact fluorescent(CFL)
LED
While slightly more expensive, modern LED bulbs generate high-quality light and consume less energy. They also may have additional features like dimming or color temperature control. 
If the table lamp is intended for a warm cozy evening environment, the color temperature of the light bulb should be warm white, typically 2700K-3000K.
When using a smart tunable white lamp, it could even go down to 2000K which is an amber-like color similar to the light coming from a candle.
If other light sources are used in the room in the evenings, the color temperature of the table lamp should match the overall color temperature of the room.
The character of the light bulb should also work with the lampshade.
For a glowing table light, a blurred light bulb would make itself invisible inside the shade and evenly distribute the light. While a clear light bulb could be seen through the shade and reduce the glowing effect.
For glass and dark fabric, both blurred and clear light bulbs could work. Keep in mind that to produce the same amount of light, a clear bulb consumes less energy, therefore, is more economical.
A clear light bulb is essential for perforated lampshades because only the direct and undiffused light coming from a clear light bulb can project shadows.
If the table lamp is dimmable, make sure to choose a compatible light bulb. Traditionally incandescent and halogen light bulbs are all dimmable. Compact fluorescent light bulbs are not nor are many LED light bulbs.
Using a non-dimmable light bulb on a dimmable lamp will result in an unpleasant light color and can reduce the lifespan of the light bulb!
When buying an LED bulb, another thing to pay attention to is flicker.
Flicker is the high-frequency vibration created by rapidly turning on and off a light source, a common method to dim LED light.
While a good LED driver could reduce flicker to a minimum, flicker from a bad driver may be noticeable.
Long exposure to flicker could cause eye fatigue and headache. Checking whether your LED light is flicker-free is important for a healthy and pleasant home environment.
How To Match Table Lamps To Different Rooms?
In general, the table lamp should match the overall home decor style.
A classic lamp blends in well with traditional furniture, while a modern lamp could enhance the modern vibe of state-of-the-art design.
Choosing a closer shade of the furniture color, like a beige-colored lamp on a brown wood table, would bring balance to the overall look.
Although when used carefully, placing a distinct color and style could add some drama and be surprisingly successful.
How To Choose A Table Lamp For The Living Room?
For the living room, the natural places for table lamps are next to the couch on an end table or next to the armchairs. They create a welcoming seating area.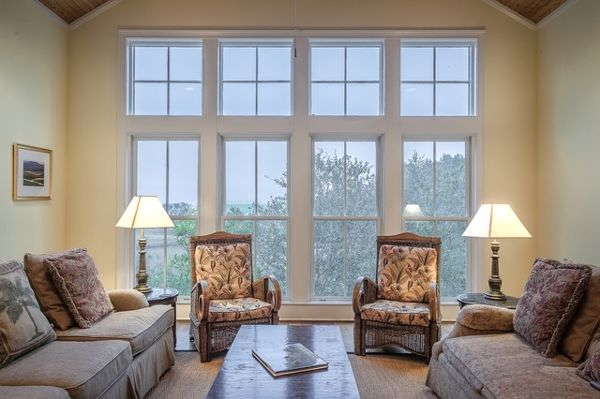 When selecting the table lamp for the living room, make sure the overall height of the lamp and table should be no more than eye height when sitting down. If there is no reading light, the lampshade is better to be dark so you will have a pool of light at the seating area.
If you are looking for the best table lamps for the living room you can check our article by clicking the link.
Make sure the light coming from the table lamp is bright enough to read. Check the location of the lamps so they don't block eyesight and disrupt the conversation in the room.
How To Choose For The Bedroom?
Bedrooms could benefit well from a pair of table lamps on bedside tables. Since bedside tables are used for placing small items, a heavier lamp base to reduce the risk of the lamp being accidentally knocked off is highly recommended.
Follow the link provided to see our list of the best table lamps for the bedroom.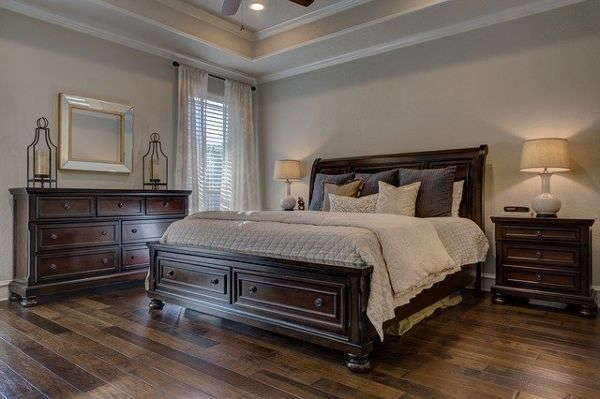 Also, the lamp base should not occupy the entire table surface so that there is some room left to place other items.
The bottom of the lampshade should be lower than your eyesight when sitting on the bed so the light doesn't shine directly into your eyes.
A lovely glowing table lamp for a relaxing ambiance or a solid shade lamp that doubles as a reading light could work equally well.
And For The Dining Room?
For the dining room, the table lamps are usually the secondary light source on a console or side table. Placing table lamps at the end of the dining table could add balance to the furniture composition.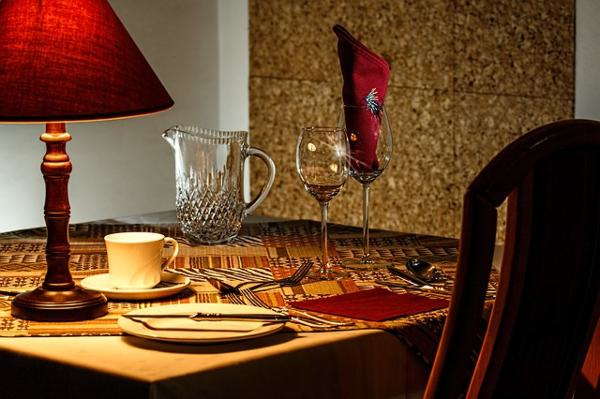 The style and color temperature of the table lamps should match the main light sources, i.e the chandelier or pendant over the dining table. A soft glowing lamp could create a relaxing ambiance for an evening meal.
A lamp with a perforated shade that creates shadows could add drama and highlights to the room.
What About Table Lamps In A Home Office?
Inside a home office, a table lamp on a console could be a wonderful background light that reduces contrast and makes your eyes feel more comfortable.
The style of the table lamp should match the furniture design. If you have a smart desk light, a dimmable and color temperature adjustable table lamp could adapt to your desk light, and make the room look balanced.
How Many Table Lamps Should Be In The Room?
There should never be only one light source in the room. The number of table lamps should be determined by the furniture arrangement. They should feel natural and complementary to the room. 
A few table lamps inside a big room with sizable furniture could fill the emptiness and make the room cozier. Also, a small room with lots of table lamps could be seen as odd and cluttered.
In the living room, dining room, and home office, a table lamp could be a wonderful secondary light source. It reduces contrast by lighting up a dark corner or acts as a background so the room is more balanced.
In the bedroom where the table lamps could be the highlight of the room, there should still be a ceiling or wall light to highlight pictures and decorations.
Another question to consider is how much light is needed?
The table lamp should bring the right amount of light to the room. For example in the dining room with the ceiling light, a couple of table lamps on a console could be more than enough as a background.
When the living room is big and used frequently for various purposes, adding a table lamp to each corner could be beneficial to the overall brightness of the room.
Author: Ting Ji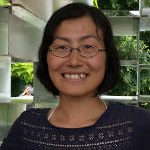 Ting is an independent lighting designer living and working in London with 8+ years of experience. She has successfully delivered various master plans, landscape, and interior projects all over the world. Ting also worked on a diverse range of projects in urban, heritage, multi-use, workspace, retail, hospitality, and daylight. LinkedIn profile.