Like many people, nowadays, if you spend an average time of 2 hours or more in front of the computer daily, this article is for you!
Later in the article, we will show you our top best desk lamps for eyes that we have carefully chosen.
For those that are in a hurry, we recommend our top pick below:
Looney lumens is reader-supported and participates in the Amazon Associates Program. When you buy a product through links on our site, we may earn a small commission, at no extra cost to you.
OUR PICK: Best Desk Lamp For Eyes
BenQ Genie e-Reading Lamp
If you are looking for top-of-the-class lighting for your eyes, then look no further. This lamp is sometimes called the Maserati of lamps. The light is evenly distributed across any desk and monitor without any glare, making it one of the best reading lamps for the eyes. With its sturdy aluminum body, it is very adjustable and will hold any position without falling. With many brightness and color levels for those looking to invest in their health – this is an excellent option.
It doesn't matter if you have a home office, or just like to browse online, when spending that amount of time in front of a screen, your eyes will start to feel dry and tired.
Usually, the main reason for these effects is the lack of proper lighting solutions within your space.
Research has also shown that putting unnecessary strain on your eyes may lead to permanent shortsightedness and can damage your eyes in the long run.
One of the main concerns of designing a space is the apposition of appropriate lighting sources, which will not be too harsh on your eyes, nor too weak for your work and leisure activities.
The relationship between the individual and the light source is called ergonomic lighting. This powerful concept is fundamental since an ineffective light source can make you less productive and more prone to headaches, eye strain, and other negative health effects.
A perfect light source for your environment should be flexible, energy-saving, and adjustable. These factors are wonderfully provided by new models of desk lamps that come with LED lights.
The advantages of buying a LED lamp
Color Temperature
As we know, lamps are not used for a single purpose: some people use them to read a good book, some to navigate the Internet or video gaming, and so on. LED lamps offer a whole range of color temperatures. You can choose from and adapt to the task you are performing.
Less Maintenance, More Performance
LED lights can last up to 50.000 hours! This means that you won't always have to worry about changing light bulbs, saving you time and trouble, and allowing you to save some money as well.
Sustainability
The process of producing light in a LED bulb is simple: at least 95% of the electricity it receives is used to create light. Furthermore, LED lights produce a lot less carbon dioxide than other light bulbs, making them the most responsible choice from a green perspective. The environment says thanks!
Few things to consider before buying
If you are unsure about which desk lamp will be more appropriate for your space, and where and how to buy it, here we come to the rescue!
Before anything else, ask yourself: What will I use this lamp for?
The most common answer is for everyday tasks such as reading, writing, or desk work. If that´s your case, you will have to consider a few things to buy a desk lamp that is best for your eyes:
The taller, the better!
Home office desks are usually large and spacious to fit everything you will need to work. A tall desk lamp will light up the entire desk area, without leaving dark corners or less luminous spots.
Fix the angle
For different tasks, such as drawing, and writing, you might want an adjustable lamp. The artists among you will by now know this: flexibility is a lifesaver – or even better, eye saver meaning no eye strain – for these sorts of tasks.
Color of the light
One of the most important things to be considered when buying a desk lamp is the color of the light it produces.
You don't want to hurt your eyes; therefore, try to opt for a desk lamp with customizable light color and intensity. That way, you will be able to adapt it to the natural light – or the absence of the same.
Design
Buying a desk lamp is – and should be – a long-term commitment. Some may be very pricey but worth the economic sacrifice.
Choose something comfortable but appealing, considering that you will have to look at the product for a long time and be in front of you for a significant part of your day.
Eye-friendly lamps
If you are not an artist, consider what your profession or hobby entices, and which characteristics your lamp definitely needs. Better to think twice before than regret buying in a rush!
Customer Reviews
Amazon is a good place where you can get a ton of useful information, not only on the technical side but on the practical side as well.
With many happy and sometimes unhappy buyers that have posted praise and disgust reviews about a particular product, you can easily make your list of pros and cons.
Pay special attention to the durability, as mentioned by reviewers, and their overall experience over a period of time.
Price
As far as the price is concerned, do not make the mistake of buying the cheapest desk lamp available online.
There are hundreds of extremely cheap desk lamps available online, but it does not mean that they will provide you with the brightness you need.
Variety and types of desk lamps
A desk lamp might be your ideal choice if you spend a significant amount of time in front of your computer, documents, or drawing tools.
Desk lamps are flexible, adjustable, and showcase a wide variety of choices, including futuristic technologies, such as ambiance adaptation, durability, and flexibility. Here are some types to consider:
Adjustable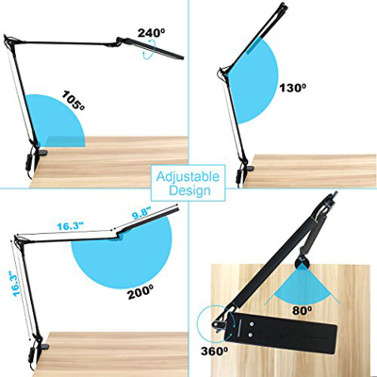 Rotate, bend in, and find the perfect position for your task. Ideal for those of you who need to look at works from different perspectives and need their light source to follow them.
Gooseneck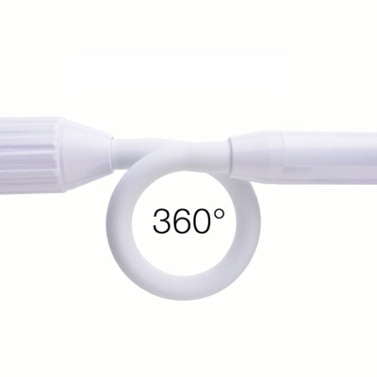 A lamp with a flexible neck allows you to move the light in any direction: great for bigger spaces and need for an intense spotlight on specific details.
Organizer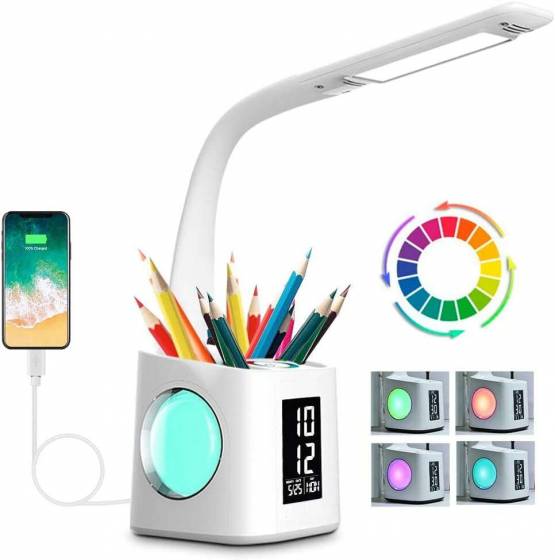 Finding yourself getting messy? Some of these lamps come with storage for pens, instruments, and items you have scattered on your desk, allowing better organization – both physical and mental.
Clip-on
Not enough room on your desk space? Clip-on desk lamps will do the job. You can attach the lamp to the edge of your desk with the help of a clamp or a clip, not wasting precious space that you will then be able to save for other necessary items.
Charger included
Suppose you are looking for something modern and high-tech. In that case, you might want to know that some lamps include wireless chargers, which will prove to be a life-changer if you have already used all the outputs nearby. Plus, it looks impressive!
The Best Reading Light For Eyes
Whenever you are reading from a book or a computer screen, the amount of light will always vary by age. The older you are, the more light you need.
Here is a simple table to demonstrate the above facts:
| Person Age | Watts | Lumen |
| --- | --- | --- |
| 5-12 | 40 | 450 |
| 13-24 | 60 | 800 |
| 25-55 | 60 to 80 | 800 to 1100 |
| 55-75 and above | 100 | 1600 |
The best light for reading would be one that spreads equally onto a work surface. Be careful not to point it close to a screen because of the glare – which will negatively affect your eyes.
As for the light color or color temperature, a warmer (more yellowish) is the most pleasant one. The color of the light also affects your mood, so you will be more relaxed and calm in this light.
The brightness should be higher or lower, depending on your age and eye conditions. To adjust the optimal brightness – test it! Set one level and see what happens after some time. Did your eyes get dry and itchy? Or show signs of fatigue, headache, and similar? Just listen to your eyes; they don't lie.
TOP 8 Best Desk Lamps for Eyes
1. BenQ Genie E-reading
This is probably the best reading lamp for the eyes!
If you are a reader, then this is the perfect match for you! This lamp provides flicker-free illumination with zero-flicker technology, so no harm will be done to your precious eyes.
Besides that, mood lighting allows you to switch from warm tones to cooler ones depending on the task you are performing and your mood for the day.
The BenQ showcases a minimal design and will allow for 50.000 hours of lifespan due to LED panels' technology. To put it into context: this means light for 8 hours a day for 17 years without worrying about changing your light bulb!
With the Smart Lighting feature, the BenQ desk lamp will detect your ambient light level and adjust accordingly, which sounds almost too good to be true. Adjust the cap to any angle you might need, since flexibility is another great feature of this product.
Pros
The base is super heavy and stable on the desk – handy especially for stand-up/sit-down desks with lift
Press and hold the ring to turn it to "reading" mode, which provides a soft light tone with absolutely no glare
Super easy to assemble
Excellent desk-wide illumination thanks to the curve of the fixture
Great for miniature painting and needlework
Cons
A little bit expensive but deserves the price
The power ring might be too sensitive for some
No black version is available
2. Gteetoo Eye-Caring Metal LED Desk Lamp with Wireless Charger
One of the main pros of this beautiful lamp is its durability.
The Gteetoo Eye-Caring Metal LED Desk Lamp with Wireless Charger is composed of a durable and flexible metal body, allowing you to turn the lamp to any angle possible according to your needs.
It is composed of 5 color modes and 6 brightness levels.
Arguably the best desk light for eyes!
With the light guide panel, the light will be transmitted sideways for glare-free illumination, allowing your eyes to finally relax, even during long and tiresome tasks.
QI high-speed charge was implemented on this amazing desk lamp, which means that you can place your phone on the feet of the lamp for a fast charge and a super cool effect!
Pros
Durability
High Technology
Energy saving
Cons
Buzzing noise
Power wire Issues
3. Lite Source LS
Modern, small and useful is a very accurate description for the Lite Source LS.
This great product provides sufficient light for home or work offices. Any task will seem a lot easier with the right type of illumination, this lamp proves it.
For those of you who just hate common switches: the good news, is this lamp includes a dimmer —a great addition to any modern product.
The lamp uses an 8W LED Bulb. It is a new and modern alternative to the old version of this lamp, which uses a Halogen bulb.
This versatile product can be fit everywhere; plus, it looks good and presents an excellent quality for a reduced price. The dimensions are contained, which luckily for us, does not affect its power: the body is 29″ high and 19.5″ large.
Pros
Versatile
Modern
Contained Dimensions
Cons
Not as technologically advanced as others
Issues with the power switch
Issues with the base
4. Lightblade 1500S
1500 lux of brightness is enough for you? If so, this is the perfect lamp for your space.
The light blade has a color rendering index of 93 CRI, making the light created as natural as it gets.
Huge power and cost-saving with highly efficient ultra-bright LEDs, make it perfect for reading and late-night work on the computer.
If you are willing to give it a go, this lamp will give your eyes the rest they really needed. With touch control for brightness and color temperature, the light can quickly adapt to your needs.
Pros
Professional – can be used at office desks
High quality
Close to natural light
5. Luxe Cordless Eye-Friendly
Eye-friendly, fantastically designed, and affordable for almost every pocket.
This desk lamp is everything you might ever need for a good read or proper work. The lamp offers three lighting modes and six brightness levels, which can easily be controlled by the panel on the lamp's base.
It can be charged through a USB cable, and it offers 40 hours of continuous light. It is flexible, and it can rotate 360 degrees for maximum light exposure.
It contains natural LED lighting, completely free of glare. It produces a low amount of heat, doesn't emit UV, and will not damage your eyes.
With its incredibly modern design, the lamp comes in two different colors – gold and silver. It is made of high-grade aluminum, which will ensure quality over time and through many conditions. Choose the one that matches your décor the best.
The price in the video may not reflect the real price of the product.
Pros
Beautiful design and modernity
Practical
Eye-friendly
6. HaFundy LED Desk Lamp
This 3-color light and 10-way dimmable minimalistic lamp includes a diffusion panel emitting soft light without ghost, glare, or flicker.
This is the best study and reading lamp for eyes or long hours in front of the computer.
The head is flexible for your comfort and has a metal arm and adjustable body. You will also be able to make it personal by using the stepless dimming feature, which has a brightness memory.
It also comes with 50,000 hours of lifespan, meaning that bulb changes will not be necessary for the next twenty-five years of use.
Pros
Modern
High Tech
Eye friendly
7. DLLT Swing Arm LED Desk
Contemporary and extremely good-looking, this desk lamp is made of a wooden body and is very well-equipped.
The cable is covered in Nylon, which makes it durable and more flexible than others. You can adjust the angle and height to use the lamp effectively and with maximum comfort. Very easy to store, position, and use.
The head is flexible and easy to adjust the light in the exact spot desired. It comes in 6 different colors to match your space. Choose your favorite. To us, they all look great.
The price in the video may not reflect the real price of the product.
Pros
Affordable
Quality design
Functional
Cons
Difficult to put together
Not high tech
Quick Summary
Buying desk lamps is not a complicated task if you do your homework:
What would I use this lamp for?
Does it fit my needs?
Is it cost-effective for the quantity and quality of tasks I will need to perform daily?
Other considerations you need to make once you decide to buy a desk lamp:
Color of the light: the closest to natural light, the better.
Design: The most appealing + functional for your tasks. Remember that visuals are important but not as important as functionality. Try to find both!
LED lamps' advantages:
Color temperature: choose a lamp that can be adjusted to the color of the ambiance.
Less maintenance, less worry: LED bulbs can last up to 50.000 hours! So, no worries about constantly changing the light bulb.
Environment-friendly: 95% of the energy a LED light bulb receives is used to produce light. The production of carbon dioxide is way less compared to other light bulbs.
References
Author: Caroline Martins
Interior Designer & Space Planner with over 100 successful projects in Europe, U.S, and Asia. Caroline's specialty is sustainable and high-end interiors: an elegant and greener way to look at the design, using recycled materials and in full respect of the environment.
With a BA in Interior Design and Livability in Future Cities and 6 years of experience in the field, her mantra is to be your guide to transform your mental image into reality. LinkedIn profile.