Are you a big fan of modernity, high-tech products, and a product that combines beauty and practicality? If so, keep reading, this article is perfect for you!
Only a few years ago, almost all desk lamps were designed the same and were used for one purpose only: to illuminate! Well, times have changed, and you won't believe what lamps can do today.
Changing color and temperature, while saving up to 50.000 hours of lamp use, is nothing compared to the latest trends: a lamp with pen holders, phone chargers, and digital clocks: how impressive is that?!
If you start researching to see what is the best product to add to your space, you will find a huge variety of desk lamps, and most of them will showcase incredible features. One of the features that users seem to love the most is the possibility to have a desk lamp with a digital clock incorporated.
Are you a student, a businessperson, or just a person with good taste? What really matters is that you have the right product in your hands.
How To Choose The Right Desk Lamps With Digital Clock And The Features That Come With It
Follow the steps below and you will get a general idea.
Lighting modes
Reading, working, or relaxing? LED desk lamps offer a whole range of lighting modes: you'll be able to choose between cold, natural, or warm light.
A combination of LED desk lamps with LCD display
It displays temperature, time, and date! This type of desk lamp can be turned off when there is no need for light and the display remains illuminated.
Flexibility
Desk lamps with a flexible neck allow you to adjust accordingly so that you have the right illumination for whatever task you are performing.
Attractive design
Practicality is one of the most important things to consider when buying any item for your home, with design and style following right after. Choose among the numberless possibilities, the one that will fit your needs the best and has an eye-catching appearance, that goes perfectly with the design of your home.
Looney lumens is reader-supported and participates in the Amazon Associates Program. When you buy a product through links on our site, we may earn a small commission, at no extra cost to you.
Models Of Desk Lamps With Digital Clocks
As the market grows every day and gets populated with more features and technologies, more models of desk lamps with incredible designs are introduced to us, lucky consumers.
Remember that other than being a beautiful object to add to your home, desk lamps should be functional and comfortable to use, in order to allow you to focus on the task you are performing and the features that you need the most in your everyday life.
Follow this guide to choose the perfect match for your needs.
1. Desktop lamp
Usually used for reading or using the computer, this type of lamp is bendable, has different brightness levels, and incredible features such as an incorporated alarm clock, calendar, and temperature. Great to stay organized without renouncing a stylish object!
2. Bedside table lamp
Everybody needs a bedside table lamp: whether you are an avid reader, or your main light switch is simply too far from your side of the bed, this lamp will save you stress and help you maintain your eyes healthy!
Used for reading, or to set up a mood in your bedroom, the bedside table lamp is a great addition to the design of your space. Tap gently anywhere on the metal ring to turn the lamp on or off, or adjust the brightness (30% -100%). It features an alarm clock with a sunrise wake-up light (light turns on 10 minutes before your alarm time), and "snooze" functions.
3. Foldable desk lamp
Perfect for people who work at home and at the office, and simply can't renounce their favorite lamp!
If you want to bring your desk lamp home to keep working on a project, but can't fit it in your backpack, here's the solution. It's lightweight and can be folded to a compact size that fits into a pocket (5" x 3" x 1.75"). It's also a battery and USB powered to add another level of convenience. USB cord included.
With touch-sensitive control and 3 brightness levels, it can be adjusted to any type of inclination, so that no matter what you are doing, your eyes will always be rested and you focus on your work! Equipped with new COB LED technology this lamp can output 220 lumens of intense light.
Bringing your home to work (or your work, home!) has never been this easy.
4. Wireless Charger
If you love new technology and high-tech gadgets as much as we do, this desk lamp with a digital clock, temperature display, and USB and wireless chargers will blow your mind!
Perfect if you can't stay away from your smartphone!
TOP 5 BEST DESK LAMPS WITH DIGITAL CLOCK
1. LAOPAO TX26 LED Foldable Desk Lamp with LCD display
No matter if you are using the computer at night or if you need a mood light to sleep properly, this desk lamp will do the job.
The lamp offers 3 lighting modes (Warn/Natural/ Cold White) and 5 brightness levels for every mood. You can choose a suitable lighting mode just by touching the settings on the base of the lamp.
With a 10W QI wireless charger and USB charging port, you can charge two devices and use the lamp to work at the same time. (5V/2A adapter included)
The product comes with CR2 batteries included. The lamp is fully equipped with 3 in 1 LCD display, showing the alarm clock, inside temperature, date and time. The LCD panel can be turned off by holding the button for three seconds.
The lamp is 2.3″D x 5.5″W x 13.3″H. And if all of this wasn't enough, it also works on a LED light bulb, therefore saving up to 50.000 hours of life span, your money, and the environment altogether!
It is flexible and foldable, perfect for your tasks. There literally isn't a bad time to use this desk lamp.
Available in black or white finishes.
Pros
Flexible
Practical features
Different lighting moods
Modern look
Cons
Won't charge older style phones
The setup buttons on the back of the upright part of the lamp might be too small for some people.
2. OttLite Thrive LED Sanitizing Table Lamp
Turn on the light to continuously clean = SpectraClean – sanitizing technology exclusive to OttLite – visible light disinfection breaks down harmful microorganisms at the cellular level.
It is a flexible neck desk lamp, meaning that it is very adjustable, and you can customize the angle according to your needs. So, if you are reading in bed, working on a project, drawing, or simply want to create a mood without blinding everyone in the room: you only need this product, nothing more.
It produces soft and flicker-free lighting that is perfect for all tasks and illuminates space just big enough so that you don't need much more lighting in the room with ClearSun LED technology reduces eye strain by up to 51% by bringing the natural daylight indoors. With three brightness settings available adjust your light with touch-activated controls.
Keep your device charged thanks to the convenient 5V, 2.1A USB port.
This lamp has integrated LED technology rated to last 40,000 hours!
If the price didn't convince you to buy this product, then its design will! This amazing modern design is also minimal and classy, which means that it will look like a million bucks in several types of living rooms, bedrooms, and studios.
The lamp can be used as a snooze alarm clock, it displays the date, day of the week, and time. Having a lamp that only illuminates simply isn't enough anymore!
Pros
Unique sanitizing technology
Sophisticated look
Small footprint
Eye-caring ClearSun LED technology
Cons
A little difficult to change settings at first
The LCD panel is a little bright at night
3. Ledgle 8W LED Lamp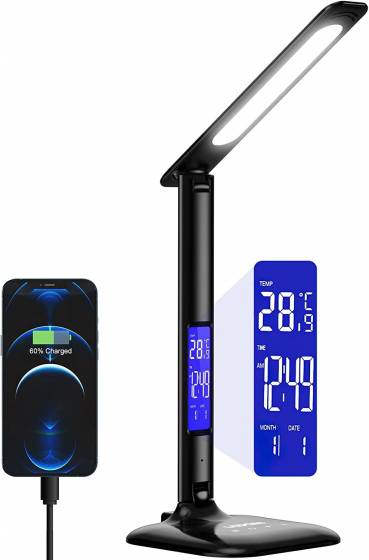 If you are looking for an eco-friendly and eye-catchy product, you can definitely stop looking.
The LED lighting of this lamp comes with an anti-glare shade and has 5 levels of adjustable brightness. Perfect for reading and studying without damaging your eyes with too much brightness, but also to illuminate the area without you having to strain your eyes. A CRI level of 80+, enables the lamp to minimize eye strain in every mode.
There are 3 color temperatures available (from 2,800K to 5,500K), and they vary between warm white light, natural light, and cold white light. You will definitely find the right mode for each situation you'll use the lamp for.
No button needed: the touch-sensitive control will help you manage power, lightness, and color temperature.
Press "down" for only 3 seconds to turn them on and off the LCD screen. The lamp comes with a USB port, and a digital clock with time, date, and temperature.
Available in white and blue-black finishes.
Pros
Advanced memory function to save your light color and temperature setting
It is made of 52 energy-saving full-spectrum lamp beads
Cons
It needs a 1 lithium battery for the clock and alarm (which needs to be replaced every 2 years or so)
Only one alarm tone
The LCD display is not dimmable
4. XIZDDL LED lamp
Sophisticated and with great features included, this desk lamp is a great option for those who like to have a greatly illuminated space with a low waste of space.
It features a calendar, alarm clock, thermometer, and memory multi-function. It also comes with 45 double-color temperature lamp beads that offer you 3 color modes and 5 brightness levels. Plus, it works with a sensitive touch control switch: who needs on-off switches anymore?!
The USB charge port and QI wireless charging functions are also included so that you can connect your favorite devices and you'll never have to miss an important call or message again.
The LCD screen displays the clock, alarm, calendar, day of the week, and indoor temperature.
The three-axis multi-angle rotating folding arm is suitable for every need you might have, and it has a lifespan of 35.000 hours, which means you won't have to worry about replacing the light for a long time!
Available in black and white finishes (with leather texture). Perfect not only for homes but for cafes, libraries, and offices.
Pros
Helps to eliminate clutter desktop thanks to multiple functions
Modern style
Easy to turn on and off with a simple touch.
Very easy to setup
Cons
The clock set buttons are on the back of the lamp and might be harder to find.
Some people find the cord too short
5. Banrterd Led Touch Lamp with Nightlight
Probably the easiest lamp to bring around and place into boxes or cabinets. It can rotate the head 180 degrees and 90 degrees base axis or be folded.
The product includes 5 lighting modes, warm light, ordinary white light, and high-brightness white light. And if you are worried about your eye's well-being, don't be! Its great and advanced technology prevents any damage to be done to your eyes, by converting strong light into a softer and dimmed one.
It has two charging options – 10W wireless charging and 5V/2.1A USB charging port and individually controlled unique night lights.
It comes with a built-in 2000 mAh lithium battery, which makes the bulb last longer – saving you some money and replacement time.
The lamp comes with a backlighted LCD calendar display, showing the date, time, temperature, and an alarm clock. Offering a sleep mode for the nights.
Pros
The raised buttons are easy to see and feel. Easy to locate them in the middle of the night.
The night light function is fantastic for providing a little light for your convenience.
Can dim independently the backlight of the screen, the main light, and the night light.
The lamp is light, it is made of hard plastic with a leather texture on the surface.
Cons
The display is narrow and might be a bit hard to see for some people.
The wireless charger is slower if your phone has a case. Works better without a cover on phone.
Conclusion
Buying a desk lamp is not a difficult task if you know what you'll be using it for. Desk lamps with features such as alarm clocks that indicate temperature and calendars are great products, but remember to buy a lamp according to your needs and the style of your room, not only the cool features it comes with.
What to take into consideration when buying a desk lamp with digital clock?
The task that will be performed when using the lamp – Will you be using this lamp to read? Work? Relaxing? Choose accordingly. You don't want to end up with a lamp that looks good but doesn't fit your needs.

Color and temperature – The color of the light of your lamp is more important than you'd think, especially if the tasks you'll perform involve spending a lot of time in front of the computer or reading. You don't want to damage or strain your eyes in any way.

Maintenance – Desk lamps with LED bulbs can last longer, so you won't have to worry about changing it every now and then, and they will save energy, making you and the environment a big favor.

Features – Temperature, and calendars are a great add-on and match for offices, study rooms, and bedrooms. Every feature fits perfectly the user's needs.
Who said that lamps are just lamps? Get ready to say goodbye to old conceptions and hello to high-tech gadgets and products! Hopefully, this guide can help you to make a great decision and buy your best desk lamp with a digital clock and other great features!
Let's shop!
Author: Caroline Martins
Interior Designer & Space Planner with over 100 successful projects in Europe, U.S, and Asia. Caroline's specialty is sustainable and high-end interiors: an elegant and greener way to look at the design, using recycled materials and in full respect of the environment.
With a BA in Interior Design and Livability in Future Cities and 6 years of experience in the field, her mantra is to be your guide to transform your mental image into reality. LinkedIn profile.