In this article, we have collected for you twelve of the best minimalist bedside table lamps in a variety of styles and materials.
A bedside lamp is an ideal companion for evening readings and the first mood setter when you wake up in the morning.
Being minimalist bedside lamps, it does not mean these lamps forgo style or design. Quite opposite, the simple sleek lines of quality materials are what makes these lamps stand out. Many of these lamps can be considered functional pieces of art.
There is nothing better to lift up your mood than starting and ending your day by switching on a gorgeous piece of art lamp that is a perfect match for your bedroom and your style.
Let's see the lamps!
Looney lumens is reader-supported and participates in the Amazon Associates Program. When you buy a product through links on our site, we may earn a small commission, at no extra cost to you.
Comparison Table
12 Minimalist Bedside Table Lamp Reviews
1. BesLowe minimalist bedside table lamp
Our top-pick bedside table lamp is a nice minimalistic modern take on a traditional table lamp design, packed with the latest features – touch control, USB charging, and more.
We like how this lamp's clean and minimalistic design combines with modern features.
The sleek black metal base and simple two-tube stand are enabled for touch control. By tapping on any metal surface, you turn the light on and off or switch between three brightness levels. Two USB charging ports, as well as a two-prong AC outlet, are provided on the base.
A traditional fabric shade in a modern oval shape is available in two different colors – cream and white – to suit your preference for the color of diffused light.
Pros
Sleek design
Touch control anywhere on the metal body
Dual USB ports + AC outlet on base
LED Light bulb included
Cons
Some assembly required
To some, the lamp is smaller than it looks in pictures (dimensions: 11″ D x 11″ D x 16″H)
2. Globe Electric Table Lamp – skinny metal minimalist bedside table lamp
Well, this lamp is as minimalistic as it gets – a simple metal stand with a socket, that leaves the light bulb exposed. Now, the real fun is changing the look of the lamp by simply swapping different designer light bulbs.
The contemporary minimalistic design of the Holden table lamp adds a perfect accent to any space, including your bedside table. It is available in several color options, including black, white, pale mint, and pale pink.
The features of this lamp are as minimalist as its design – a simple 5-foot cord with a rocker switch. Nothing fancy – no touch switches, no charging ports, just a good old-fashioned lamp.
The real genius of the simple design is in how you can change the look of the lamp by using some of the fancy light bulbs. You will need to provide your own E26 medium base light bulb, no more than 60W, since none is supplied. But take that as a bonus, because who but yourself would know which look you want?

Pros
As minimalistic as it gets
Change the look by changing the light bulb
Cons
No light bulb provided
No fancy features – just an old-fashioned lamp
No lamp shade – the quality and direction of the light will depend on the light bulb you choose
3. Aooshine Table Lamp – small wood minimalist bedside table lamp
Another great-looking minimalist bedside lamp, this time with a solid wood base and a tall square shade of traditional fabric.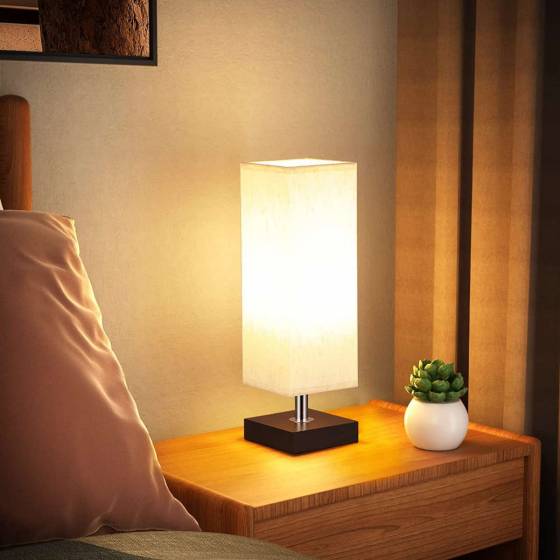 Aooshine is another bedside lamp that follows the minimalistic design approach even into providing no fancy features – this is again "just" a corded light.
Both the wooden base and fabric shade come in a variety of colors to match your interior. We really like the simple shape – the beauty of this lamp comes from its elegant proportions and the soft light diffused by the fabric shade.
Pros
Simple elegant design
Multiple color design variations
Cons
No light bulb provided
No fancy features – just a corded lamp
4. BSOD Hand-blown Striped Glass Mushroom Minimalist Bedside Table Lamp
The next beauty in our minimalist bedside table lamp lineup is a hand-blown striped Murano glass mushroom lamp by BSOD.
These BSOD table lamps are made of a hand-blown single piece of striped Murano glass with a milky white finish formed into a small cute round mushroom shape. They come in several colors to suit your taste and style.

The thick and thin layers of the striped glass make an interesting design pattern producing a pleasant smooth glow once lit. As with the other minimalist lamps on our list, this is simply a gorgeous corded light controlled via a rocker switch, with no other fancy features.
Dimensions: 7.1 in tall x 6 in diameter (18 cm H x 15 cm dia), with 65 in (175 cm) cord.
Pros
Beautiful design
Hand-blown glass with a unique stripe pattern
Several color options
Cons
No fancy features – just a corded light
Comes with plain LED light bulb (hint: buy an E12 socket smart LED light bulb to add some extra colors and the ability to control the light via smartphone)
5. Unfusne Smart Color Changing Lamp – crystal minimalist bedside table lamp
Unfusne bedside lamp contrasts the minimalist look of stand and shade with a fancy mercury glass crystal stem.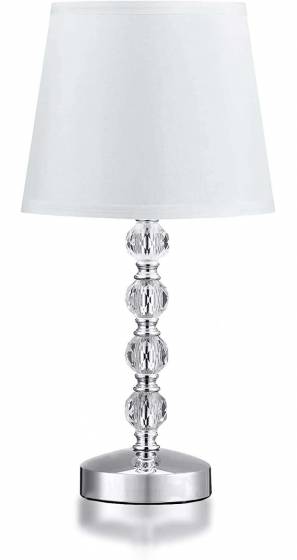 Unlike some of the minimalistic lamps above, the Unfusne bedside lamp features a fancy stem built of mercury glass crystals to contrast the minimalist plain look of the polished metal base and traditional cylindrical fabric shade.
Not only that, a simple inclusion of the smart color-changing 9W LED light bulb turns this lamp into a modern light that can be controlled via a smartphone app.
The provided light bulb is dimmable, the light temperature can be changed from warm yellow 2700K to bright white 5000K, as well as any of the 16 million colors. The reflections of the light on the polished crystal faces make this lamp special.
The lamp stands 18 inches (45 cm) tall.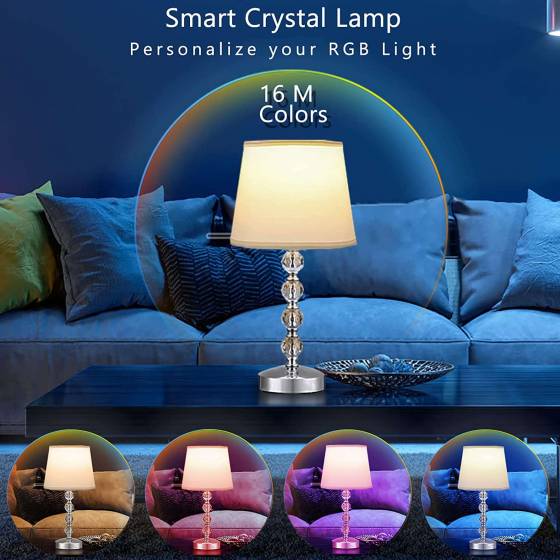 Pros
Plain design contrasted by crystal beads
Smart bulb included adds many modern features – app control, dimmability, and color change
6. BOKT Glass Table Lamp – brass minimalist bedside table lamp
Another bedside lamp that takes the minimalist look to the next level with just a plain white glass ball attached to a slim polished brass tube stand. Available in four style variations.
BOKT takes the minimalist look to new levels with a plain white glass ball lamp that appears to defy gravity levitating mid-air, barely attached to a tiny brass tube stand.
The lamp is available in several styles as shown in the next picture. While we like the tall version the most, the other styles might better suit your interior, particularly if you are after a shorter bedside lamp.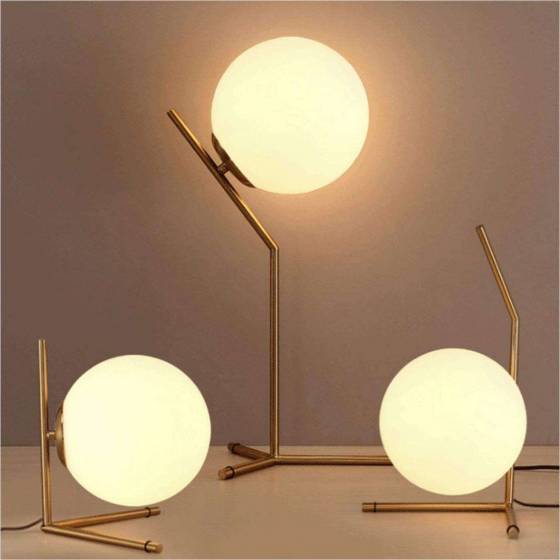 Pros
Sleek minimalist design
Real glass and brass metal
Uses common E26 medium base light bulb
Cons
The hole in the globe shade is relatively small – larger replacement light bulbs will not fit
Some assembly required
7. Limelights LT2024-BLK Stick Charging Outlet – brushed steel base minimalist bedside table lamp
If you are after an affordable bedside lamp with a minimalist traditional design, look no further. Available in 18 different color combinations to match any interior.
With a sturdy brushed steel base and stem, and round cylinder fabric shade, this lamp sports the traditional minimalist look.
Extra features include a two-prong AC outlet in the base for your phone charger and a fashionable metal cord pull switch.
The Limelights bedside lamp is available in 18 different colors – you can have a lamp to match the decor in any corner of your house.

Pros
Elegant traditional look
Space saving base (5.25″ dia)
Charging outlet on base
Cons
Some assembly required
The dark-colored shades do not let much light through – choose wisely
8. Kiampon Table Lamp – silver aluminum alloy minimalist bedside table lamp
Now for something very different: Kiampon adds – quite literally – an ultra-modern twist to the minimalist bedside lamp.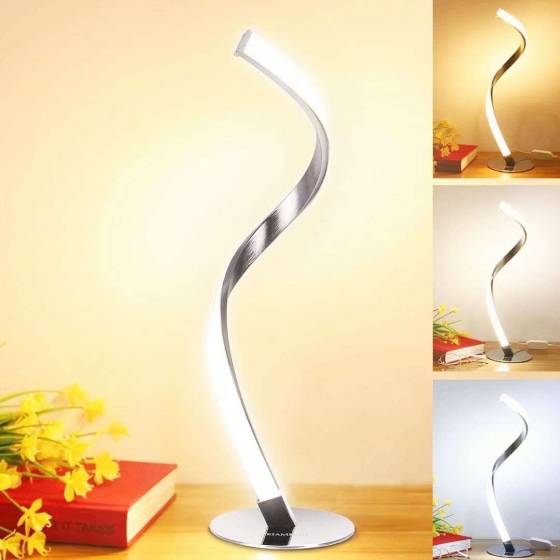 This is another one of the oh-so-simple yet oh-so-elegant lamps that easily can be considered a piece of art. The LED strip light is attached to a sculptured twisted spiral of polished aluminum. Simple, clean, elegant.
Being a modern LED light, the KIampon does not skip on the features either – stepless dimmable touch control with memory (remembers the last setting), three color temperature settings from pleasant warm yellow light 3000K for evening relaxation to bright white 5000K if you want to read a book before bedtime.
The LED light is 450 lumens bright, consuming only 9W, with a 30 000 hrs lifetime (that is 20+ years at 4hrs per day).
Dimensions: 5.1″ diameter base, 16.5″ tall, 6 ft cable.
Pros
Unique modern design
Adjustable light temperature and intensity
Cons
The control box is on the cord behind the lamp. not directly on the body, where it would be more accessible
9. Phiestina Dimmable Table Lamp – solid calcite stone minimalist bedside table lamp
Here is another minimalist bedside lamp with an unusual and unique design. Phiestina lamp is carved out of natural calcite stone to provide a lovely soft evening light.
If you want to add some meditative and relaxing vibes to your bedroom, this natural calcite stone bedside lamp is your ticket.
This cozy lamp is a minimalist treasure handcrafted and hand-polished from a natural calcite stone. That means each lamp has a unique natural stone texture. Available in white stone only, or white calcite with naturally colored veins.
The stone lamp is completed with a barely noticeable but solid aluminum stand with rubber feet to protect your furniture. There are three openings for the 78″ cord in the base, so you can showcase your favorite side of the stone.
Dimensions: approx. 6.3 x 6.5″, 8.7″ tall, 78 inch cord with dimmer switch.
Pros
Simple and beautiful natural stone
Creates great atmosphere
Dimmable to fine-tune the atmosphere
Cons
This is definitely not a reading light
10. Stone & Beam Table Lamp – ceramic minimalist bedside table lamp
Another classic style bedside table lamp with clean minimalist lines and design. Smoothly curved ceramic base matched to a clean linen shade, grounded on a polished nickel base – this Stone & Beam lamp is a timeless classic.
The simple beauty of this bedside lamp comes from its smoothly curved ceramic base in a dreamy light cyan blue color, which will fit most interiors. Matched to the base is a clean round cylindrical linen shade. The whole minimalistic design is finished and grounded with a polished nickel base.
Dimensions: 11″ diameter shade, 20″ tall lamp.
Pros
Clean timeless design
A great mix of quality materials – ceramic base, linen shade, and nickel stand
Cons
Some assembly required
No fancy features – "just" a corded table lamp
11. Simple Designs Tear Drop Table Lamp – rose gold/copper minimalist bedside table lamp
Another take of the timeless classic table lamp design, this time with a lovely polished copper tear-drop base complemented with a simple cylindrical fabric shade by aptly named Simple Designs.
Simple Designs are true to their name with this minimalistic copper base table lamp. Polished into a glowing rose gold color, the sleek base contrasts nicely with the simple white cylindrical shade.
Dimensions: 7″ diameter by 9.25″ tall shade, 19.5 " tall lamp overall.
Uses E26 medium base light bulb, up to 40W (not included).
Pros
Simple and sleek design
A quality polished copper base adds warmth to any place (other colors available)
12. HAITRAL Tripod Table Lamp – children's minimalist bedside table lamp
Our last pick on the minimalist bedside table lamps goes to a nice wooden tripod stand lamp with a cute animal and tree print fabric shade, perfect for the kid's bedrooms.
This Haitral lamp again wins with the simple well executed minimalist design. The quality wooden tripod stand adds warmth and a touch of nature to any bedroom.
We feel the kids' print version of the lampshade with friendly owls and foxes and trees adds to the friendly warm feeling of the design. The simple cylindrical fabric shade also nicely softens the light.
Dimensions: 7.1″ diameter by 7.9″ tall shade, 15.4″ tall lamp overall.
Comes with a 67″ cord with a simple rocker switch.
Pros
Simple warm friendly design
Small enough to fit kids' bedroom side tables
Cons
Some assembly required
Bulb not included (E26 standard base, 60W max)
How To Correctly Choose a Bedside Table Lamp
Our light design in the bedroom cannot be complete if there is no particular lighting device on the bedside table in addition to the general light in the room.
The classic bedside lamp is essential for spreading light in the room without bumping into the furniture when you wake up in the middle of the night.
Of course, it is also possible to place a switch for general lighting next to the bed, but the presence of dim light on the bedside table avoids waking up those who sleep with us.
A lamp of this type usually has an atmospheric and undirected light, a connector, the switch on the cable, or the base.
If the lamp is used to read in bed, it must be equipped with an adjustable arm to be directed towards the book's pages.
Lamp Height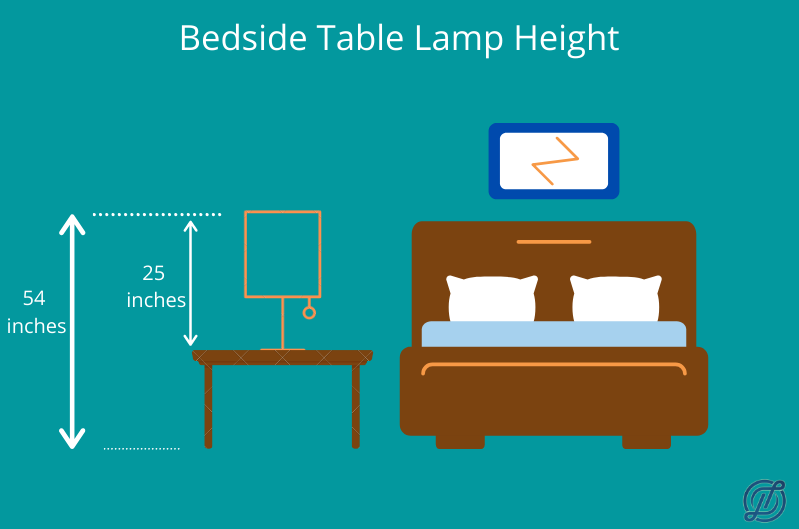 Assuming your nightstand is the same height as your mattress (or within a couple of inches), look for a lamp the same height as your nightstand plus an extra two or three inches.
So if your nightstand is 24 inches high, a lamp around 27 inches tall will look best. A total of about 54 inches.
For the light power, as a rough guide, around 400 lumens (about 30 watts) would be suitable for a bed-sized table lamp.
Optimal Light Colors
Blue light (but cold light in general) harms sleep quality.
For this reason, next to the bed, it is better to exclude the choice of a blue light completely and instead prefer the warmer shades, from 2,700 to no more than 3,300 Kelvin.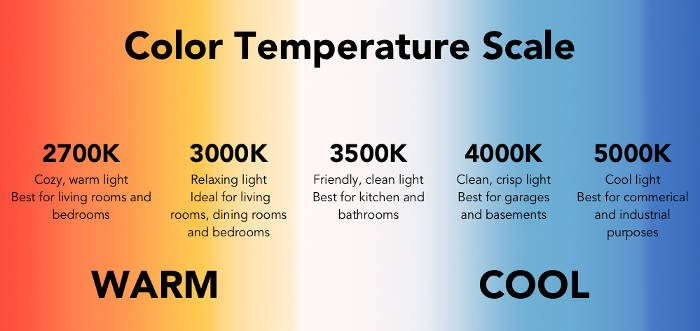 Yellow light, the so-called warm light, has a more relaxing effect than the cold ones and is for this reason to be preferred in the bedroom.
Today almost all manufacturers are oriented towards giving a preference to LEDs. Of course, a bedside lamp is not a device destined to remain in operation for a long time.
However, it could happen to fall asleep, forgetting the light on, so an eye to energy saving is not a bad idea.
Frequently Asked Questions:
How do I choose a bedside table lamp?
Consider what you will mostly use your bedside table lamp for. This will help you decide which features it needs (dimmer, touch sensor, wireless charger). Check the right dimensions for your bedroom, and choose the right light intensity. Finally, find something that fits within the style of your bedroom.
Do bedside table lamps have to match?
Playing with entirely different models while remaining within the same stylistic discourse allows you to give the environment a more dynamic and varied note and choose from a larger number of lamps. What must be consistent is not the shape of the material, but only the style.
What is the best size for a bedside table lamp?
Your lamps should look large enough next to the bed and nightstands. Therefore if you have a tall headboard, the top of the lamp should almost reach the headboard's top.
How tall should bedside lamps be?
Medium lamps, up to 13 inches, are suitable for bedside tables.
Should bedside tables be higher than the bed?
The rules of pleasing aesthetics require that the bedside tables are not too large compared to the bed. Above all, they are not higher than the bed (but this more than anything else for a practical matter).
The bedside tables' measures vary from 13 inches to 26 inches in width and can be from 20 to 70 cm high. The depth is always around 15-17 inches, for a practical question linked to the bed's functionality.
Is it safe to leave a bedside lamp on all night?
While keeping a light on can help guide us on our nocturnal excursions around the house, it can have physiological repercussions. Sleeping with the light on, even if small, disturbs the natural production of melatonin.
Where to buy bedside lamps?
You can find bedside lamps in most furniture shops and lighting shops. You can also find many online on websites like Amazon, or in specialized shops, like Lumens. Want to take the easy way out? Just click the links in the article above!
Author: Caroline Martins
Interior Designer & Space Planner with over 100 successful projects in Europe, U.S, and Asia. Caroline's specialty is sustainable and high-end interiors: an elegant and greener way to look at the design, using recycled materials and in full respect of the environment.
With a BA in Interior Design and Livability in Future Cities and 6 years of experience in the field, her mantra is to be your guide to transform your mental image into reality. LinkedIn profile.