Among dozens of options, the first thing to ask yourself is – What am I going to use this table lamp for? Once decided that you can choose to match your bedroom style, or go for something more unique that will give your room the incredible charm you were looking for.
Before anything else, we will look at a list of different styles and the perks of each of them.
Looking into setting the mood of your bedroom? Are you searching to buy a bedside lamp? Don't worry, we are bringing you our list of the best table lamps for the bedroom to choose from!
Looney lumens is reader-supported and participates in the Amazon Associates Program. When you buy a product through links on our site, we may earn a small commission, at no extra cost to you.
Our List Of The Best Table Lamps For The Bedroom
1. Contemporary Bedside Lamp
If you look for a contemporary-style lamp, our pick definitely is Signature Design by Ashley Steuben.
Contemporary style represents a return to the essential, the abandonment of all that is unnecessary. And the search for what is of high quality and technologically advanced.
Smooth profiles replace generous ornaments, fabrics with painted patterns replace colorful prints, and minimal accessories are preferred at large displays of furnishings.
This stylish contemporary table lamp comes in nine different colors, so it surely can be matched with different types of environments and interior design styles.
Pros
Stylish monochromatic design
Glazed ceramic base
2. Traditional Bedside Lamp
This timeless style started taking form in the 18th century, and it is just as fashionable today. It incorporates antique pieces of history both in terms of design and pieces of furniture.
The Uttermost Gallo Polished Nickel Table Lamp would be perfect to create an incredible atmosphere in your bedroom.
Pros
Long-lasting materials
Elegant and expensive looking
Giving a sense of a more spacious space
This product carries a lifetime warranty
Cons
No modern gadgets
Too tall for some furniture
3. Antique Bedside Lamp
When talking about Antique table lamps, a variety of materials can come to our minds, from antique brass to different styles and shapes.
Trust us, you can't go wrong with this beautiful Partphoner table lamp.
Besides excellent client reviews, you will be purchasing an affordable and stylish piece for your space. The light tones can be matched with a more antique ambiance and will be a fantastic showcase for that final touch into your home.
Pros
Elegant look
Made from metal in the -bronze finish, and fabric for Faux Silk Shade
60 inches brown cord
Comes in bronze and antique white wash finish.
2 dimmable LED Edison light bulbs included
Exquisite Hand-painted Craftsmanship
Cons
The charging port is not on the back side so it could hide the cord of the phone when charging.
Shades are a "Snap" to assemble.
4. Rustic Bedside Lamp
Are you a fan of Rustic style? If so, this next lamp will do wonders for your space!
The charm of a house characterized by a piece of rustic chic furniture is inescapably unique, particular, and timeless.
A rustic chic house is sober and never excessive, pomp is not allowed, but everything is based on a very simple and natural style. This VONLUCE table lamp is perfect for a Rustic, Farmhouse look!
Pros
Perfect to be used as a reading lamp
Great quality
Antique bronze finish materials
3-year warranty
5. Mid-Century Modern Bedside Lamp
Mid-century modern is one of the most common and fashionable styles nowadays. It combines a variety of factors, such as clean lines, organic curves, geometric shapes, and different materials such as wood, metal, and concrete.
Sounds impressive, right? Check out this next table lamp!
This JONATHAN Y JYL1028G Anya table lamp is an excellent piece of design and has fantastic construction – Amazon's Choice. Available in 7 colors – black/white, clear, gray, ivory, mercury silver, navy, and sunset orange.
The furniture and furnishings introduced in the 1950s and 1960s have clean and refined lines. Despite the passage of time, the design of the middle of the last century has remained a staple in interior architecture so much so that we can call it a great classic. 
Pros
Modern classics finished with high-end details
Elegant glass table lamp with brass-plated base and hardware
1-way switch and elegant, soft-white LED, compatible with Philips Hue and Alexa smart outlets
Cons
Looked intimidating to assemble but was easy enough.
The lamp looks smaller than in the pictures (20.5″H)
Inconsistent color if more pieces ordered
6. Nautical Bedside Lamp
Considered as the design that originated from the Sea, Nautical Décor can be defined and recognized very easily, with blue being the primary color of this color palette.
Wood and colors that reassemble elements from the ocean can also be found in this amazing yet fresh design style.
In addition to the colors that are chosen to give more light to the room, with shades of blue and white dominating the scene, great use of wood for furniture and accessories connected to fishermen or marine environments.
The vintage effect is pleasant when paired with wooden furniture and decorations that seem to recall the ancient sailing ships on which sailors and pirates embarked to sail the seas in search of luck.
This Stone & Beam round ceramic bedside lamp will be the perfect fit for your nautical interiors.
Pros
Blue body made of ceramics
Very stylish
Great for reading
Easy to install
Easy to install
Cons
Does not come with dimmers
Can be a bit pricey for some people
Ceramics body breakable
7. Industrial Bedside Lamp
Industrial furniture was born in the 1950s in New York with the recovery and reuse of disused spaces that were previously used to house offices, industries, and business centers.
Since then, thousands of old warehouses have been recovered and used as homes.
It then came to fame thanks to American films and TV series set in these spaces, thanks to the emergence of Pop Art headed by Andy Warhol.
This Haian touch bedside Lamp – a fantastic combo of modern and old charming materials such as metal would do wonders for your bedroom. Imagine a brick wall, this amazing table lamp, and a unique bookcase… it will be the perfect combo!
Pros
Very durable materials
Industrial look
Easy to install
3 way dimmable
Touch Control
Cons
Isn't flexible
Bulb not included
8. Tiffany Bedside Lamp
Ever heard of Tiffany style? Tiffany table lamps are part of the Art Noveau movement.
Tiffany table lamps are often made of stained leaded glass. You can easily recognize them, they have a very unique style, and they will be a big statement inside residences all over the world.
Pros
Made with quality materials
Easy to assemble
Very beautiful shade
Cons
Shade is sensitive and prone to cracks
9. Farmhouse Bedside Lamp
Warmth and simplicity are two perfect words that describe the farmhouse style. It can be easily recognized by the use of vintage pieces, and country living inspiration.
Natural textures and materials are also incorporated into this cozy style.
This next table lamp is the perfect piece that you didn't know you needed.
Pros
Durable & high-quality materials
Dual USB Charging Ports
Two Free LED Bulbs Included
A piece of a statement look
Very Stable
Affordable
Cons
Heavy – 8.16 pounds
Not dimmable
10. French Country Bedside Lamp
This style showcases a mix of Rustic and warm colors. Elegance is a word that fits the concept perfectly.
Inspired by the stunning homes of Provence, French country design is composed of ruffles, distressed woodwork, mixed patterns, and both vibrant and subdued hues.
The classic JONATHAN French elegant style is merged with a rustic, country aesthetic, creating a balance between beauty and comfort. This next table lamp says it all!
Pros
Excellent quality base
Elegant and stylish look
Easy to assemble
Sturdy
Energy-saving LED bulb included
11. Shabby Chic Bedside Lamp
The Shabby Chic style is the perfect mix between vintage and new décor. Everyone talks about it, but not everyone knows what exactly this style of furniture is, nor why it is conquering more and more fans even among famous people.
It is an interior design style, in which furniture, accessories, and furnishings are aged- Indeed, the greater the worn details, the better the soul of this style is represented.
When talking about shabby chic, the meaning and style of furniture coincide.
In addition to the English country house, the period, and Victorian influences, shabby chic draws its inspiration from a wide range of furniture styles. Such styles include the Swedish one, the French one dating back to enchanting castles of the Loire, and even the American shakers style, in which essential simplicity reigns supreme.
Pros
Quality material
Elegant look
LED light
Energy efficient
Bulbs included
Cons
Requires to assemble
Pretty tall; about 33 inches
Things To Consider Before Purchasing A Table Lamp For The Bedroom
There are a few things to consider before choosing one of the countless models of table lamps for the bedroom available on the market. The first is selecting a lamp that is suitable for the furniture on which it will be placed.
For the full guide on how to choose a table lamp click the provided link.
Here are some useful tips to remember:
In general, it is advisable never to exceed the overall height of 150 cm for furniture and lamp combined;
If you decide to place several lamps next to each other, it is better to opt for a homogeneous height, avoiding having more than 5 centimeters of the gap between one model and another;
The foot and the lampshade of the lamp must never come out of the cabinet in order not to hinder the passage or look too bulky.
The ideal power is absolutely not the same, as it depends on the room where the lamp is located.
1. What Do You Want To Illuminate?
Table lamps are ideal for adding light points in the room to combine the main lighting, consisting of chandeliers, ceiling lights, wall lights, or spotlights. They create depth in the room, give warmth to any room, and offer a feeling of welcome.
To complete your lighting project, think about the function that the table lamp will have to perform. Do you need it above all for reading, or do you want to create a relaxing atmosphere?
2. Which Function Will It Perform?
Diffused Light
It is uniform, and it homogeneously illuminates the whole room. Choose table lamps with diffusers of a single color and without covers or with lampshades in light-colored fabric. The bulb must have a diffusion angle of 360 °, so as not to create shaded areas.
Directional Light
Focused and oriented downwards, it directly illuminates the tabletop or the reading area. Choose a table lamp with conical diffusers in opaque materials such as metal and plastic. A bulb with a diffusion angle of 150 ° is suitable for a concentrated light beam. A lamp with a 360 ° diffusion angle is indicated with cylindrical or conical lampshades, which allow the light to pass downwards and upwards.
Do you need a lot of light, or are you mainly looking for a lamp with a strong aesthetic impact?
3. Material And Color Of The Table Lamps
The material of the diffuser characterizes the style of the lamp.
Glass and crystal for a more classic style, ceramic and pearl for rustic lamps, wood for the Scandinavian style, bamboo and raffia for ethnic lamps, and metal for modern and industrial style.
However, this distinction is not so rigid. Also, the material of the diffuser influences light emission. If the furnishings, floors, walls, and ceilings are of intense or dark colors, the room needs more light. In this case, choose lamps that make more light by evaluating the material and color of the diffuser.
4. Shielding Or Filtering Materials
Metal Diffuser
Metal, iron, plastic, wood, plaster, ceramic, and all those non-transparent materials completely shield the light and allow it to filter only through the opening, creating directional lighting.
Glass Diffuser
Glass, crystal, pearl, Plexiglas, acrylic, and transparent or non-covering structures are used to create a diffused and brilliant light.
Lampshade In Fabric
Fabric and paper are perfect for soft and homogeneous light.
For a bedside lamp in the bedroom, it is good to choose a light that is relatively soft but still allows you to read without problems. For a desk lamp, on the other hand, it is possible to choose a stronger light.
Finally, lamps for the living room are an extra light that contributes to creating a calm and intimate atmosphere.
In the bedroom, soft light is what it takes to relax or to create a romantic atmosphere. If you love to give yourself a bit of good reading before bed, choose a lamp with direct light.
Pay attention and chose a light that is not too strong and with an adjustable diffuser or arm. That way, you will avoid disturbing your better half, and you will be able to continue to read your book as long as you want.
Compared to table lamps, bedside lamps have smaller dimensions and should be chosen based on the size of the cabinet.
5. Purpose
Is this a table lamp for reading? For looks? Or do I want to give a different look and create a pleasant atmosphere in my space?
Those are questions you need to ask yourself before investing some money in a very nice product for your interiors. Once you have that clarified, the search for the perfect lighting starts!
6. Types
Table lamps come in endless types, and it might be overwhelming trying to figure out whether to take a lamp with a small base or a base that is big enough for your daily tasks.
Make sure to choose a lamp that will embrace your tasks.
Some types include, but are not limited to:
Swing-arm Or Adjustable
Allows you to direct the light to whatever side you need it, making it easy to work or read from every corner.
Battery Powered
No need to plug into an electric outlet! Battery power or other sources of power are the main focus of this lamp.
Charger Included
Modernity, huh? Table lamps with built-in outlets are the new trend, most of them with a wireless charger. So no need to get desperate to charge your device, just easily place it on top of the wireless on your lamp.
Magnifying Lamps
Mostly used for tasks that require a lot of detailed work, such as painting, sewing, and doing arts and crafts. It is composed of a magnifying glass and a ring of light.
Organizer Lamps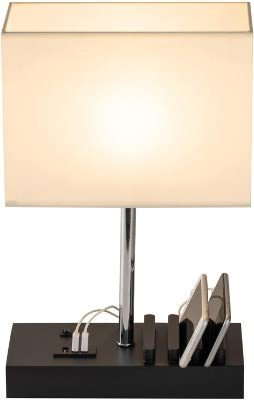 Do you like to keep things in place? With the organizer table lamp, no mess will be made in your workspace! You can store pens and everyday items that you might use to work.
7. Shades
Lampshades need to be chosen carefully. Some of them will do wonders for the task you are performing, while others, if not chosen wisely, will make the task even more difficult.
Materials and colors of lampshades can and will impact the light effect you are going to get.
Are you looking for a lampshade that will allow you to create a romantic mood? A cream-colored shade is a perfect buy.
It all depends on the mood you want to set, and the effect you are looking for.
Here are some of the lampshades you will mostly find in any store:
Bell
This shade has a bell shape to it with the sides curving and sloping towards the bottom.
Bell shades are normally found in traditional and transitional designs.
Drum
The Drum shade is obviously shaped like a drum with the sides completely vertical and straight.
Drum shades are usually found in transitional, contemporary, and in modern designs.
Empire
Empire shades are narrow at the top and wider at the bottom. It is different from a bell shape in that it does not curve on its way down.
Empire shades are usually found in transitional and contemporary designs.
Rectangle
Rectangle shades are basically shaped like rectangles when looked at from the above view. At all four corners, they have a 90-degree angle with the front and back sides wider than the left and right sides.
Rectangle shades are found in contemporary and modern designs.
8. Interior Style
When talking about interior décor, choosing the right table lamp is an enjoyable task. And here's a how-to:
Identify the style of your bedroom – Contemporary, Modern, Industrial?
Choose the feel you want inside your space. Cozy? Casual?
Choose a color scheme that you love!
Pick the perfect piece of table lamp that will go with the other elements.
You have the perfect bedroom set!
9. Is It Bright Enough?
Wonderful question! Not only the shade is important, but also the lamp you choose for your table lamp. The brightness of the light will help to determine how much light you will have around your space.
Always check the recommendations of light bulbs for your type of table lamp, and check the lumens when buying.
Best Bedside Light For Reading
The best bedside lights for reading have the main focus of emitting soft light. In that way, your eyes won't get tired, and you will feel more comfortable reading before your bedtime.
If you are interested in buying the best table lamps for reading click the link provided.
How To Choose The Right Light Bulb?
When talking about brightness, soft light is the way to go for the bedroom! It reduces eye strain and sets a mood. A dimmable lamp is also a great option.
The ideal wattage for reading is within 3 to 5 watts when using LED bulbs, and 11 to 15 watts for Compact Fluorescent Lights, or CFL.
Where To Place Your Lamp?
This is up to you! But remember, a proper distance is when the lamp can produce enough light in your reading area.
Quick Summary
Before buying your table lamp for the bedroom, remember to ask yourself which task you will be performing with the produced light.
Choose a style according to your needs and wants first. After that, choose something that will match the interior of your space.
Don't forget to take the shades into consideration, they are essential.
Check sizes and proportions.
Check the recommended light bulb for the table lamp you are buying.
External Soruces
Author: Caroline Martins
Interior Designer & Space Planner with over 100 successful projects in Europe, U.S, and Asia. Caroline's specialty is sustainable and high-end interiors: an elegant and greener way to look at the design, using recycled materials and in full respect of the environment.
With a BA in Interior Design and Livability in Future Cities and 6 years of experience in the field, her mantra is to be your guide to transform your mental image into reality. LinkedIn profile.