Are you an architect or a graphic designer? Do you like to read or draw?
Or, have you been thinking about purchasing a new lighting fixture to support your work or hobby lately?
Continue reading as we provide you with detailed guidelines on how to choose the best lamps for drawing.
If you are in a hurry, then we recommend checking our top pick:
Looney lumens is reader-supported and participates in the Amazon Associates Program. When you buy a product through links on our site, we may earn a small commission, at no extra cost to you.
HaFundy LED Desk Lamp
This lamp offers a sleek and durable aluminum design with a strong clamp. With high CRI, it provides light close to daylight. A wider head covers larger areas – an excellent light for drawing and has a lifespan of 50000 hours of work – that equals about 25 years worry-free of changing light bulbs.
Selecting the perfect light source for your desk or workspace is imperative to creating a positive and motivating working environment.
Choosing your desk lamp for drawing, design, and practicality should be the key influence on your decision.
However, there are a few other key elements that you should consider if you want to choose a quality desk lamp.
Product Comparison Chart
Brand
Type
Light Modes
USB Port
Price
JUKSTG 1310A
4 Lighting Modes,
7 Brightness Levels
Yes
Check
Lepro PR310001-DWW-US
3 Color Modes,
5 Brightness Levels
No
Check
YOUKOYI Gooseneck LED Desk Lamp with Clamp
3 Color Modes,
10 Brightness Levels
No
Check
Artemide Tolomeo
1
No
Check
HaFundy GT-422
3 Color Modes,
10 Brightness Levels
No
Check
ADDIE KIRKAS 2 Magnifying Lamp
1, Stepless dimming
No
Check
Soysout with USB
5 Lighting Modes with,
7 Brightness Levels
Yes
Check
TORCHSTAR
1 Color,
1 Brightness Level
No
Check
Miady
3 Color Modes,
4 Brightness Levels
No
Check
AXUF Metal Swing Arm Lamp
3 Color Modes,
10 Brightness Levels
No
Check
Neatfi XL Super Bright & Wide
1 Color,
4 Level Brightness
No
Check
Key Element #1 – How to choose your perfect drawing lamp?
To make the right choice when purchasing your next desk lamp, you first need to understand the nature of light.
Light has a dual nature.
On the one hand, it's a transverse electromagnetic wave that moves through a vacuum and is partly visible to the human eye. On the other hand, light behaves as a particle.
One of the main characteristics of light is its intensity.
Certain regulations need to be observed and followed to achieve enough light in your workspace. The unit used to describe light intensity is called Lux.
According to the National Institute of Standards and Technology, "Lux is a derived unit of illuminance and luminous emittance, measuring luminous flux per unit area and is equal to one lumen per square meter."
There is a variety of standards applied around the world.
Nevertheless, it is advised to have a minimum of 500lx on your task area surface. "The rest of the room, excluding a 0.5-meter periphery, is the immediate surrounding area and is illuminated to at least 300 lux", advises Licht.de website.
This online platform, which can provide you with all sorts of information when it comes to light, continues by saying that "task area lighting is recommended for rooms where diverse visual tasks are performed with different illuminance requirements."
Of course, there is a massive difference in whether you are using your PC to draw or drawing everything manually. In the latter case, a total of 1000lx is the recommended value for your space.
Key Element #2 – Color temperatures of Light
Another important feature of light is its color.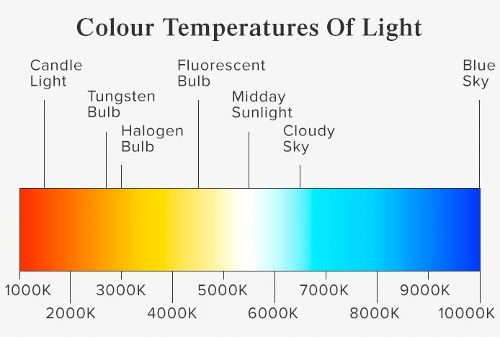 The unit in which the color of light or better said its temperature is measured is called Kelvin.
Modern lamps are designed to emit beams whose hue ranges from 2700 K to 4000 K.
The value of 2700 K is considered warm, 3000 K is deemed neutral, whereas 4000K is considered cold white light.
Daylight color has a value of 5000 K.
Warm light creates a feeling of coziness and a soothing atmosphere and could be a good choice for a home office.
On the other hand, a cold white color stimulates the brain to work more efficiently and stay awake. It is more suitable for spaces such as company offices or drawing rooms.
CRI is the next crucial attribute of light.

CRI stands for color rendering index and is the ability of a light source to reveal the object's true color.
Have you ever been shopping and bought a clothing garment, whose color, when taken out in the daylight, turned utterly different from the one you have seen in the changing room? That is thanks to the low CRI of the lamps installed in the retail facility.
CRI is especially vital in art restoration and neonatal care.
Only natural light has an index of 100. Industrial manufacturers are trying to produce artificial light sources that would come as close to that index as possible- the higher the index, the better the rendering capacity.
Serious manufacturers have come as close as CRI>95. Still, values of CRI>80 (CRI>90 in the case of museums and art galleries) are considered good enough. Typical LED lamps have an 80+ index value.
Under no circumstance should you purchase a luminaire with a CRI of less than 70!
Key Element #3 – Examples of Luminaires with different CRI
The user's age plays an important role when it comes to choosing the right lamp.
As we get older, we tend to need more light, as our eyesight gets poorer. A 50-year-old has different lighting demands than a 25-year-old.
The older we get, the more sensitive our eyes are to glare.
Therefore, older users should get high-quality lamps with a light source they can control. Dimmable anti-glare luminaires are always a good choice.
Now, as we have covered the more technical and essential light features in general, let's talk about a desk/drawing lamp's utility.
A good desk lamp is vital in a modern working environment, whether it is a home office or a company office.
We sometimes spend more than 8 hours per day in front of our monitors. Occasionally, additional light sources are crucial to satisfactory performance.
According to some surveys, a well-lit workspace motivates an employee to perform well at work in most cases.
A good desk lamp can definitely help out.
After all, it is a practical, flexible, and portable light source with fixtures such as cords and plugs. These localized lighting units can provide the correct amount of light precisely where needed- you can direct the beam right on the surface you are working on.
It should always be placed above your head and away from your eyes. Also, it should be positioned in a way that no unnecessary shadows are created.
If you are planning on cutting down on energy consumption and your electricity bill, then LED lamps are the ones to go for. Compared to halogen lamps, LED lights use up to 5 times less energy. They are also physically cooler and safer to touch.
When it comes to style, it is all about your personal taste and preferences. Nowadays, you can find table lamps for drawing in various styles and finishes- modern, industrial, retro, and so on. Try to match it with the decor of the rest of your space.
A wisely chosen lamp can be a nice detail. Keep in mind that it should always have adjustable parts and enough height.
List Of The 8 Best Lamps For Drawing
We have prepared a list of the 8 best lamps for drawing from Amazon just for you.
They will be presented through a series of short reviews. Products with different price ranges are included on this list so everyone can find a lamp for themselves.
1. JUKSTG 1310A LED Eye-Caring Desk Lamp with Blue Light Filter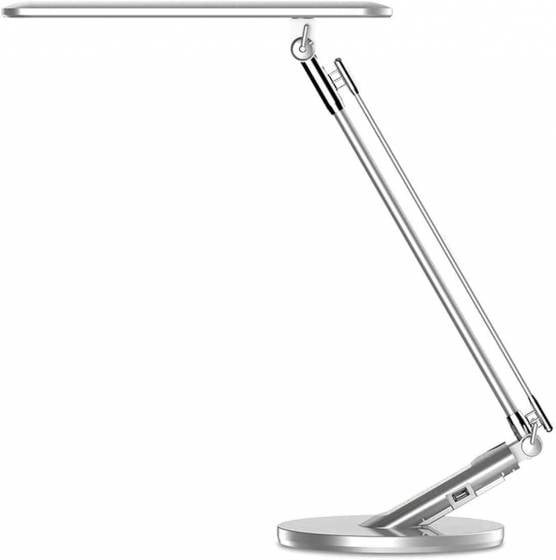 1-Hour Auto Time Off
Multi-Angle Adjustments
Silver color
Memory Function for brightness and lighting mode
Amazon's Choice
Pros
1-Hour Auto Time Off
Stable lamp base
Great modern design and all the functions users eyes appreciate
Easy to assemble. It comes with a small screwdriver and two screws
Bright enough for crafting and drawing
Cons
USB charger might be not powerful enough for some mobile phones
The length of the power cord isn't long enough for some customers
Height could not be fully adjusted
2. Lepro PR310001-DWW-US Metal LED Desk Lamp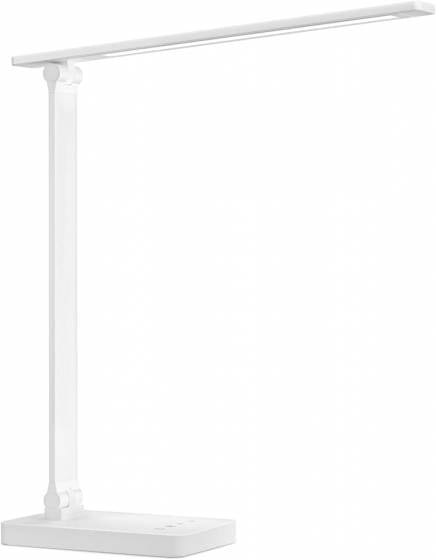 available in black and white matt finishes
Touch-Sensitive Control & Memory Function for last-used brightness and color settings
450 lm bright light (max)
Size: 15.1 inches in height
Pros
Great for needlework, nails, and puzzles
Excellent daylight lamp for art
The base does not take up too much space on the desktop.
Easy to install, easy to use
Well designed sleek foldable desk lamp for tight spaces
Cons
The length of the wire might be too short for some table places.
The lamp can't swivel the light to light an area from more angles or for Zooming.
The touch switch might be too sensitive for some people so they would change the setting by accident
3. YOUKOYI Flexible Gooseneck LED Desk Lamp with Clamp
Top pick for artists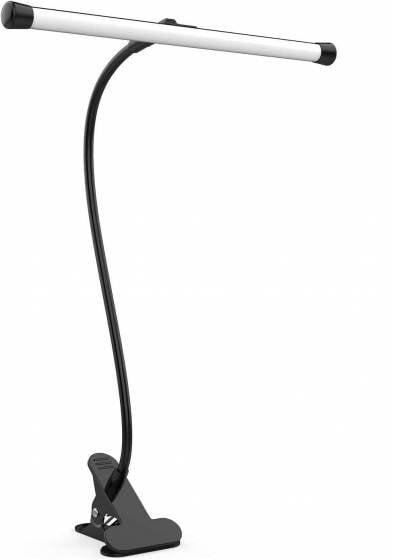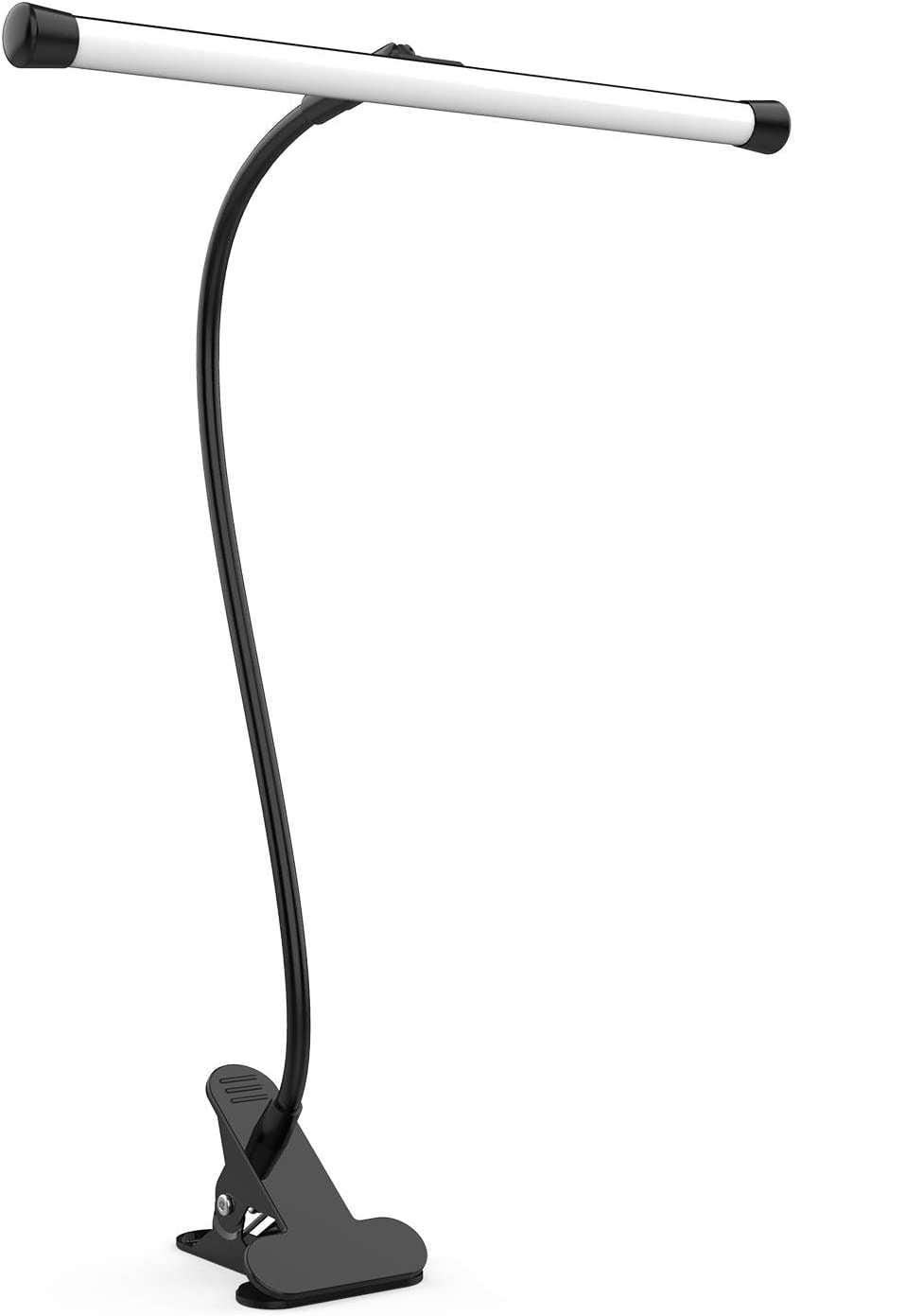 Amazon's choice for "clip on light for artist easel"
USB Powered & Memory Function
The strong metal clamp can be clipped on any flat surface 2.4″/6cm (max) thick
Pros
LED technology
Good CRI, Ra>85
It fits on an easel, goose neck is sturdy enough, making painting easier
Clips to the top of a computer and helps to combat the blue light from the computer
Clips on the shelf and doesn't cast a shadow – great to paint details
Cons
One light mode
No USB port
Smells funny
The light's neck sometimes seems to have trouble supporting itself.
Smaller than some customers expected
4. Artemide Tolomeo TOL0045 Mini 100W E26 Desk Lamp
This model is otherwise known as Tolomeo Classic Table Lamp. Michele de Lucchi designed this lamp for the Italian brand Artemide in 1989.
As it was designed before the discovery and wider implementation of LED. Therefore, this luminaire uses a 100w incandescent bulb that emits warm and cozy white color, perfect for smaller house offices.
It is sold with an on and off switch, making this lamp easy to use, but with no dimmer.
This lamp is a perfect treat for design lovers. A combination of two metals was used to create this "small piece of art".
It is available in various colors, from dark blue to soft pink. The shade was made of aluminum, whereas the arm is partly covered in stainless steel and partly in aluminum.
Inside the head, a small reflector is implemented, and the head possesses the ability to tilt and rotate. The arm is flexible. It is sold with an adjustable clamp, and 360-degree adjustments, and can perfectly be fixed to any desk.
There is a possibility to purchase the same model with a base instead of the "paper-clip" type of handle.
Pros
Legendary design
High-quality materials
Flexible, transportable
Wonderful customer service
5. HaFundy GT-422 LED Desk Lamp
Adjustable Eye-Caring Desk Light with Clamp
Swing Arm Lamp
Includes 3 Color Modes, 10 Brightness Levels
Memory Function
Long lifespan
Strong Clamp – 2.1 inches max thickness
USB-Powered with 5V/2A (DC) adapter
Material: ABS+Metal
Pros
3 Light modes
Good CRI, Ra>85
10-way dimmable
Material of lamp's long arm: ABS+Metal
Folding and space-saving with angle adjustment 360°
880 Lumen
Easy to install, a nice spring load action for easy adjustments
Cons
Comes with a clamp only
No USB port
Can't use Alexa or Google play to control it
The cord is short, you might need an extension cord
The light doesn't bend sideways, you might need to put the clip on the side of your table to get the right engle.
6. ADDIE KIRKAS 2 Dimmable 5-DiopterLED Magnifying Lamp with Clamp
4" real glass lens provides 225% magnification
Rotary button for dimming, highest up to 2200 lumens
Attach this lamp to your drawing/craft table so that you can easily see your art.
Pros
8 Light modes
Dimmable
Anti-glare, anti-flicker
Flexible, transportable
Cons
Comes with a clamp only
No USB port
The lens cover does not latch so it does dangle
No color temperature adjustment
7. Soysout Eye-Caring LED Desk Lamp with USB Charging Port
Very affordable
Eye-Caring Table Lamp
USB Charging Port
5 Lighting Modes and 7 Brightness Levels
Touch Control
12W
Available in white, black, and white or black wood grain
Pros
Memory Function
Flexible, transportable
Very affordable
Extremely versatile
Great for artists
Sturdy base
Very modern and sleek design
Cons
It has a power cord and must be plugged into an outlet.
Have to physically touch the button on top of the base to turn the lamp on
No wifi charger on base
8. TORCHSTAR ATSADEK 2-in-1 Multi-Joint Swing Arm Metal Desk Lamp
Torchstar is a brand behind a model of a desk lamp that has been awarded the title of "Amazon Choice".
Metal Desk Lamp
Swing Arm
2-IN-1 with clamp and base option
Adjustable Goose Neck
Eye-Caring Reading Lamp
Available in black, white and red finish.
Pros
The flexible, adjustable – spring-balanced adjusted arm that can extend up to 18″ and the rotatable base
Light-weigh
Price
Cons
No LED technology
No dimmer switch
The clamp doesn't have the best grip, be sure to have a hold of it when you move it
If you use large grow bulbs the clamp mount is not as sturdy
8. Miady LED Table Lamp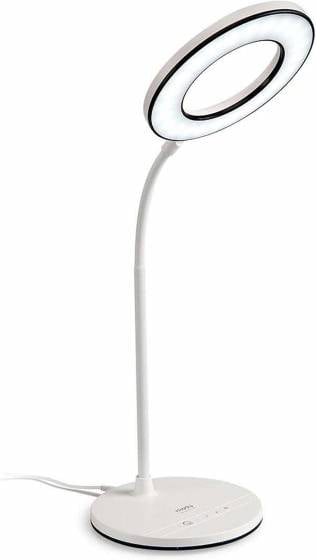 Designed with 48 LED bulbs (48 lumens)
Eye-Caring – special ring design with soft light, no shadows
3 Color Modes with 4 Levels of Brightness (12 light modes)
Dimmable
Touch Control Sensitive
360° Flexible Flexible Goose Neck
with Adapter
Pros
The neck moves easily and is very flexible
It's very bright for the size
Price
Great for lighting the face during ZOOM type calls
The base is steady allowing placement in a wide variety of locations at the same time is small enough to not take up too much space
Cons
The stem might not be tall enough for some places (22.8″ height)
The power cord does not work consistently for some customers (they needed to replace the power cord for about $10)
no memory function light set up
8. AXUF LED Metal Swing Arm Desk Lamp with Clamp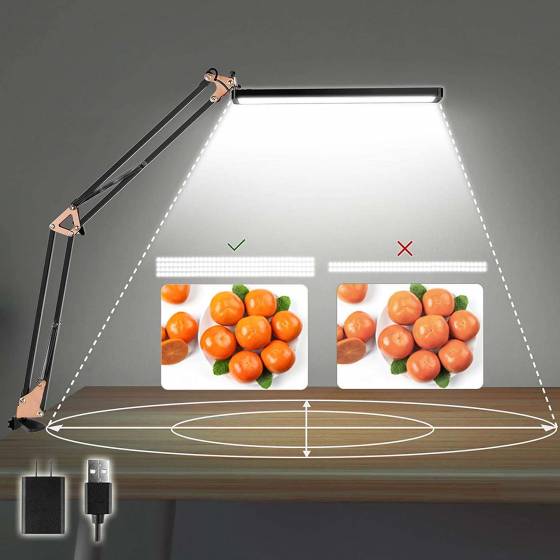 AXUF is a brand behind a model of a desk lamp that has been awarded the title of "Amazon Choice" for "drafting table light".
Available in glossy rose gold & black or white finishes.
Stepless Dimming & Adjustable Color Temperature
Memory Function
Spacing Saving & Flexible Long Swing Arm – Foldable
Clamp Design (up to 2″ thick surface) & USB Powered (100-240v adapter included)
Pros
Durable metal body
The open-ended mount – the lamp can be mounted over a bolt or dropped in a drilled hole
Amazing value for the price
The perfect solution for craft and drawing
The controls are very easy to navigate
Great customer service
The light is given from an LED strip behind the diffuser – eye-caring
Cons
There can be a bit of an overheating issue with the power adapter
The lamp head cannot pivot horizontally
Cannot connect to a smart plug
8. Neatfi XL Super Bright & Wide Desk Lamp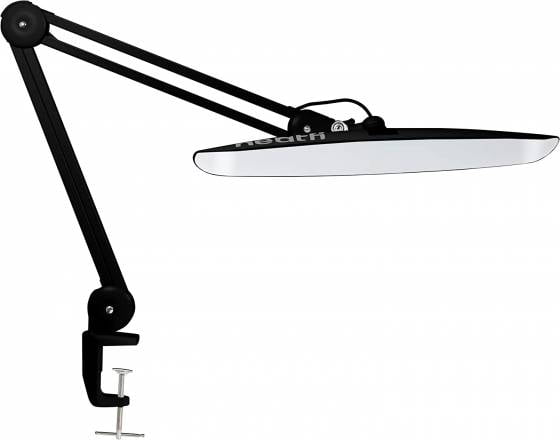 Neatfi is a brand behind a model of a desk lamp that has been awarded the title of "Amazon Choice". Their motto "high-end products offered at reasonable prices" says it all.
Available in 7 color finishes: black, lavender, midnight green, pink, rose gold, silver, and white.
2,200 LUMENS BRIGHT & 20" WIDE SHADE
Strong and sturdy metal clamp
Pros
This lamp is great when painting tiny delicate things like doll eyes or for detailed illustration work
The arm is well-built
Easy to install, easy to use
Three-year (3) warranty, great customer support
Cons
Price
Only one color temperature
Need to go through 4 brightness levels to turn it off
Quick Summary
LED technology uses up to 5x less energy than traditional halogen lamps and is, therefore, something to consider when choosing a new drawing lamp
Knowing how to choose the right light for drawing is paramount! Failing to do so can cause eye problems
The majority of countries have norms and regulations about light intensity in the task area. In the case of drawing (PC), a minimum of 500lx is recommendable in your task area
CRI is a color rendering index, – the higher the index, the better the rendering capacity, and the more realistic will colors appear
The color temperature of light can vary from 2700 K, which is warm white light, up to 4000 K (sometimes even 6000 K). Choose the color of your light source according to its purpose- warm whites for the smaller house offices and 4000 K for drawing rooms and shared spaces
Pair the design of your lamp with your interior décor
There are good-quality lamps available at all prices
Notes and references:
Author: Jovana Milošević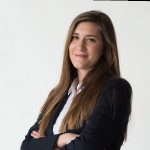 Graduated architect and interior designer. She is currently working as a light designer. She is interested in photography, new technologies, and travel. She brings positive energy to add new and fresh ideas to solve problems. Jovana occasionally writes texts about architecture and interior design. LinkendIn profile.