Are you looking for creative DIY Outdoor Lantern Ideas?
Whether you are an experienced DIYer or a beginner, we have some spectacular ideas for you. Once you go through the list, you will be ready for your next DIY project.
If you are getting ready for the outdoor entertainment season, you might miss the lighting. Don't worry, as there are lots of cheap and easy DIY ideas that you can make. They will bring a cozy and romantic atmosphere as you enjoy your valuable moments with family and friends.
Let's get started!
Looney lumens is reader-supported and participates in the Amazon Associates Program. When you buy a product through links on our site, we may earn a small commission, at no extra cost to you.
Lantern Ideas Using Glass Bottles
1. Glass Bottle Lantern Idea
If you have a few old glass bottles, now is the right time to use them for a DIY project. Make sure that the bottles are completely clean before you get started.
If you have trouble doing so, remove the stubborn labels with white vinegar.
Add LED string lights inside, and your lanterns are ready to go. Make a row of bottle lights for your balcony for that special cozy feeling.
For detailed instructions visit this website.
You can also use a LED cork. Watch the full video here.
2. Colorful Mason Jar Lanterns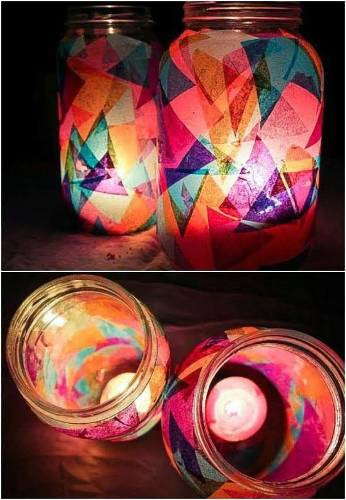 If you want to add a pop of color, then the mason jar lanterns with tissue paper idea will amaze you.
All you need to do is cut triangles in different shapes and sizes out of colored tissue paper. Stick them on the outside wall of the mason jar. When you put your LED candles in, the subtle light will bring out the colors.
Everyone will think that you bought an expensive lantern, while you only spend a few dollars for the whole project.
Build instructions can be found on this DIY website.
3. Wine Bottle Lantern Idea
Wine bottles can be used in so many different projects. If you are a DIY enthusiast, you certainly should collect a few as their time to shine has just come.
You call colect different colour bottles or paint the transparent bottles with a glass paint. Add LED cork string lights and you are done. A simple project with awesome results.
Watch this video for the build.
4. Fairy Lantern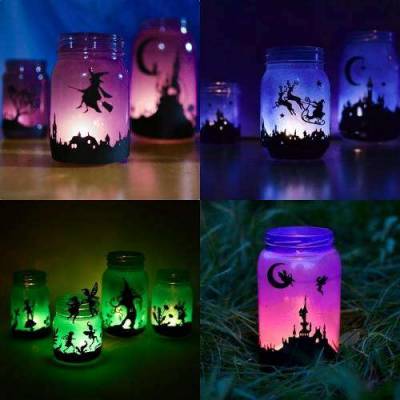 If you are looking for the most creative glass jar outdoor lantern idea, this is definitely it.
These fairy lanterns will bring a dose of magic in your outdoor space, and everyone will love them.
The process of making is quite easy. All you need to do is spray the glass jars with spray paint of your choice. Then, print some lovely designs on paper and cut them.
You can check the video with full instructions here.
Lantern Ideas Using Paper
5. Paper Bag Lantern Idea
Are you into making all sorts of things using the well-known origami technique? Now is the right time to improve your folding paper skills.
The best thing about paper bag lanterns is that they are practically free. You can use the LED strings that come with large bulbs.
Follow the instructions from this charming website to make the lanterns. This project is perfect if you were looking for pleasant hanging lanterns for your yard.
6. Paper Lanterns That Fly
Flying lanterns are so amusing to watch. Both kids and adults will enjoy launching these into the night sky. Everyone will love the view, so be sure to light a few at the same time.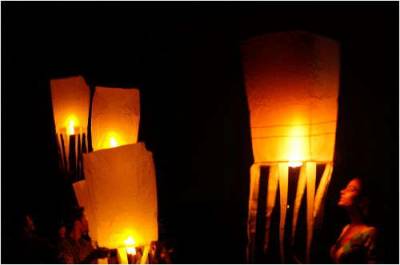 If you have an outdoor celebration, this is the perfect trick to bring a fun and pleasant experience.
Make sure that you use light and thin wire to create the balloon. Otherwise, your lantern will be too heavy for launching.
Details of the build can be found here.
7. Paper Cup Lantern
If paper cups are the only supply that you have, don't worry. Here is an excellent idea that you can DIY without much hassle.
If you don't have good drawing skills, you can always find some useful printables online.
The best thing is that you can customize this project and create a lantern with the views of a specific destination that you have visited.
Instructions can be found on the fellowfellow website.
8. Floating Lotus Lantern
If you have a pool, then you will definitely want to try out this outdoor lantern DIY project.
This water lantern idea will look so decorative while emitting a gentle glow. Imagine adding a few of these lanterns in the pool for your next outdoor party. Be sure that everyone will be amazed by your creativity and DIYing skills.
Use a light disposable plate as a base, so that your lantern will float without sinking.
Details for the build can be found on this website.
9. Wax Paper Lantern
Pick up some decorative wax paper for your next project.
This wax paper lantern idea looks so elegant and classy, so you can use it as a centerpiece at your next dinner party. The wax paper's matte finish will bring a dose of dimmed light to create a romantic atmosphere.
A few wooden sticks will create the structure and make your lantern more stable. Feel free to sprinkle some glitter to customize your DIY project.
Follow these simple instructions here.
Lantern Ideas Using Fabrics
10. Fabric Lantern
If you are into projects that include a little bit of sewing, then you should go for this one.
Pick colorful and patterned fabrics for your DIY lanterns. For the best result, get different patterns that share the same color. This way, the lanterns will look decorative and fun, but still cohesive and tasteful.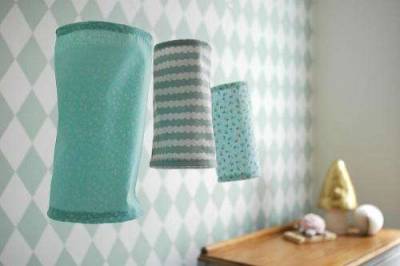 Add some of those cheap LED candles inside to complete your project.
You can order a whole pack online and use them for different DIY projects.
A step by step to making this DIY project can be found on this website.
11. Lace Lantern
Using textures is an excellent approach to decorating your outdoor space. One easy way to do this is to introduce your DIY lace lantern.
You are free to pick the pattern and design that you prefer. Keep in mind that you can achieve different results with different types of lace. Some are more transparent, while dense lace will bring dimmed lighting.
For a stunning effect, you can go for beautiful floral patterns that will disperse the light.
Visit the collectivegen for the full build guide.
12. Doily Lantern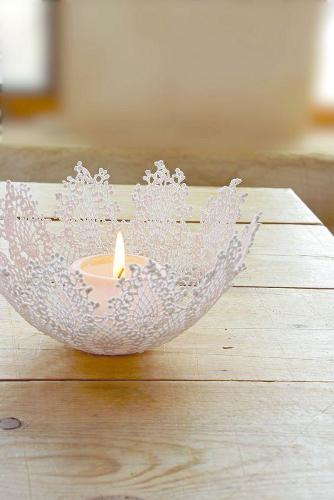 This doily lantern will fit the rustic and shabby chic style and bring a dose of charm to your outdoor space.
The process of stiffening a doily is very simple and straightforward. The secret trick is to mix two parts of water and one part glue. Cover the doily in this mixture and lay it on a balloon. Once it dries, you have a cute doily bowl to work with.
All you need to do is add one LED candle, and your lantern is ready.
Simple instructions can be found on this website.
Lantern Ideas Using Twines
13. Twine Lanterns Made With Balloons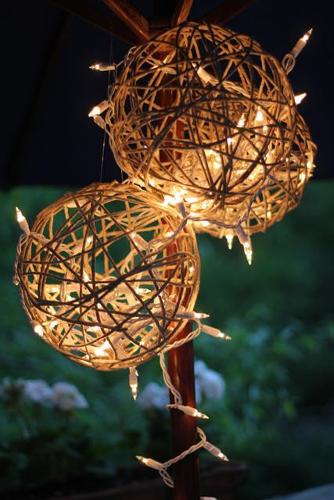 Since you can never have enough of DIY-ing, it is time to consider this DIY twine lanterns made with balloons idea.
Dip the twine in a mixture of glue, water, and cornstarch. Then, wrap it around a balloon.
Experienced DIY-ers are surely familiar with the process of making twine spheres. Tie three spheres together and wrap them with LED string lights. Then, hang your lantern on the umbrella or the nearest tree.
You can visit splashofsomething website for the exact steps to build.
14. Hanging Candle Lanterns In Twine
If the previous project was too messy for you, then you can try this one. You will need a glass jar and twine yarn, but also some basic macrame skills.
The stunning macrame technique is easy to learn. You can check this video for full instructions.
Add decorative stones or seashells in the jar for a decorative finish. You can choose whether you want to add a LED candle or string lights inside.
We personally like this outdoor lantern idea because its easy to make and it looks charming.
You can check another video on how to make this cool lantern.
Lantern Ideas Using Plastic Bottles
15. Floral Lantern Made With Plastic Bottle
When up-cycling is one of your priorities, this project will show you how to turn a plastic bottle into a fantastic floral lantern.
Use a knife to cut the pattern in a piece of paper. Then, you need to gently curl the cuts to the outer side. The small holes will release the light and add dimension.
Wrap the paper around a plastic bottle with the top cut off, and add a LED candle inside.
See the full build guide here on this website.
16. Simple Plastic Bottle Lantern
Recycling plastic bottles can be a fun experience. Therefore, this is a simple project that you can make together with your kids.
Let them paint the plastic bottle with markers before you make a few vertical cuts with a knife. Add string lights inside and hang this masterpiece in your yard.
Your children will certainly be proud that they participated in this lovely DIY project. Plus, they will learn that recycling is very important.
Simple instructions can be found on the muminthemadhouse.com website.
Lantern Ideas Using Cotton Wool
17. Cloud Lantern Idea
Have you seen that magnificent cloud lantern idea somewhere on the internet? If you haven't, you will be blown away by the idea.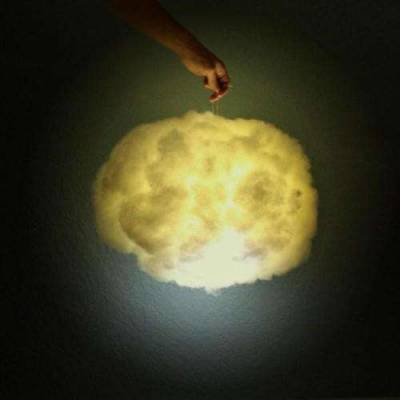 This lantern looks like a real fluffy cloud and is an excellent addition to your outdoor space. You won't believe that you can make it with one cheap supply-cotton.
The secret trick is to create a cloud structure with balloons and cover them with cotton. This might be a tricky project to handle, but the result is definitely worth it.
Details of the build can be found here.
18. Cotton Cloud Lantern With String Lights
After you make one cotton cloud lantern, you will definitely become addicted.
Feel free to make one for your bedroom as well. You can add string lights as a beautiful addition to complete the design. This will create an authentic thundercloud look without having to spend much money.
Everyone will be jealous of your unique lantern, so better get your hands on this project as soon as possible.
Watch this interesting video as a guide for the build.
Lantern Ideas Using Tin Cans
19. Painted Tin Can Lantern
No one will ever guess that those ugly and old tin cans can be turned into charming lanterns.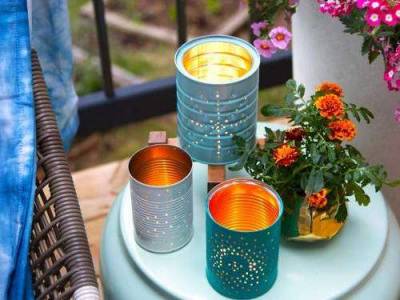 A little bit of spray paint will go a long way, so be sure to pick your favorite colors. Don't forget to poke holes, so that the light will be dispersed in the yard.
Add one of those cheap LED candles or regular candles in each tin can, and you are ready for the long summer nights.
Follow the instructions on this website for an easier build.
20. Hanging Tin Can Lantern
To be honest, spray paint is the trick that makes everything work. You can spruce up any ugly and cheap item and give it a quick makeover within a few minutes.
To make decorative lanterns that look expensive, paint them with pastel colors. For a touch of elegance, use golden spray paint. You can even cover the inside for better results.
Attach thick wire, and you will have lovely hanging lanterns in no time.
You can make tin can lanterns in 5 easy steps here.
Lantern Ideas Using Cardboard
21. Geometric Cardboard Lantern
This geometrical lantern looks like a beautiful piece that was bought from an expensive home decor shop.
But, you will be surprised to find out that it is actually made of cardboard. At first glance, it might look a little complicated to make. However, you only need to cut out pentagon shapes in different sizes and stick them together.
As soon as you check the helpful video with full instructions, you will understand the making.
22. Elegant Cardboard Lantern With Golden Details
You might find those elegant lanterns too pricey, so buying from the store isn't an option. DIY enthusiasts will always find a way that works.
In this project, the secret trick is to use gold spray paint to cover the ugly cardboard. Keep in mind that gold spray paint always adds a touch of luxury and elegance, so that's why it is commonly used in DIY projects.
No one could guess that you can make stylish lanterns using cardboard and tissue paper.
An easy guide can be found on the Etsy blog.
Lantern Ideas Using Baskets
23. Woven Basket Lantern
Woven baskets are quite popular with DIYers, as they are cheap and easy to find. Get a few different styles and designs and make your own DIY lantern.
If you don't find a basket in a color that fits your interior, you can always spray paint the baskets with a color that matches your decor.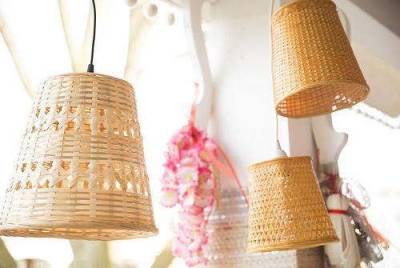 These basket lanterns are a budget-friendly idea and will work excellently as outdoor lanterns. You can make a few and lighten the whole outdoor area.
Everyone will love the way they add a dose of charm.
Read this 3 step process of the build!
24. Large Basket Lanterns
When it comes to making lanterns with baskets, you can get creative and play with the size. Feel free to use smaller and larger baskets if you want to add dimension in the outdoor space.
But also, you can use different woven patterns. This will break down the dull look and add a dose of uniqueness.
This example shows you that you should get creative and play with different patterns and sizes.
For the full build guide with pictures and video visit this cheerful website.
25. Outdoor Basket Lanterns
Many people prefer to celebrate their special occasions outdoors. Whether it is a wedding, a birthday, or a baby shower, you can always take advantage of the outdoor space.
One of the problems that you will encounter is the lighting. When the sun goes down, the last thing that you want is to sit in the darkness.
Basket lanterns will be both functional and decorative. But the best thing is that you don't have to spend a massive portion of your budget on lighting.
If you are interested in a battery-operated basket lantern then you should read this useful guide.